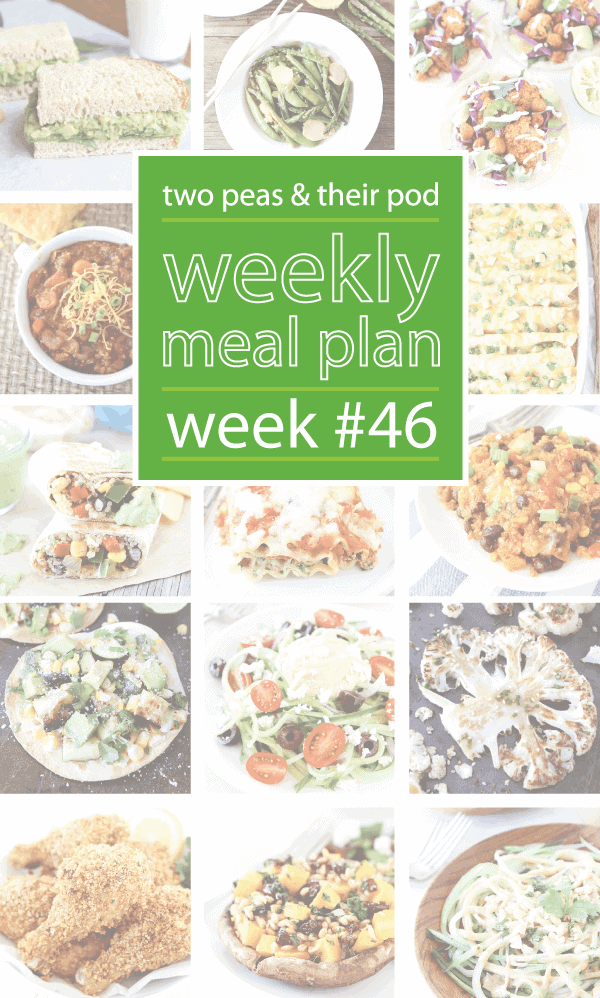 It's December and we know that means BUSY! We hope this meal plan will help make things a little easier on you! Enjoy!
Week 46
Monday (11/30): Greek Tacos– Not your average tacos! Mix it up and make these simple and tasty tacos for dinner tonight!
Tuesday (12/1): Vegetarian Quinoa Chili-Top this chili with all your favorite ingredients and serve it with some warm Cornbread on the side.
Wednesday (12/2): Avocado, Hummus, and Egg Toasts– A quick and healthy meal great for any time of the day! Make Cinnamon Roasted Almonds to snack on, your house will smell amazing!
Thursday (12/3): Baked Polenta Pie– This cheesy polenta pie is the best comfort food. It is sure to hit the spot!
Friday (12/4): Sweet Potato and Kale Grilled Cheese– Layers of sweet potato, kale, caramelized onion and rosemary all wrapped up in gooey cheese and crusty bread…YES!
Saturday (12/5): Lemon Chicken Orzo Soup-Tired of the cold winter weather yet? This soup will hit the spot! Make a loaf of festive Orange Cranberry Bread.
Sunday (12/6): Roasted Vegetable Stuffed Shells– No one will be complaining about dinner tonight! Serve these cheesy shells with your favorite salad and have Peppermint Pattie Brownies for dessert.
Tip-The Quinoa Chili and Roasted Vegetable Stuffed Shells freeze great. If you have leftovers, put them in the freezer so you can pull them out on a busy weeknight!
If you make one of our recipes, take a picture and share on Instagram! Use the hashtag #twopeasandtheirpod! We want to see what you are making in your kitchen! And don't forget to follow us on Instagram!
And remember, we created a Weekly Meal Plan section on our blog so you can get inspiration from all of the weeks!