Tofu Scramble
Tips on how to make the best Tofu Scramble. You will love this vegan alternative to scrambled eggs, it is the perfect healthy and hearty breakfast!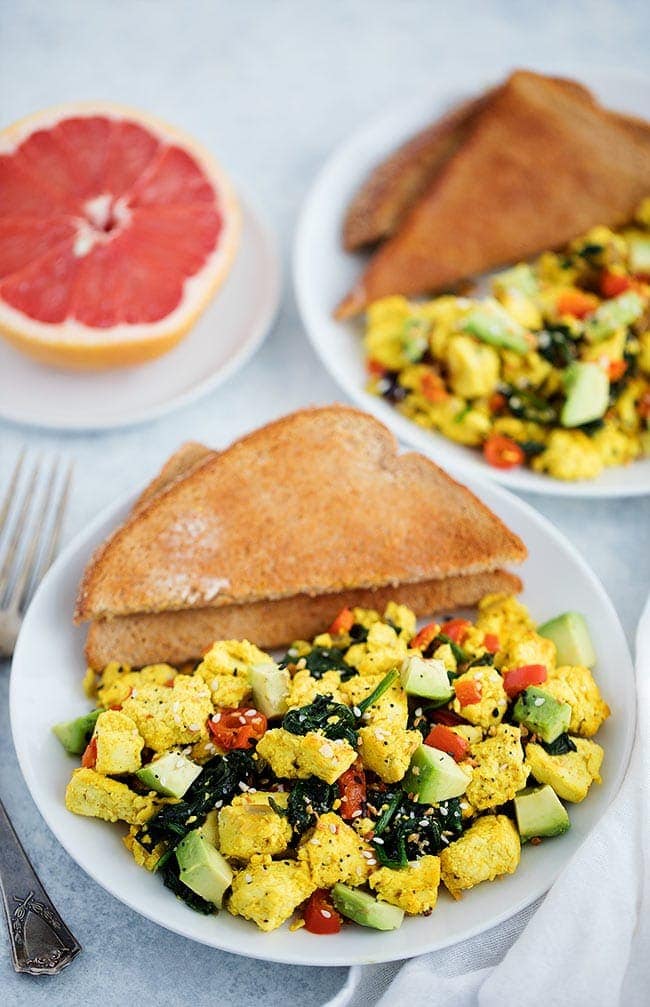 Tofu Scramble
Breakfast is probably my favorite meal of the day, I love almost all breakfast foods. Tofu scramble is one of my go-to breakfasts because it is simple to make and loaded with plant-based protein and veggies, the perfect way to start any day!
So what is tofu scramble? Basically, a vegan breakfast dish that tastes like scrambled eggs, for real. Don't be afraid of tofu, I promise you it is a magical ingredient that tastes like scrambled eggs with a few little tricks. Add some seasonings and fresh vegetables and you will never know it is tofu, my boys don't know and I don't plan on telling them:) If you like scrambled eggs, I bet you will love scrambled tofu too. You just have to give it a chance!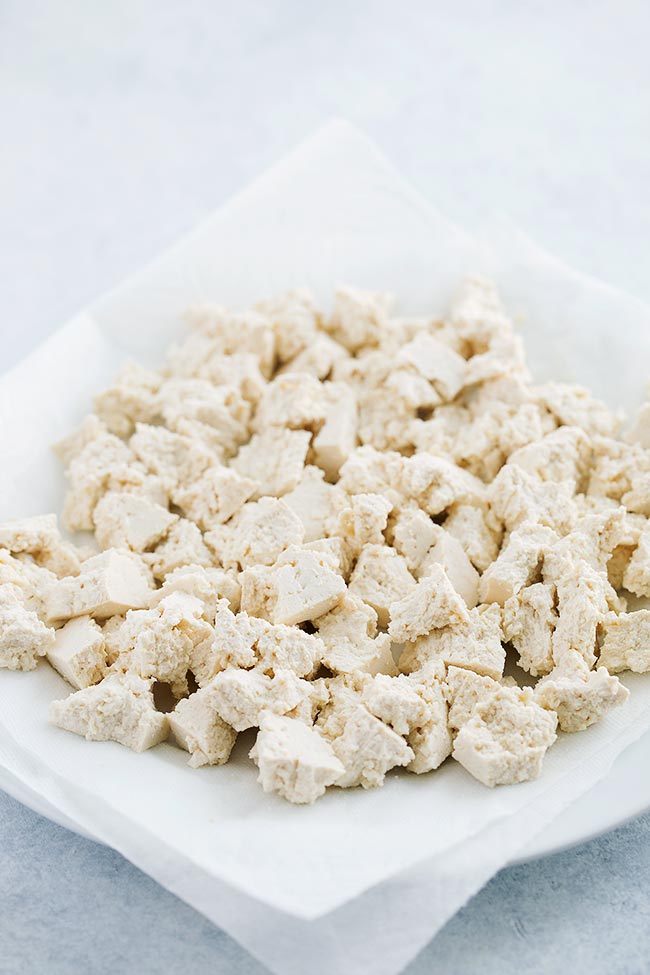 How to Make Tofu Scramble
I am going to share my tips for making PERFECT Tofu scramble because a few little tricks make a huge difference.
Type of Tofu-First, you need the right kind of tofu. Use firm tofu. Silken tofu is too delicate and extra firm tofu will give you a chewy texture. You can find firm tofu at any grocery store.
Drain the Tofu-Tofu has a lot of water so it is important to drain the tofu before you start scrambling. The tofu will absorb the seasonings better and have a better texture if you drain it first. Remove the tofu from the package and place it on a large plate that has been lined with paper towels. Use a fork to break up the tofu into bite-size pieces that resemble scrambled eggs. Make sure the tofu pieces are in a single layer and let drain for 15 minutes. You can drain the tofu in the big block, but I have found breaking it up works best because it drains the extra moisture inside of the block and it drains more quickly.
Seasonings-Tofu doesn't have much flavor so it is very important that you season it or it will be tasteless. I use the following seasonings: nutritional yeast, garlic powder, turmeric, salt, and black pepper. Nutritional yeast adds slight unami flavor that will help the tofu taste like eggs. It is also rich in B vitamins, including B12. If you don't need the recipe to be vegan, you can use Parmesan cheese. Garlic powder because garlic makes everything better and I find that the garlic powder mixes into the tofu better than fresh garlic. Turmeric is a MUST, don't skip this seasoning. Turmeric naturally gives the tofu a yellow color to look like eggs. The flavor isn't overpowering, but very nice. And of course, you need salt and pepper. Tofu is very versatile so feel free to add in your favorite seasonings, onion powder, paprika, cumin, chili powder, and a little cayenne would all be good!
Water-I mix the seasonings with a little water before adding them to the tofu. This helps the seasonings mix in with the tofu.
Olive Oil-Cook the tofu in olive oil to give it a rich flavor, like egg yolks.
Vegetables-I like to cook the tofu with vegetables for flavor, color, and it is always a good idea to add more veggies! I like to use red onion, red bell pepper, and spinach. Mushrooms and kale would also be good!
How to Eat Scrambled Tofu
Tofu scramble is very customizable, we learned that you can add your favorite seasonings, well you can add your favorite toppings too…just like scrambled eggs. I love adding toppings to my tofu scramble for flavor and it is always fun to mix things up!
Tofu Scramble Toppings:
Avocado (a MUST if you ask me)
Everything Bagel Seasoning (easy to make at home and my favorite)
Hot sauce
Freshly chopped herbs (parsley, basil, chives, cilantro)
You can also wrap tofu scramble in a flour tortilla to make a breakfast burrito or you can fill a corn tortilla with tofu scramble to make breakfast tacos. Tofu scramble is also great on top of avocado toast, on a salad, or stuffed in a pita.
What to Serve with Tofu Scramble
Tofu scramble is good by itself, but if you want a heartier breakfast or meal, here are some ideas of what you can serve with tofu scramble.
Can you Reheat Tofu Scramble?
Yes! Store leftover tofu scramble in an airtight container in the refrigerator for up to one week. You can reheat the tofu scramble in the microwave, heat for 60 to 9o seconds. You can also place the tofu scramble back into the skillet and reheat on the stove.
If you like this Tofu Scramble recipe, check out our other breakfast favorites!