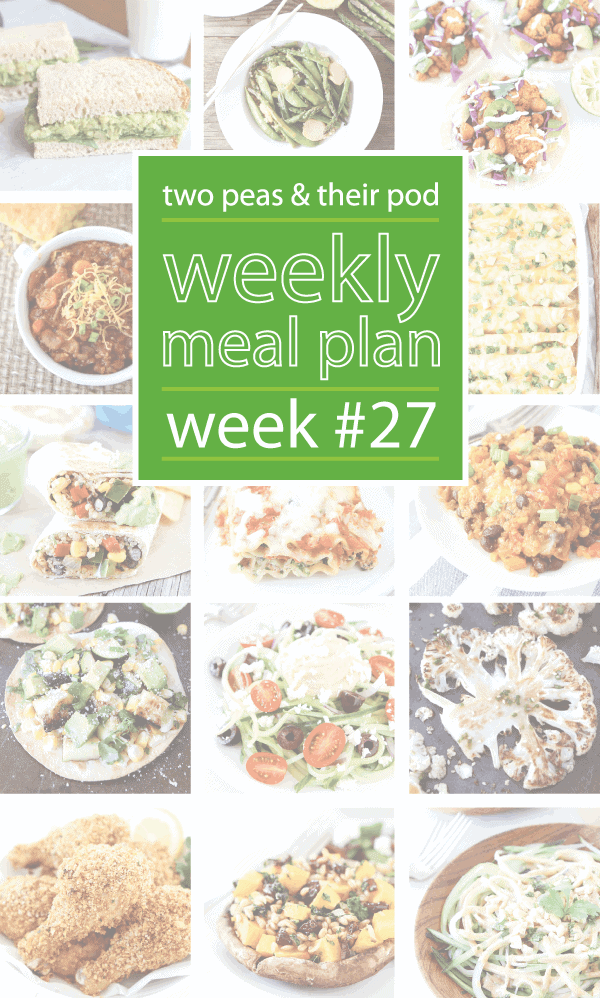 Happy Saturday! We hope you are doing something fun this weekend. Make sure you save a little time to sit down and do your meal planning for the week. You will be glad you did on Monday:) Plus, we make it easy for you! Enjoy!
Week 27
Monday (7/20): Portobello Mushroom Burgers-my favorite kind of burger! A great meal for Meatless Monday too!
Tuesday (7/21): Heirloom Tomato Pesto Galette-I'm obsessed with heirloom tomatoes and you will be too when you make this for dinner tonight! Serve this Melon Salad with Mint, Lime and Sea Salt on the side!
Wednesday (7/22): Coconut Raspberry Waffles with Coconut Whipped Cream-One of our families favorite waffle recipes! The coconut and raspberry combination is heavenly! Yay for breakfast for dinner night!
Thursday (7/23): Tabbouleh Salad-No need to heat up the house tonight! This salad comes together in minutes and doesn't disappoint! Serve sweet corn and watermelon slices on the side and enjoy No-Bake Peanut Butter Pretzel Cookies for dessert!
Friday (7/24): Grilled Peach Brie and Basil Sandwich-All of the gourmet taste with none of the fuss. This sandwich has me wishing summer will never end! We'll finish off our my favorite Blueberry Almond Streusel Galette.
Saturday (7/25): Berry Banana Smoothie Bowls-these smoothie bowls are so good you will think you are eating ice cream for breakfast! Enjoy dinner out!
Sunday (7/26): Charred Corn and Avocado Pizza with Peach Salsa and tortilla chips! Serve S'mores Ice Cream Pie for dessert! I love summer Sunday dinners:)
Tip-Two recipes this week include my galette dough, so save yourself some time and make a double batch the first time, and stick the second one in the refrigerator, wrapped up tight in plastic wrap, until you're ready to use it later in the week.
If you make one of our recipes, take a picture and share on Instagram! Use the hashtag #twopeasandtheirpod! We want to see what you are making in your kitchen! And don't forget to follow us on Instagram!
And remember, we created a Weekly Meal Plan section on our blog so you can get inspiration from all of the weeks!