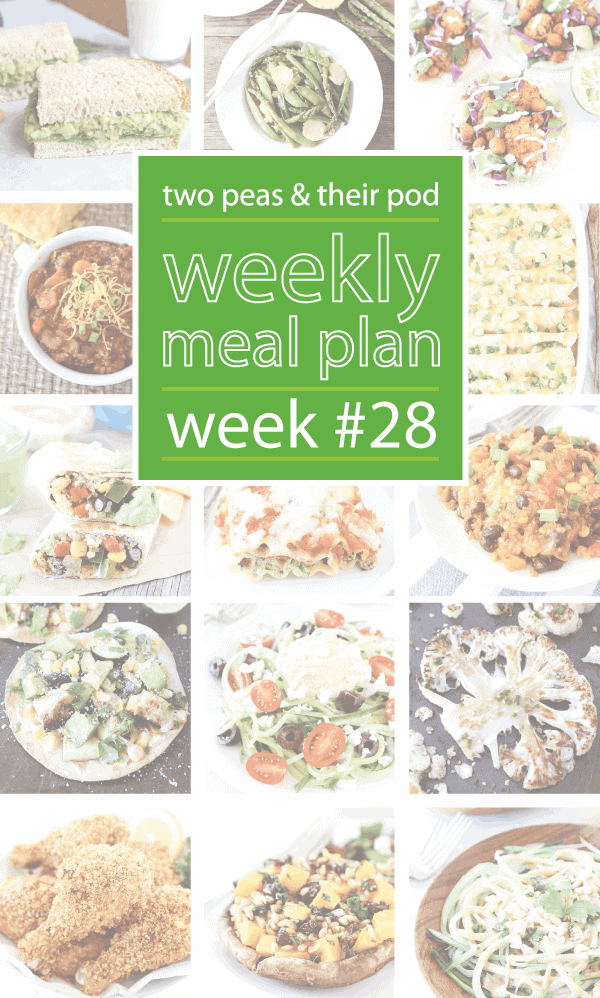 This week's meal plan includes lots of fresh fruits and vegetables, so visit your local farmers market this weekend to stock up! Yay for summer!
Week 28
Monday (7/27): Caprese Pizza–You can't go wrong with this classic pizza, especially during the summer when the tomatoes are so good!
Tuesday (7/28): Whole Wheat Zucchini Pancakes-Use up some of your garden zucchini and make these healthy pancakes for dinner! Blend up Pineapple Mango Green Smoothies for a cool and healthy treat!
Wednesday (7/29): Pesto, Roasted Red Pepper, and Cheese Crescent Rolls–These rolls are simple and fun to make, especially if you have some little hands to help like I do! Serve with a simple green salad and peach slices on the side.
Thursday (7/30): Ultimate Veggie Sandwich-Pack up your sandwiches and go on a picnic! Check out our favorite picnic tips here! And you don't have to go far, you can picnic in your own yard, it is still fun!
Friday (7/31): Berry Quinoa Salad-This healthy summer fruit salad is a favorite in our house and since it's so healthy I wont feel guilty for making Peanut Butter Cookie S'mores for dessert! 🙂
Saturday (8/1): Baked French Toast Muffins–It's the weekend so go ahead and splurge with these sweet muffins. With the cinnamon streusel topping, I know I'll be having more than one! Serve with a side of eggs and some fresh fruit! Go out to dinner or eat leftovers!
Sunday (8/2): Grilled Zucchini and Corn Tostadas-One of my favorite summer meals! Serve Green Chile and Roasted Tomato Guacamole on the side and Coconut Lime Berry Cake for dessert!
If you make one of our recipes, take a picture and share on Instagram! Use the hashtag #twopeasandtheirpod! We want to see what you are making in your kitchen! And don't forget to follow us on Instagram!
And remember, we created a Weekly Meal Plan section on our blog so you can get inspiration from all of the weeks!