Summer Picnic Recipes and Tips-plan the perfect summer picnic with these tips and recipes!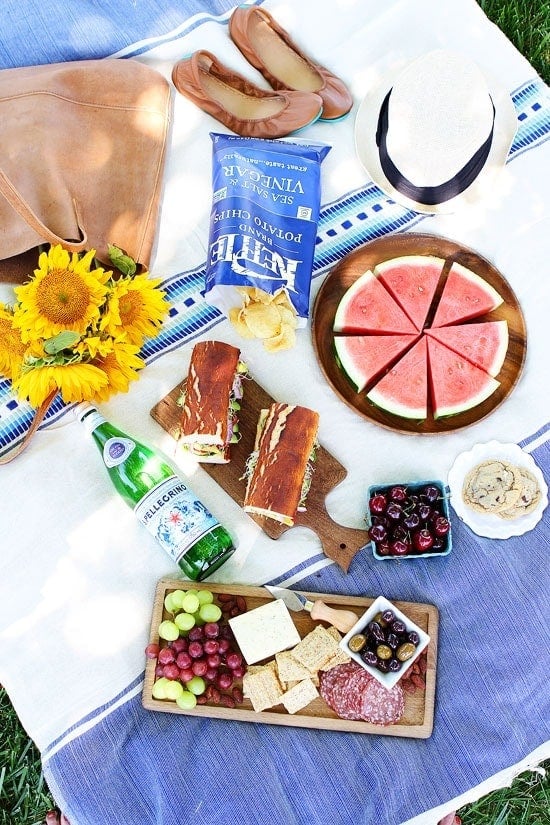 I LOVE going on picnics. Picnicking is one of my favorite summer activities. We like to pack picnics when we go on road trips, hiking, to outdoor concerts, or to the park. Sometimes we have picnics in our yard just because. Our boys love eating outside. Relaxing in the summer sun with good food and good company, what's not to love?
Today, I am sharing a few picnic tips and my favorite picnic recipes so you can picnic successfully all summer long! And tomorrow is International Picnic Day so make sure you plan a picnic to celebrate!
Choose a Location: Before you start packing, make sure you have a location picked out. This will help you determine what you need to bring. You can picnic pretty much anywhere and that is why they are so much fun! You can picnic at the beach, pool, in the mountains, at a city park, at an outdoor movie or concert, sporting event, or in your backyard. A few things to think about: will you be in the shade/sun, will it be hot/breezy/chilly, do you need bug spray/sunscreen, will there be access to water/restrooms, how long will you be gone for, do they allow pets? These are all things to think about before you head out.
Basket, Bag, or Cooler: What will you use to transport your food? Traditionally, you think basket when it comes to picnics, but you can also use a bag or cooler. If our picnic destination is far away or if we are going to be gone most of the day, I usually bring all three. I like to pack the perishables in a small cooler, the non-perishables in a basket, and any extras in my favorite fashionABLE tote. You can buy a fancy picnic cooler, but you certainly don't need one. You can use what you have at home.
Containers and Utensils: Make sure your food is packed correctly. You don't want to get to your picnic with smashed sandwiches or spilt salads. I like to use Weck jars and/or plastic containers. Also, make sure you have ice packs or ice to keep your perishable food cold. Don't forget to pack plates, napkins, cups, and utensils. I don't like to use paper plates because they blow away and aren't "green." We pack apple plates for the kiddos and Q Squared dinnerware for the adults. Put all of the dirty dishes in a bag and wash when you get home. I also bring a cutting board and sharp knife, that is tucked away in a safe place, for cutting fruit, cheese, sandwiches, etc. Wet wipes always come in handy for sticky and messy fingers too!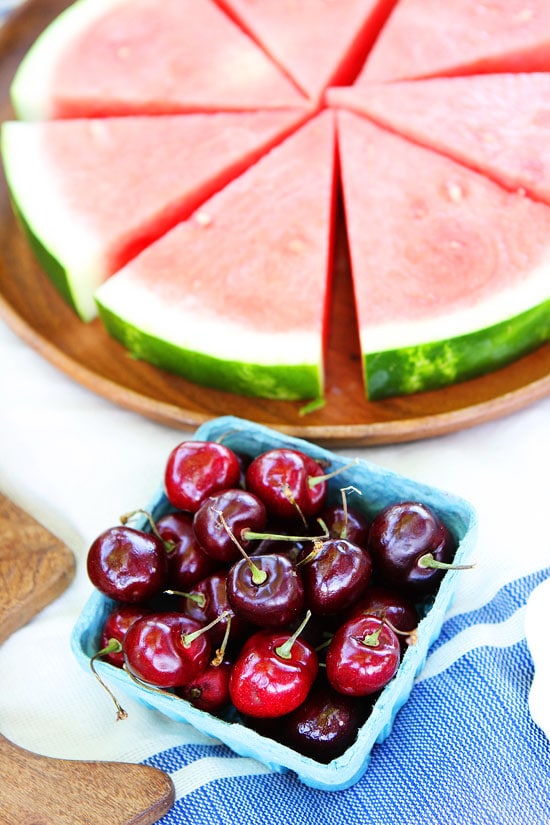 Bring a Blanket: A picnic blanket is a must! We love using our fashionABLE Mehari blanket because it is lightweight, easy to fold, and pretty! You can also use large beach towels, woven mats, or tablecloths. If your location doesn't have a good place to sit, you might want to bring lawn chairs or camping chairs.
Make it Fun: Make your picnic special. Bring a bouquet of fresh flowers and turn on some tunes. We use our iPhones for music. Create a special playlist or turn on your favorite Pandora station. Bring a book, game, bubbles, or frisbee to play with when you are done eating.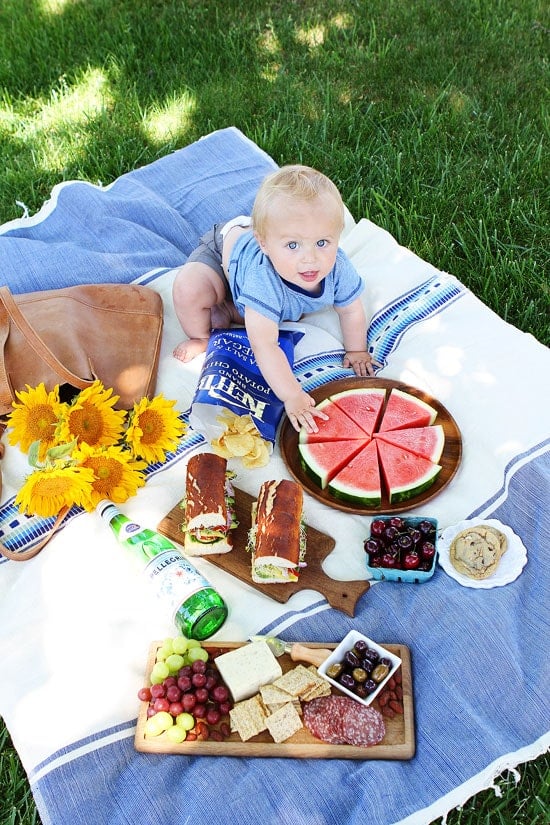 And now for the most important part, the FOOD! Good food is a MUST! Here are some of our favorite picnic foods! They all transport well, just make sure you keep the perishable foods chilled until you are ready to eat. And try to keep the chocolate desserts out of the sun so they don't melt…but I personally love a sun kissed chocolate chip cookie. It tastes like it just came out of the oven:)
Snacks/Starters:
Cheese Platter with your favorite cheeses, crackers, baguette, olives, nuts, salami, grapes, and dried fruit
Cut up veggies to go with your favorite dips
Bag of your favorite chips
Watermelon slices, berries, sliced peaches, or your favorite summer fruit
Salads:
Sandwiches: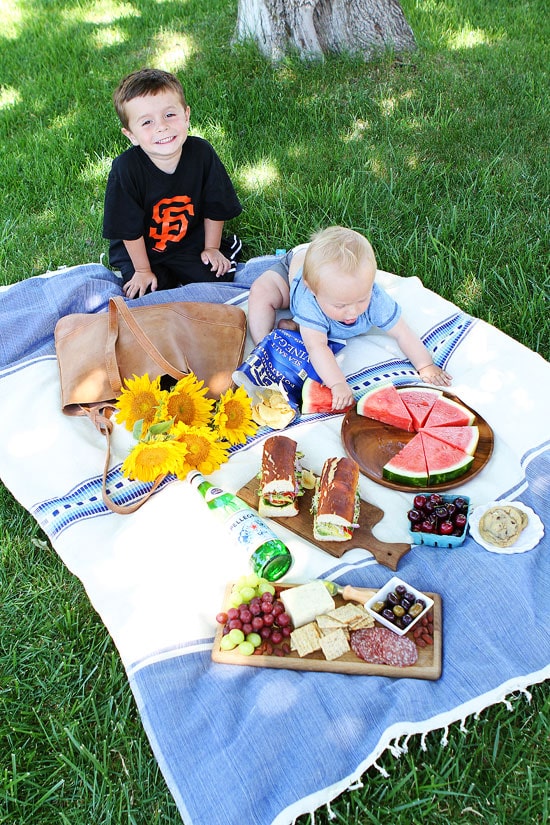 Desserts:

Drinks:
Water or Sparkling Water-I like to bring slices of lemons, limes, cucumbers, and mint to jazz up our water!
Lemonade
Your favorite "fancy" sodas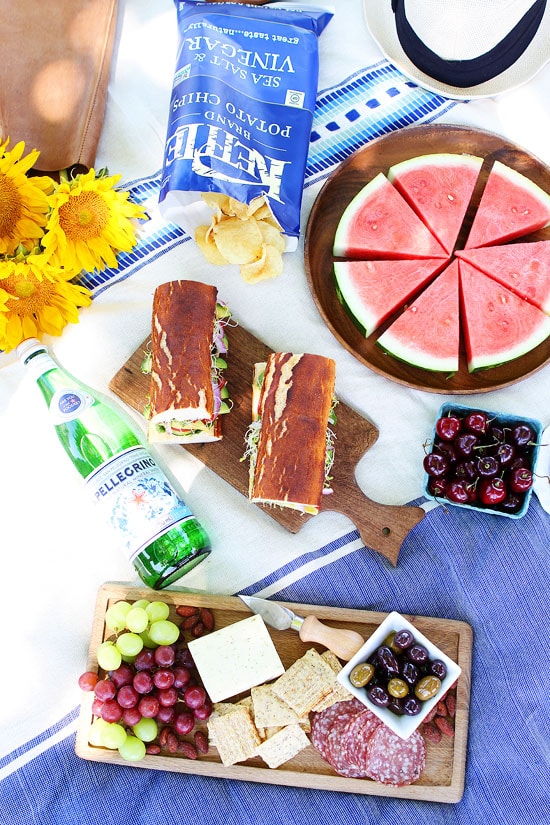 Pack a picnic and enjoy the beautiful summer weather! Happy picnicking!
Mamuye Tote and Mehari Blanket are from FASHIONABLE!
Note-this post contains some affiliate links.