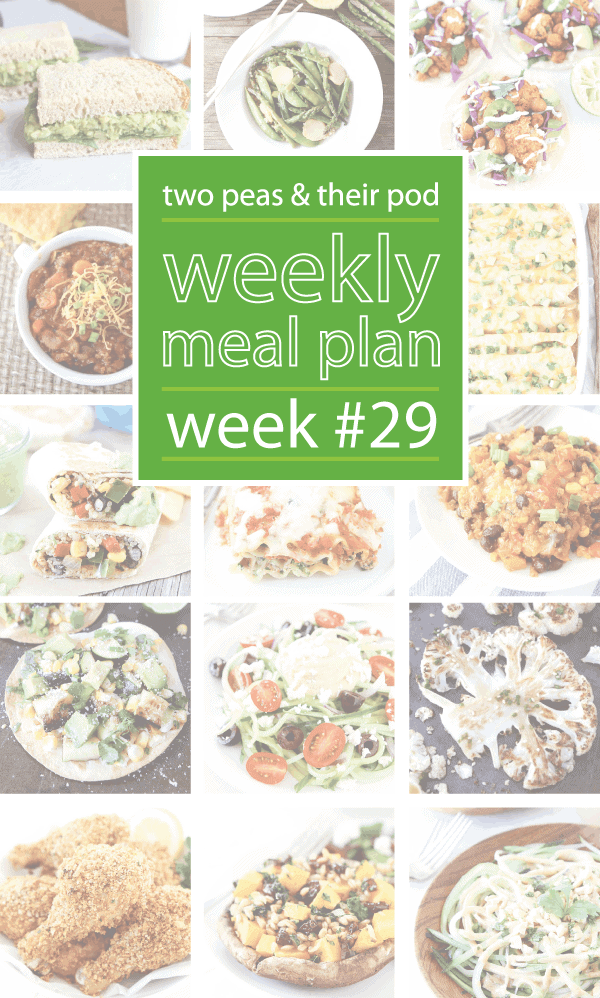 Happy August! The summer is flying by! I am excited for this week's meal plan! Hurry up dinner time! I hope you enjoy our recipes too! Happy meal planning!
Week 29
Monday (8/3): Mexican Tortellini Salad-Pasta salads are a staple in our house all summer long and this one is a favorite!
Tuesday (8/4): Eat leftover tortellini salad for dinner! Add fresh sweet corn and watermelon slices to go with!
Wednesday (8/5): It is Maxwell's birthday! Happy Birthday little man! We are celebrating with Cheese Ravioli with Lemon Basil Butter Sauce and Chocolate Icebox Cupcakes for dessert!
Thursday (8/6): Asian Cucumber Noodle Salad-Cucumber noodles are fun to make and fun to eat! We love this colorful salad!
Friday (8/7): Chickpea, Pesto, Tomato and Mozzarella Salad-I could eat anything covered in pesto, especially this salad! I'll also be making some Focaccia Bread and using it to wipe up any leftover pesto sauce that might be lingering on my plate!
Saturday (8/8): Peaches and Cream Stuffed French Toast-We are using some ripe peaches to make this extra special French toast for breakfast! I'll be treating my boys to a side of bacon too! For dinner, enjoy leftovers or go out!
Sunday (8/9): Spicy Sausage and Pepper Pasta–This is one of Josh's favorite dishes so he's cooking tonight! While he's making the pasta, I will make one of my favorite salads to go with, Melon Arugula Salad with Honey Lime Dressing. And I can't wait to enjoy Chocolate Zucchini Coconut Cake afterwards!
If you make one of our recipes, take a picture and share on Instagram! Use the hashtag #twopeasandtheirpod! We want to see what you are making in your kitchen! And don't forget to follow us on Instagram!
And remember, we created a Weekly Meal Plan section on our blog so you can get inspiration from all of the weeks!