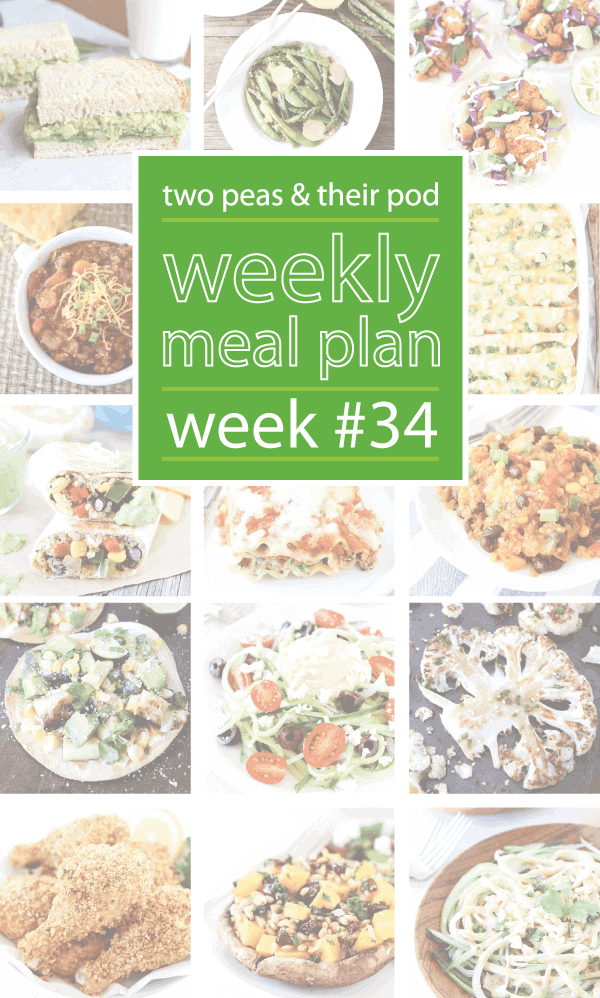 Happy Labor Day weekend! We hope you all have a fun and safe holiday weekend. This week's meal plan includes some Labor Day recipe ideas and a week of good eats! Enjoy!
Week 34
Monday (9/7): Happy Labor Day!! Start your holiday off right with some yummy Honey Peach Muffins. Going to a BBQ or planning your own? How about a few of these sides: Cucumber Mango Salsa, Potato Salad, or Mexican Tortellini Salad. And all holidays call for a treat, so try our Salted Caramel Butterscotch Blondies, Lemon Sugar Cookie Bars, or Peach Pie to help you celebrate!
Tuesday (9/8): Butternut Squash Black Bean Tostadas– I never get tired of tostadas, especially when they are topped with an amazing creamy avocado dressing!
Wednesday (9/9): Egg Muffins with Sausage, Spinach, and Cheese– Easy to make and so fun to eat! Serve them with some breakfast potatoes, crispy bacon and fruit!
Thursday (9/10): Cobb Salad Sandwich– I can't take credit for this recipe, this is Josh's masterpiece and it has all of the ingredients of a Cobb salad but in a sandwich! Cut up some fresh fruit to enjoy on the side!
Friday (9/11): Roasted Chickpea Fajitas– You'll love these perfectly seasoned fajitas and the unexpected crunch from the chickpeas! Serve Green Chile and Roasted Tomato Guacamole on the side.
Saturday (9/12): Berry Banana Smoothie Bowl– If you love smoothies then you will love this easy smoothie bowl. Perfect for an easy and healthy weekend meal. No straw needed, just a spoon and some of your favorite toppings! Eat leftovers or go out for dinner!
Sunday (9/13): Spicy Sausage and Pepper Pasta– This dish is perfect for pasta lovers and will go great with some Caprese Avocado Toast. For dessert, have a bowl of my Peach Almond Crisp, don't forget the ice cream!
Tip-Make some extra egg muffins on Wednesday and pop them in the freezer. They are great to defrost on demand whenever you're craving a yummy breakfast!
If you make one of our recipes, take a picture and share on Instagram! Use the hashtag #twopeasandtheirpod! We want to see what you are making in your kitchen! And don't forget to follow us on Instagram!
And remember, we created a Weekly Meal Plan section on our blog so you can get inspiration from all of the weeks!