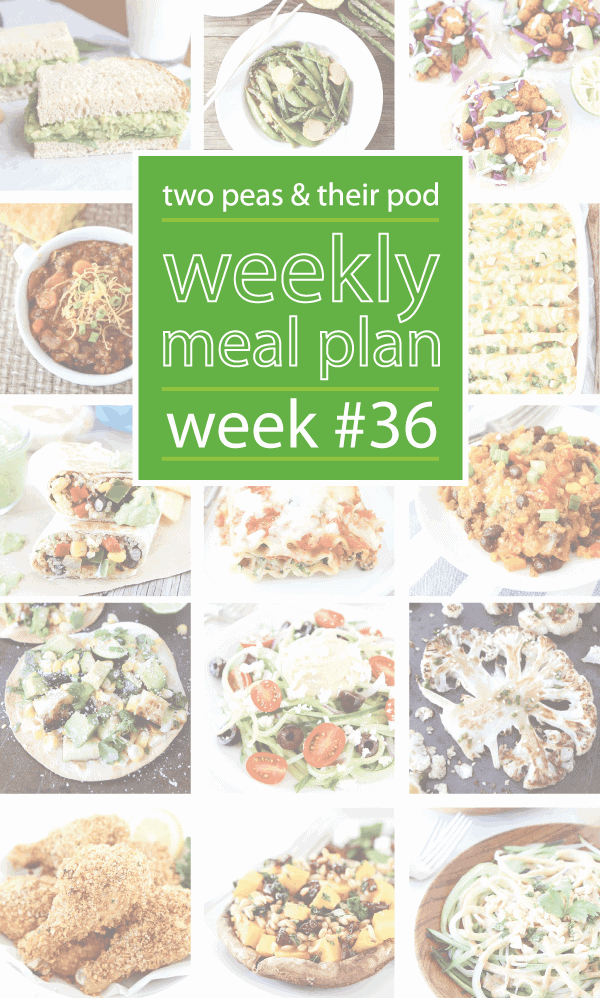 Hello, hello! It is time for another weekly meal plan! We hope you find a few new recipes to try this week! Enjoy!
Week 36
Monday (9/21): Cheesy Guacamole Tostadas-it's Monday, you need an easy dinner! You can have these tasty tostadas on the dinner table in 20 minutes. You can't beat that!
Tuesday (9/22): Pesto Lasagna Roll Ups-fun to make and fun to eat! Serve a simple green salad on the side.
Wednesday (9/23): Eat leftover lasagna roll ups for dinner! Make a loaf of Apple Cinnamon Bread for breakfast or for snacking!
Thursday (9/24): White Chickpea Chili-it is chili season and we love this simple and healthy chili! Serve our Easy Cornbread on the side. It is the BEST! You will never buy boxed again!
Friday (9/25): Sweet Potato and Black Bean Mexican Salad-this salad has all of my favorites! Make
Saturday (9/26): Baked Peanut Butter Apple Oatmeal for breakfast! A great way to start the weekend! Eat leftovers or go out for dinner!
Sunday (9/27): It's Caleb's birthday! We are kicking off the birthday celebration with Pumpkin Cinnamon Streusel Pancakes for breakfast! For dinner, Caleb requested pizza! Josh is making our Easy Whole Wheat Pizza Dough. We will do a sausage and pepperoni pizza for the birthday boy and a veggie lovers! For dessert, we will be having Ultimate Chocolate Cupcakes! It is going to be a PARTY! Celebrate with us!
If you make one of our recipes, take a picture and share on Instagram! Use the hashtag #twopeasandtheirpod! We want to see what you are making in your kitchen! And don't forget to follow us on Instagram!
And remember, we created a Weekly Meal Plan section on our blog so you can get inspiration from all of the weeks!