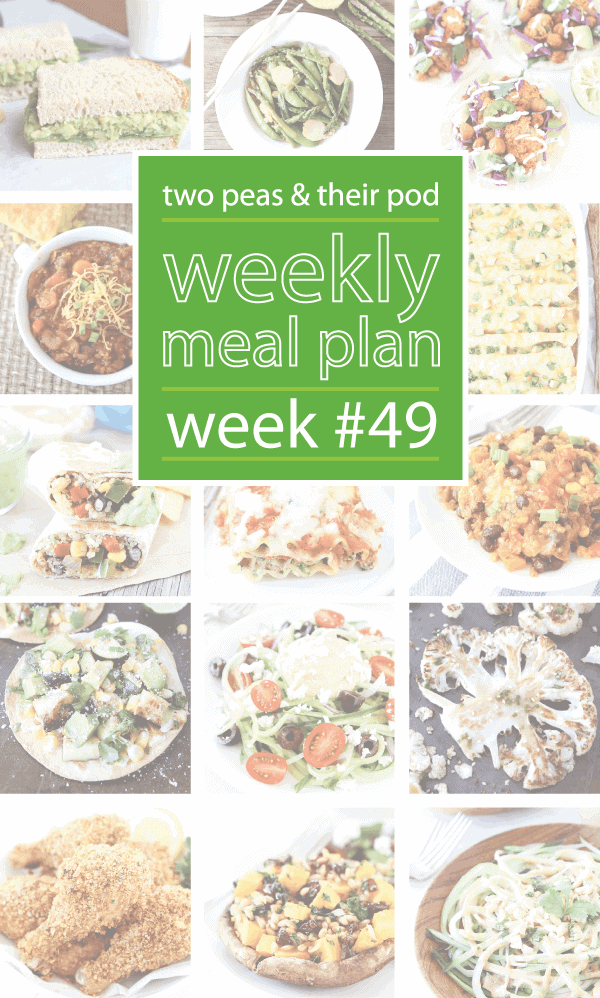 Happy New Year! If you are focusing on eating healthier in the new year, you came to the right place. This week's meal plan is full of healthy recipes the entire family will enjoy! Happy meal planning!
Monday (1/4): Easy Chickpea Vegetable Stir-Fry– This easy and healthy stir-fry can be on your dinner table in 20 minutes.
Tuesday (1/5): Sweet Potato and Black Bean Mexican Salad– This fresh and healthy salad is a favorite at our house! It is easy to make and beautiful to serve!
Wednesday (1/6): Vegetable Quinoa Soup– This hearty vegetable soup will warm you up and fill you up!
Thursday (1/7): Eat leftover soup for dinner! Make a batch of Peanut Butter, Banana, and Honey Granola for snacking on this week!
Friday (1/8): Greek Pizza– If you're a fan of Greek salad, then you'll love this easy pizza!
Saturday (1/9): Start your Saturday with a Pineapple Mango Green Smoothie! Make Roasted Vegetable Pita Sandwiches for dinner!
Sunday (1/10): Penne with Roasted Cauliflower and Lemon Caper Vinaigrette– I love the flavors in this healthy pasta dish. Serve Roasted Lemon Parmesan Green Beans on the side. Looking for a healthier treat? Try my Gluten-Free Vegan Banana Peanut Butter Chocolate Chip Cookies! They are SO good!
If you make one of our recipes, take a picture and share on Instagram! Use the hashtag #twopeasandtheirpod! We want to see what you are making in your kitchen! And don't forget to follow us on Instagram!
And remember, we created a Weekly Meal Plan section on our blog so you can get inspiration from all of the weeks!