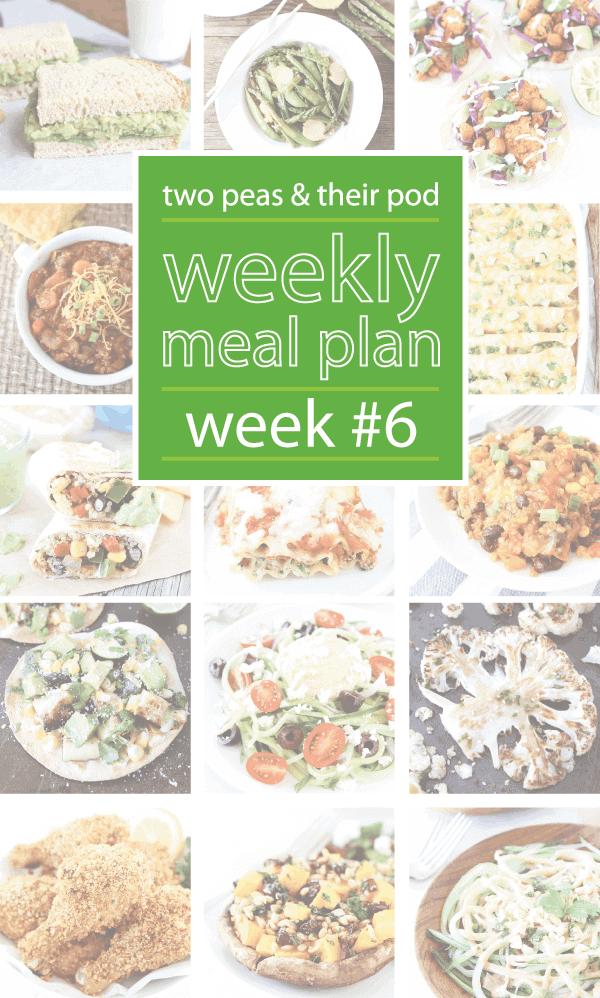 Happy Meal Planning! We hope you find this week's menu helpful! Enjoy!
Week 6:
Monday (2/23): Black Bean and Sweet Potato Tostadas– Tostadas are one of our go to meals. They are easy to make and so good! I'm also making a batch of No Bake Peanut Butter Pretzel Chocolate Chip Granola Bars for snacking on this week! Caleb loves these bars and so do I 🙂
Tuesday (2/24): Roasted Tomato Basil Soup– this soup is perfect with our Roasted Broccoli Grilled Cheese sandwiches! We love dunking our sandwiches into our soup!
Wednesday (2/25): Creamy Avocado Pasta-If you are an avocado lover, you will go crazy for this pasta! It may not be the prettiest pasta dish, but it might be the tastiest. Trust me on this one!
Thursday (2/26): Dinner is going to be leftovers tonight! We deserve an extra night off this week 🙂
Friday (2/27): Kale, Mushroom and Ricotta Calzones-we are mixing up pizza night and making calzones instead! Biscoff Oatmeal Cookies are for dessert!
Saturday (2/28): Cinnamon Streusel Baked French Toast Strips– French toast sticks with a special cinnamon streusel topping! You are in for a real breakfast treat! Eat leftovers, make a simple salad or sandwich, or go out for dinner!
Sunday (3/1): Spinach Mushroom Cannelloni– Spinach mushroom cannelloni is the perfect dish for pasta lovers. There is something warming and comforting about pasta that has been stuffed with spinach, mushrooms, sauce, and lots of cheese. Serve Green Beans with Lemon and Feta on the side and Meyer Lemon Pudding Cake for dessert!
If you make one of our recipes, take a picture and share on Instagram! Use the hashtag#twopeasandtheirpod! We want to see what you are making in your kitchen! And don't forget to follow us on Instagram!
And remember, we created a Weekly Meal Plan section on our blog so you can get inspiration from all of the weeks!