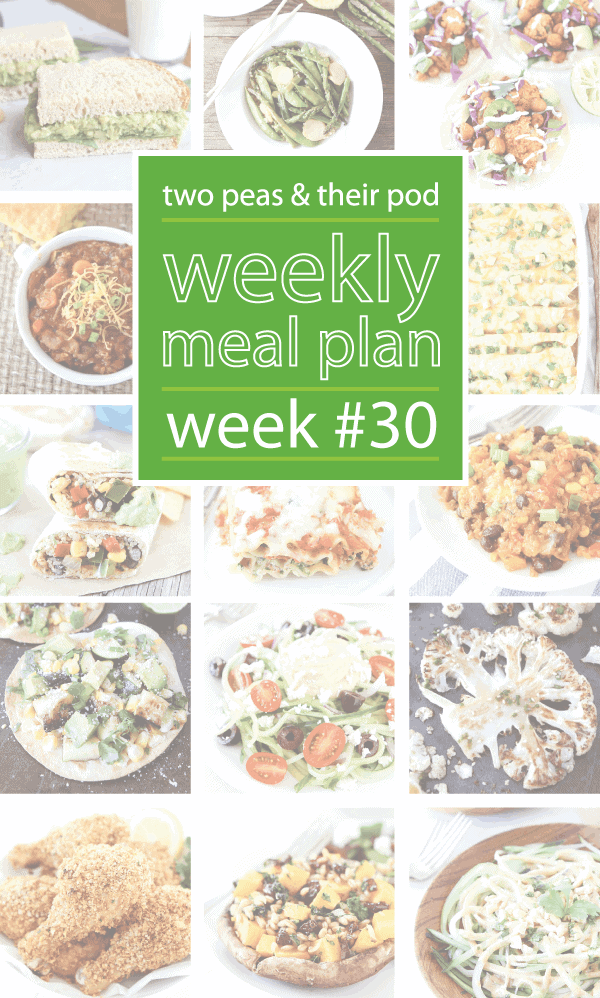 Happy meal planning time! We have some great summer meals for you this week! Enjoy!
Week 30
Monday (8/10): Grilled Zucchini Nachos–These are my favorite summer nachos and the boys love them too! Serve with watermelon slices!
Tuesday (8/11): Egg Muffins with Sausage, Spinach and Cheese-These are easy to make and so fun to eat. I'll be leaving some sausage out of a few for me:) If you don't eat them all, put some in the freezer for on the go breakfasts! Serve Quinoa Fruit Salad with Honey Lime Dressing on the side!
Wednesday (8/12): Bacon Caprese Sandwiches-my boys LOVE this sandwich! I will be enjoying a classic caprese sandwich-no bacon:)
Thursday (8/13): Quinoa Salad with Edamame, Cucumber and Avocado-I love quinoa salads! And if I eat this healthy salad for dinner I can have a Toffee Ice Cream Brownie Bar, right?! 🙂
Friday (8/14): Summer Zucchini Noodle Salad–We love making and eating zucchini noodles and this salad is a summer favorite! Enjoy leftover Toffee Ice Cream Brownie Bars for dessert! It's ok to have them two nights in a row:) Just pull them out of the freezer!
Saturday (8/15): Coconut Crusted French Toast-This is Josh's famous French toast and I'll be letting him do all the work…ha! Eat leftovers or go out for dinner!
Sunday (8/16): Greek Tortellini Salad with fresh sweet corn on the side! Serve Peach Almond Crisp for dessert and don't forget the vanilla ice cream!
If you make one of our recipes, take a picture and share on Instagram! Use the hashtag #twopeasandtheirpod! We want to see what you are making in your kitchen! And don't forget to follow us on Instagram!
And remember, we created a Weekly Meal Plan section on our blog so you can get inspiration from all of the weeks!