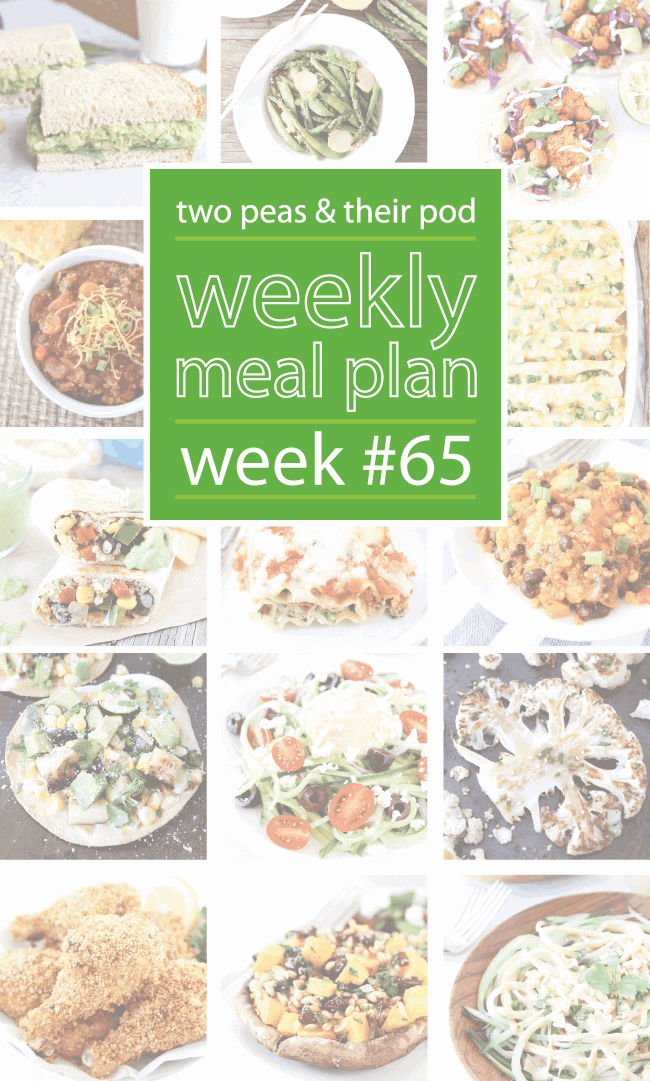 I have a feeling you are going to love this week's eats! I know I am pumped! Don't forget to leave a comment or share on social media with the hashtag #twopeasandtheirpod! We love to see what recipes you are making! Enjoy!
Monday (4/25): Quinoa Salad with Asparagus, Peas, Avocado, & Lemon Basil Dressing– Start your week with this healthy spring quinoa salad!
Tuesday (4/26): Brie, Pesto, and Sweet Pepper Grilled Cheese– This grilled cheese is everything! Serve a simple green salad on the side.
Wednesday (4/27): Bacon, Potato, and Egg Casserole– My boys will love having this breakfast casserole for dinner. Serve fresh fruit on the side.
Thursday (4/28): Eat leftover casserole for dinner. Make a batch of Whole Wheat Strawberry Banana Muffins for breakfast or snacking!
Friday (4/29): Asparagus, Goat Cheese, and Pistachio Flatbread– This easy spring flatbread is perfect for Friday night. Make Lemon Drop Cookies for dessert.
Saturday (4/30): Make Carrot Pineapple Orange Juice and Orange Almond Scones for breakfast! Go out or eat leftovers for dinner.
Sunday (5/1): Kick-off May with Grilled Steak Fajitas! Serve Cilantro Lime Rice and Grilled Guacamole on the side! Make Lime Bars for dessert.
If you make one of our recipes, take a picture and share on Instagram! Use the hashtag #twopeasandtheirpod! We want to see what you are making in your kitchen! And don't forget to follow us on Instagram!
And remember, we created a Weekly Meal Plan section on our blog so you can get inspiration from all of the weeks!