12 recipes that are perfect for Easter brunch! Make one or make them all! 🙂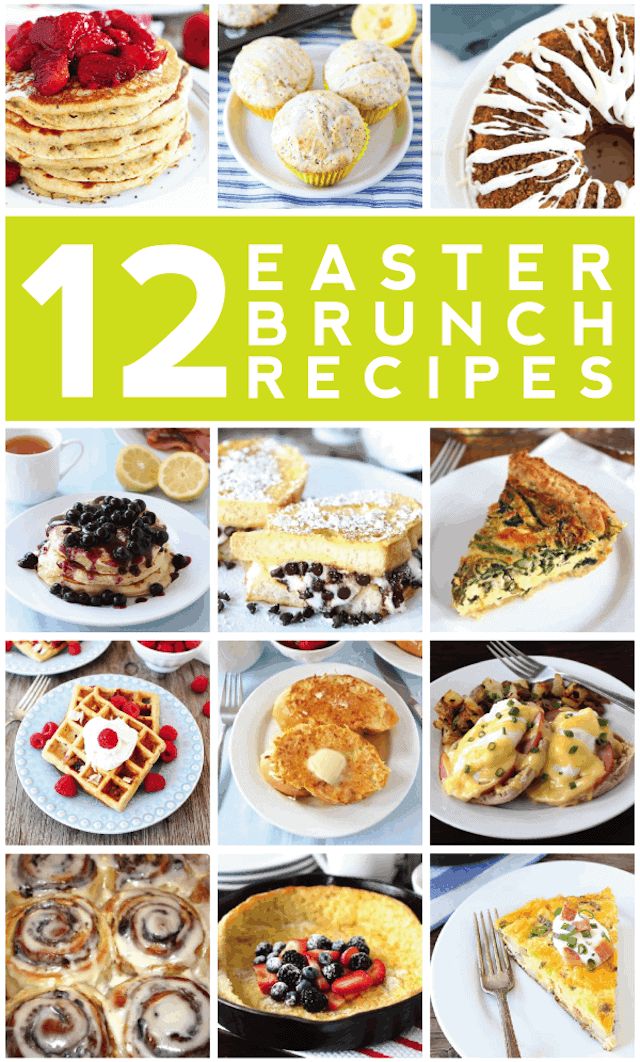 Easter is on Sunday and we are getting ready to celebrate. Tomorrow we are dying eggs with my sister and niece. We are also going to do an egg hunt. Caleb hunts for eggs every day since we have six chickens, but this egg hunt will be special. This time the eggs will have fun surprises inside:)
On Sunday, we are going to church and making a special Easter brunch. Today we are sharing 12 Easter Recipes that are perfect for Easter brunch…the problem is I want them all. I need to narrow it down!
top row from left: Lemon Chia Seed Pancakes with Roasted Strawberries – Lemon Poppy Seed Muffins – Yogurt Coffee Cake
second row from left: Lemon Ricotta Pancakes with Blueberry Sauce – Cannoli Stuffed French Toast – Asparagus, Spinach & Feta Quiche
third row from left: Coconut Raspberry Waffles with Coconut Whipped Cream – Coconut Crusted French Toast – Eggs Benedict
bottom row from left: Cinnamon Rolls – German Pancake with Berries – Loaded Baked Potato Frittata
What are you making? If you haven't decided yet, I hope these recipes help! I am leaning towards pancakes of some sort. My go to pregnancy food:) Josh is making dinner and I know his famous Parmesan Crusted Scalloped Potatoes are on the menu. I think Lemon Coconut Cookies with Toasted Coconut need to happen too! It's going to be a glorious day! I can't wait!
Happy Easter to everyone celebrating! Have a great weekend!