Quick Summary
Sharing all of my tips and tricks to make the BEST Roasted Vegetables. Plus, lots of ideas for different flavors, seasonings, and ways to use them up!
This post is sponsored by Kroger.
If you follow me on Instagram and watch my stories, you know I roast vegetables just about every single week. They are my FAVORITE and I love having them in the fridge at all times to eat for easy lunches, dinners, and to jazz up meals.
Every time I show a pan of my roasted veggies, I get lots of questions, so today I am going to share how to roast vegetables. I am also going to share all of my tips and secrets.
You guys are going to fall in love with roasted veggies. Roasting brings out the BEST flavor and makes any vegetable taste better, I promise. If you think you (or your kids or your significant other) don't like vegetables, roast them. I guarantee they will be a hit!
Roasting veggies is so easy and a great way to clean out the fridge. Never throw away your sad looking veggies, roast them! I promise they will taste amazing and it's a great way to reduce food waste. Roasting really is MAGIC!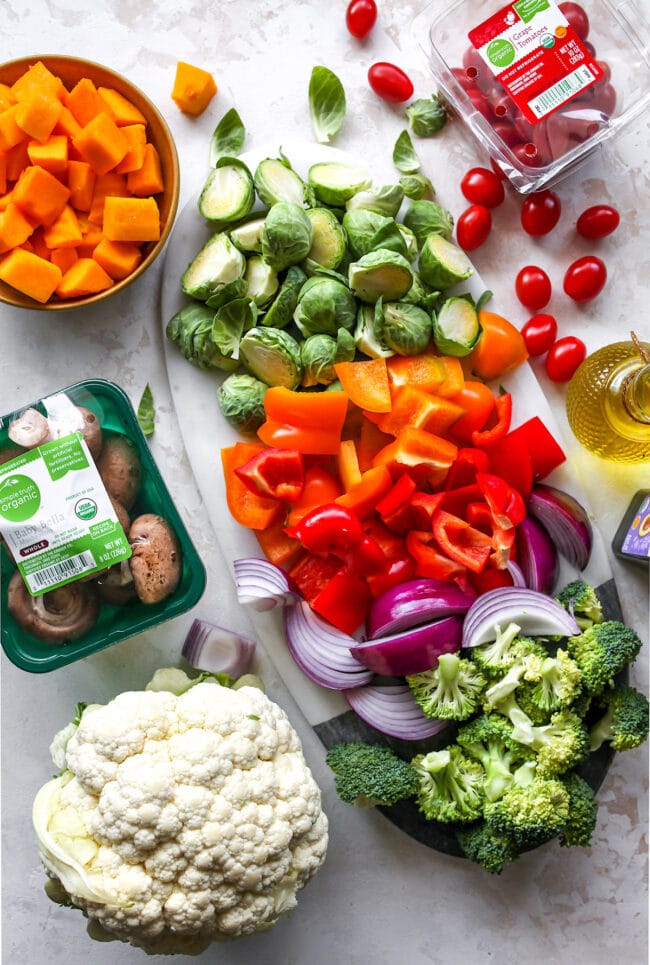 Tips for Making Roasted Vegetables
First, make sure you wash your veggies. Pat them dry with a clean towel to get rid of any excess moisture.
Use a sharp knife to cut the vegetables into uniform pieces so they cook evenly.
Use a large rimmed baking sheet. I don't recommend using a casserole dish, with sides, because the sides trap the moisture, steaming the veggies. For easy clean up, you can line the baking sheet with aluminum foil or high-heat parchment paper.
Coat the vegetables generously with oil before roasting. You can use olive oil or avocado oil. Drizzle oil over vegetables and toss with your hands, rubbing the oil into the veggies to make sure they are well coated. You can do this in a large bowl or right on the sheet pan. I usually drizzle and toss right on the sheet pan, so I have one less dish to wash. Porous vegetables like eggplant and mushrooms, might need a little more oil. You don't want the vegetables to be greasy, so don't overdo it. You want them nicely coated, but not swimming in oil.
Don't crowd the baking sheet. You want to spread the vegetables in an even layer with space in between so the vegetables can cook and get crispy. If you crowd and overlap the veggies, they will steam and get mushy, not what we want!
Roast vegetables at a high heat, 425 degrees F and make sure you preheat the oven so it is HOT when the veggies go in!
Flip! For even browning and caramelization, flip vegetables halfway through cook time. You want to make sure both sides are nice and crispy. I like to let the vegetables get a little char on them. YUM!!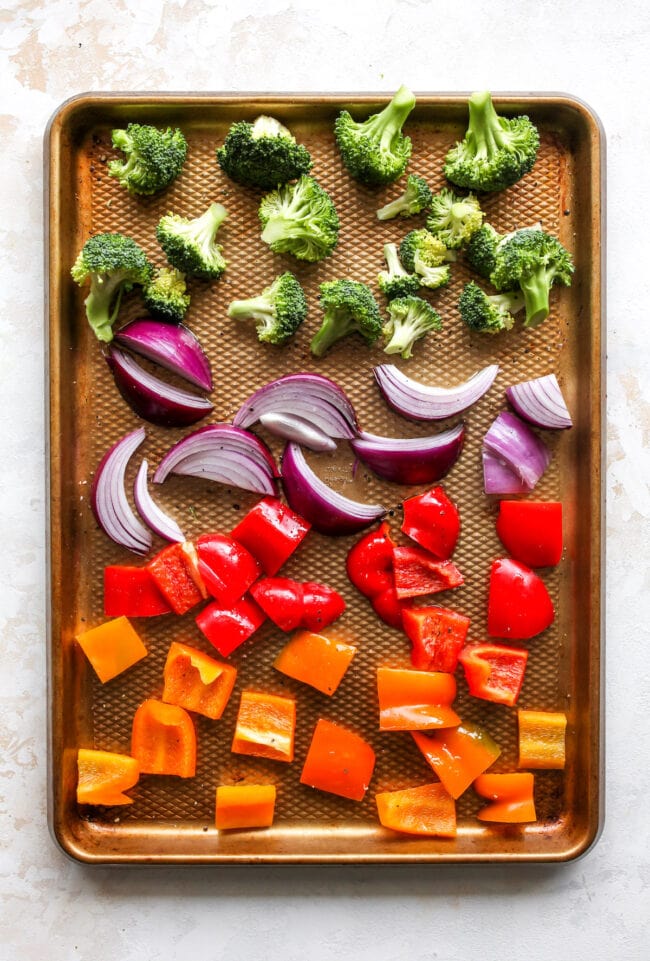 Seasoning Suggestions
You can keep things super basic and stick with olive oil (or avocado oil), kosher salt, and black pepper. Roasting will bring out an incredible flavor, so they don't need a ton of seasonings, but you can spice them up if you want a little more flavor. It is always fun to get creative!
A few of my favorite flavors include:
Everything bagel seasoning – I always have this in my pantry and it's good on just about everything, especially veggies!
Garlic – If you are going to add garlic, be careful because you don't want it to burn. It is fine for the vegetables that don't take as long, but if you are roasting for longer than 30 minutes, I recommend roasting whole garlic cloves. Roasted garlic adds great flavor. Chop up the roasted garlic and then add to the roasted vegetables.
Herbs – rosemary, sage, thyme, dill, basil, parsley, etc. You can use fresh or dried herbs. If you are using dried, use less because the flavor is stronger. The amount will depend on how many veggies you are roasting.
Spices – paprika, smoked paprika, cumin, chili powder, garlic powder, onion powder, turmeric, garam masala, curry powder, crushed red pepper flakes, etc. are all good options. You can even mix some spices together!
Citrus – A squeeze of fresh lemon, lime, or orange juice adds a burst of flavor.
Vinegar – Add a splash of vinegar! Balsamic is my favorite.
Pesto – one of my favorite additions!
Sesame oil – a little goes a long way! Perfect if you are doing Asian flavors.
Honey or Maple Syrup – if you want to sweeten things up! Keep in mind these two are sticky so and might burn and stick to the pan so add them closer to the end.
Cheese – I love adding Parmesan because it melts nicely in the oven on the veggies and creates a good cheesy crust. If you want to use shredded cheese, such as cheddar, fontina, Gruyere, etc. you can remove the pan from the oven during the last 5 to 10 minutes or so and let the cheese melt over the veggies. If you want to add a crumbled cheese, such as feta, goat cheese, or blue cheese, add it after the veggies come out of the oven.
Dressings – when the veggies come out of the oven, you can add a drizzle of your favorite salad dressing. I like balsamic vinaigrette, basil vinaigrette, or Italian dressing.
Sauces/Dips – You can also serve sauces and dips on the side. Tzatziki, creamy avocado ranch dip, hummus, or tahini sauce are all good options.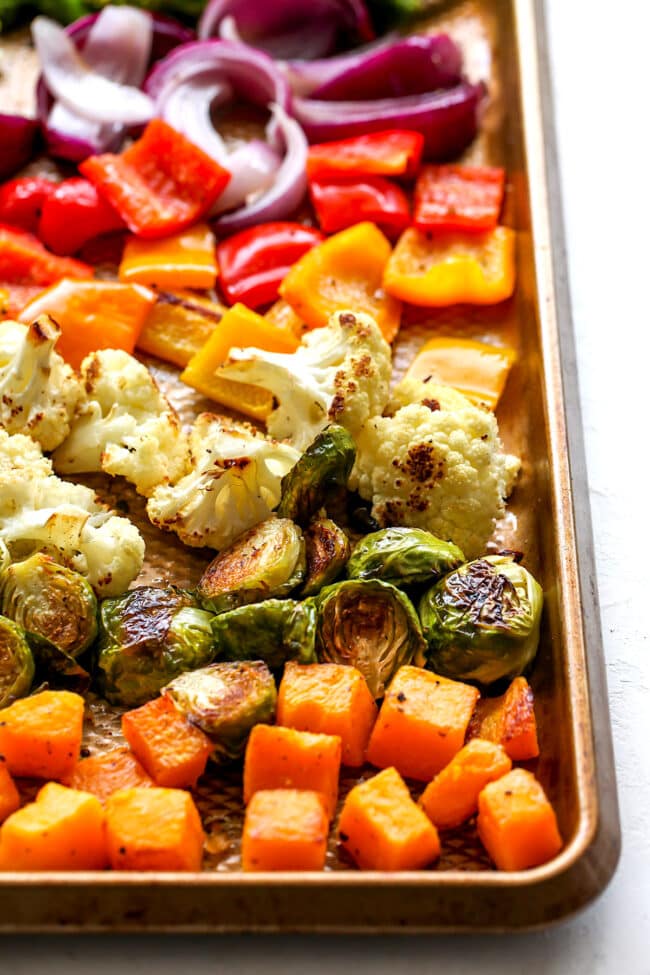 How Long to Roast Vegetables
I roast any and all veggies. I love using what's in season and what's in my garden during the summer months. But when I can't grow my own produce, I always find a great selection of veggies at Smith's, my Kroger store.
You can roast different veggies at the same time, but make sure they are the same size and same genre, hard vs. soft vegetables if you are putting them on the same pan.
If you want to cook different vegetables on the same pan, you can start the veggies that take longer to roast first and then add shorter roasting veggies to the pan when it is their time to go in.
I put together a vegetable "cheat sheet" for you so you can determine how long certain vegetables take to cook.
Asparagus: 10-15 minutes
Green beans: 10-15 minutes
Bell peppers: 15-20 minutes
Mushrooms: 15-20 minutes
Sliced Red or Yellow Onion: 15 minutes
Zucchini or Yellow Squash: 15-20 minutes
Cherry or Grape Tomatoes: 15-20 minutes
Mushrooms: 15-20 minutes
Broccoli: 20-25 minutes
Carrots: 25-30 minutes
Butternut Squash: 25-30 minutes
Brussels Sprouts: 25-30 minutes
Cauliflower: 25-30 minutes
Eggplant: 30-35 minutes
Potatoes and Sweet Potatoes: 30-40 minutes
Rutabaga: 30 to 45 minutes
Beets: 35-40 minutes
Spaghetti Squash: 40-60 minutes
You want the vegetables to be crisp and browned around the edges, and tender, but not mushy.
How to Store
I like to keep roasted vegetables in the fridge so I can use them throughout the week.
Place cooled vegetables in an airtight container and keep in the refrigerator for up to five days. You can combine veggies or keep them in separate containers, that is up to you.
How to Reheat
You can reheat roasted veggies in the oven, in a skillet on the stovetop, air fryer, or microwave.
Oven: place the veggies on a sheet pan and place in a 350 degree F oven until heated through, about 10 minutes.
Skillet: You can place the veggies in a skillet with a little olive oil or nonstick cooking spray and cook over medium heat until heated through, stirring occasionally. This will take about 3 to 5 minutes.
Air Fryer: I love using the air fryer because it crisps the veggies back up. Place the veggies in an air fryer, making sure you don't overcrowd the basket. Heat at 350 degrees F until warm, this will only take a few minutes.
Microwave: The microwave will make them a little mushy, but they are still good. Heat for 30 to 60 seconds, depending on your microwave.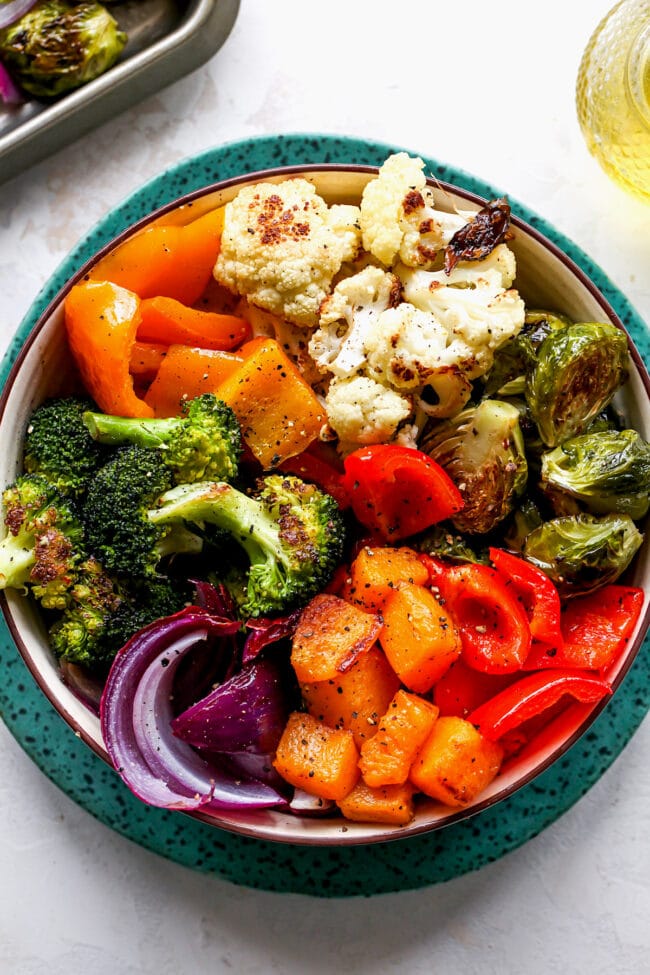 How to Use Roasted Vegetables
There are SO many ways to enjoy delicious roasted veggies. My personal favorite? A bowl of roasted veggies with cottage cheese. This is my go to EASY lunch. You have to try it:)
I also use the roasted veggies to make:
Get creative! They will add SO much flavor to basically any dish. And it's always a good idea to sneak in more veggies.
More Vegetable Recipes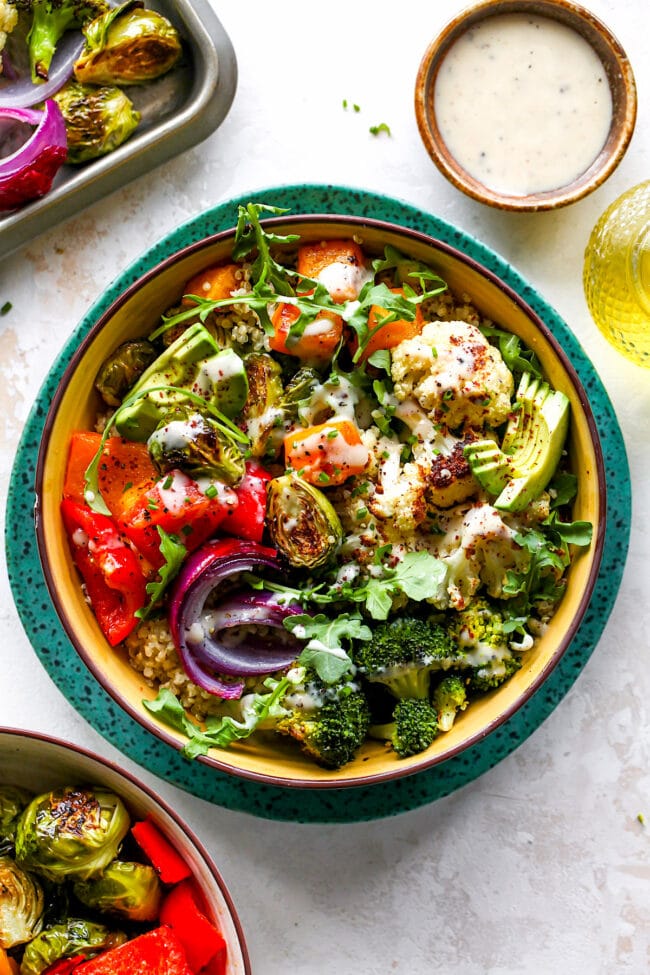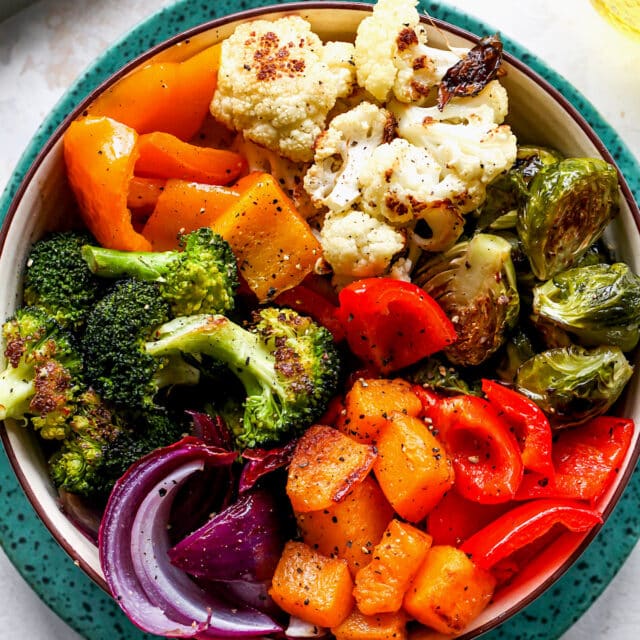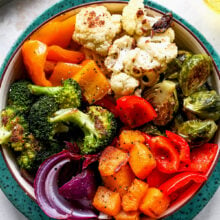 Roasted Vegetables
How to make the BEST Roasted Vegetables! Plus, lots of ideas for different flavors, seasonings, and ways to use them up!
Ingredients
4 to 8

cups

any vegetables

(see post for suggestions)

1 to 2

tablespoons

olive oil or avocado oil

Kosher salt and freshly ground black pepper,

to taste
Instructions
Preheat the oven to 425°F. For easy clean up, line 1 or 2 large baking sheets (depending on how many veggies you are roasting) with aluminum foil or parchment paper. Set aside.

Prep the vegetables. Wash, dry, and peel the vegetables, if desired, then cut into uniform pieces so they cook evenly.

Place the vegetables on the prepared baking sheets. Drizzle with oil and season with salt and pepper. Toss until well coated. *See the post for additional seasoning ideas.*

Spread the vegetables out in a single layer, making sure they are not touching. If they are too crowded, the vegetables will steam instead of roast. Make sure you put similar vegetables that take the same amount of time to cook on the same pan, see the post for cooking times. If you want to cook different vegetables on the same pan, you can always start cooking the veggies that take longer first and add the other vegetables later.

Roast until the veggies are tender and slightly charred around the edges, tossing halfway through. If you're roasting two sheets at the same time, switch the racks halfway through the cooking time so the vegetables cook evenly.

You can serve the roasted vegetables immediately or let cool and store in the fridge in an airtight container so you can use them all week.
Notes
Make sure you read the blog post for lots of tips, seasoning ideas, cooking time for different vegetables, how to store, and how to use roasted vegetables.
Nutrition
Calories:
118
kcal
,
Carbohydrates:
18
g
,
Protein:
5
g
,
Fat:
4
g
,
Saturated Fat:
1
g
,
Sodium:
64
mg
,
Potassium:
289
mg
,
Fiber:
5
g
,
Vitamin A:
6931
IU
,
Vitamin C:
14
mg
,
Calcium:
34
mg
,
Iron:
1
mg
Have you tried this recipe?
Leave a comment below and share a photo on Instagram. Tag @twopeasandpod and hashtag it with #twopeasandtheirpod
Photos by Dishing out Health