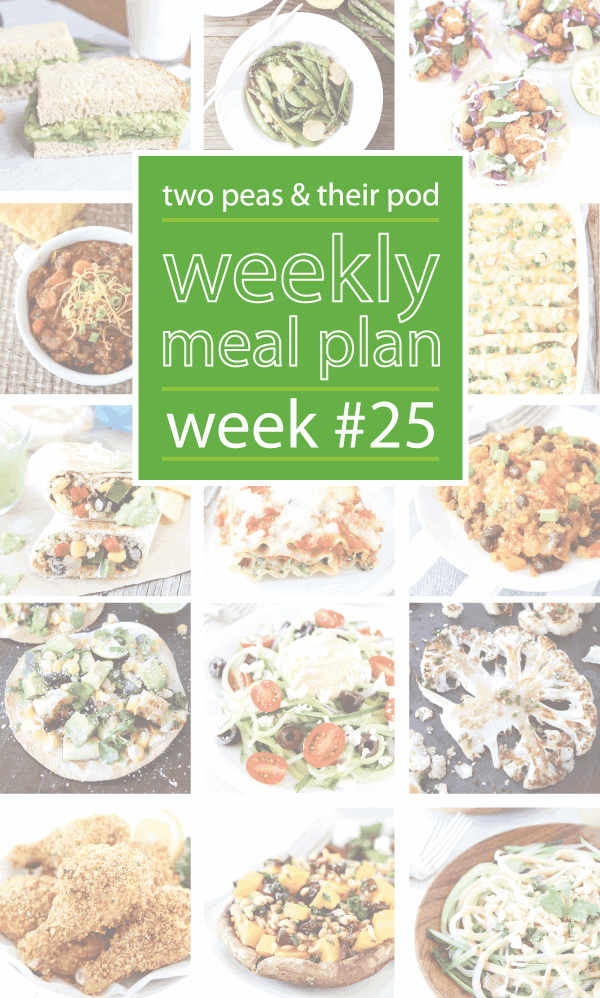 Happy 4th of July! We know your weekend is busy with food, fun, and fireworks, but we hope you will take a moment to meal plan for the upcoming week! We have lots of tasty summer dinner ideas! Enjoy!
Week 25
Monday (7/6): Southwestern Grilled Sweet Potato Salad– I love using the grill when its too hot to cook inside and this salad is great to eat on those hot summer nights. Hearty and delicious, just the way I like my salads! Make Brown Butter Toffee Milkshakes for dessert!
Tuesday (7/7): Peach Scones– I like to make the scones in the morning while it's still cool so all I have to do is blend up some fresh fruit for the Peach Raspberry Smoothies when it's dinner time. We love breakfast for dinner nights and this one is just peachy:)
Wednesday (7/8): Jalapeño Cornbread Panzanella Salad– No leafy greens in this salad, just loads of toasted jalapeño cornbread and a few other yummy ingredients…sounds right to me! Serve grilled chicken or fish to go with!
Thursday (7/9): Grilled Cauliflower Steaks with Pesto– This is definitely my kind of steak! Serve Mango, Strawberry, Avocado, and Arugula Salad on the side!
Friday (7/10): Ultimate Veggie Sandwiches– These sandwiches are loaded with veggies! Serve chips and Pineapple Salsa on the side!
Saturday (7/11): Blueberry Yogurt Waffles– These light and fluffy waffles are great for breakfast, brunch, or dinner!
Sunday (7/12): Grilled Honey Mustard Pork Tenderloin with Grilled Shishito Peppers and Watermelon, Blackberry, and Mint Salad. Of course, the night wouldn't be complete without some Cinnamon Sugar Tortilla Ice Cream Bowls for dessert!
If you make one of our recipes, take a picture and share on Instagram! Use the hashtag #twopeasandtheirpod! We want to see what you are making in your kitchen! And don't forget to follow us on Instagram!
And remember, we created a Weekly Meal Plan section on our blog so you can get inspiration from all of the weeks!