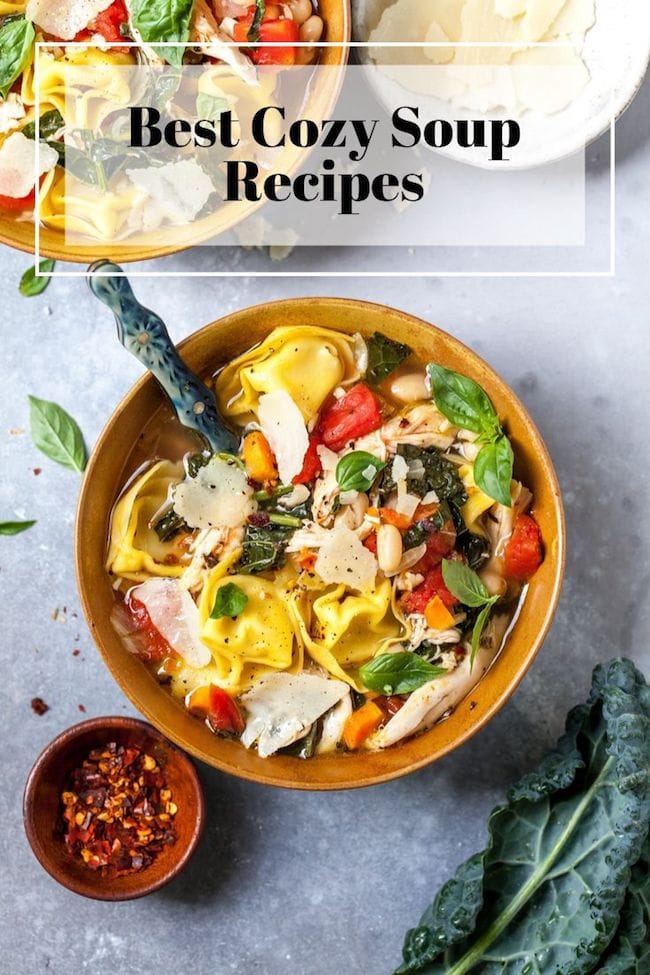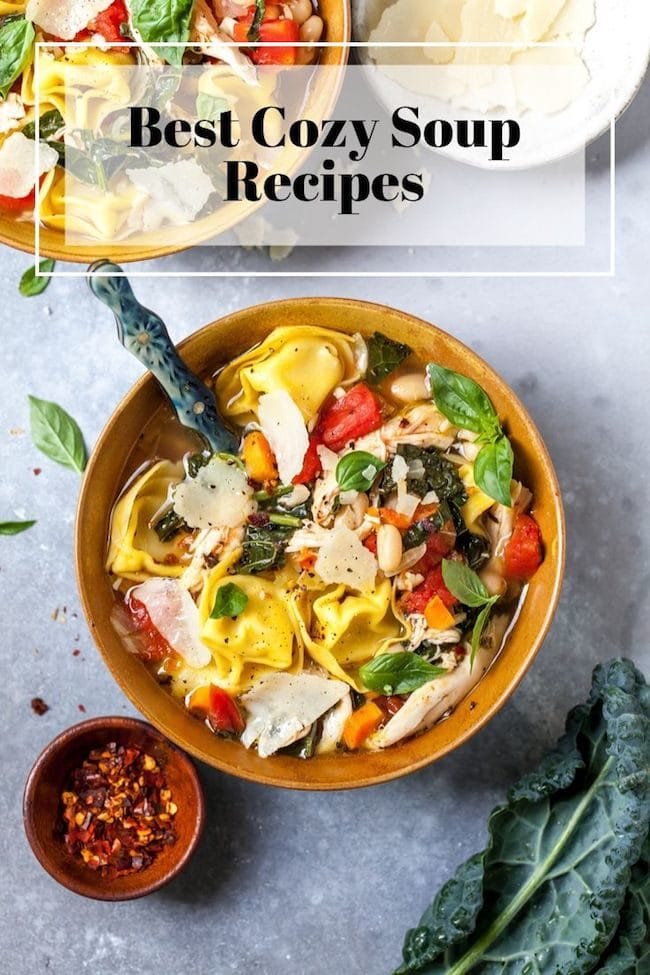 Best Cozy Soup Recipes
Every fall and winter I get tons of requests for SOUP recipes! I totally get it, because we LOVE soup! Soup is the ultimate cold-weather meal: it's hearty, comforting, fills you up and warms you up!
Most soups (especially the ones on this list) are really easy to make, too. They're as easy as a little time at the stove or tossing a couple things in the slow cooker or Instant Pot. You're also getting vegetables, grains, and protein in your dinner with one dish!
I also love the leftovers after a good soup night. Heat up a bowl of leftover soup, and you've got the best lunch ever!
Soup Tips
Here are a few tips for soup success every time!
Big Pot! Make sure you use a large soup pot to begin with.
Sauté! Always start with sautéing your onion and any veggies that will take a bit longer to cook, like carrots or celery! Don't add your garlic until after the vegetables are tender or it will burn.
Broth and Stock! Use a high quality broth or stock because the flavor will make a difference in how your soup turns out.
Simmer! Let your soups simmer so they can develop rich flavors.
Add greens last! Finish with leafy greens at the very end, right before serving, since those will cook down quickly.
Rotisserie Chicken! If your recipe calls for shredded chicken and you are in a hurry, grab a rotisserie chicken at the grocery store! This is an easy way to have tender, yummy chicken with minimal work.
Freezing Soups! Soups that are broth-based and have rice, beans, and meat freeze really well. Place soups cooled soup in a freezer container and freeze for up to 3 months. Soups that contain starchy vegetables, noodles, and cream don't freeze as well.
What to Serve with Soup
I love that soup is a one pot meal, loaded with lots of goodies, but if you want to serve something with your bowl of soup. Here are some ideas!
Favorite Soup Recipes
If you are soup lover and looking for the best soup recipes, you came to the right place! These soup recipes are tried and true, family favorites, that you will want to make over and over again!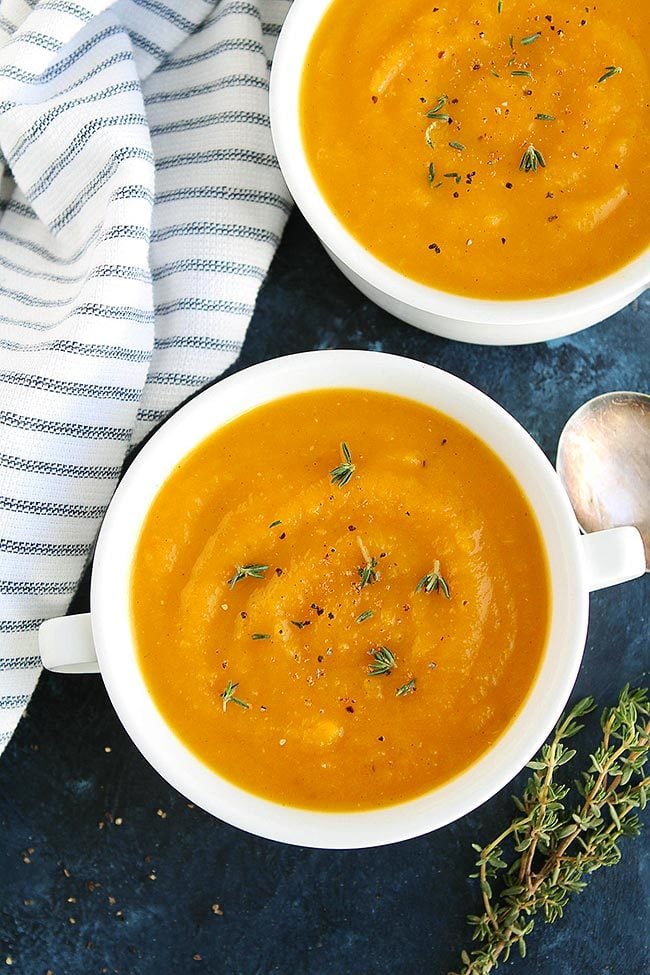 Easy Butternut Squash Soup-The Instant Pot makes this butternut squash SO easy and SO delicious. You will never know it is healthy because it's so creamy and delicious. It is a guaranteed fall favorite!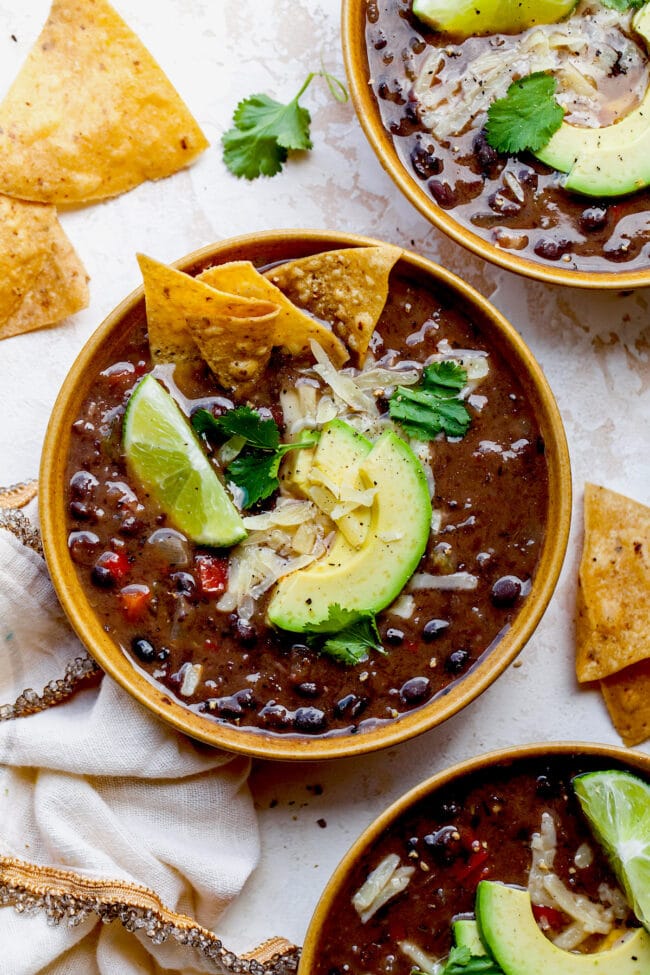 Easy Black Bean Soup-This vegetarian Black Bean Soup is made with pantry staples and is loaded with flavor! It freezes well too!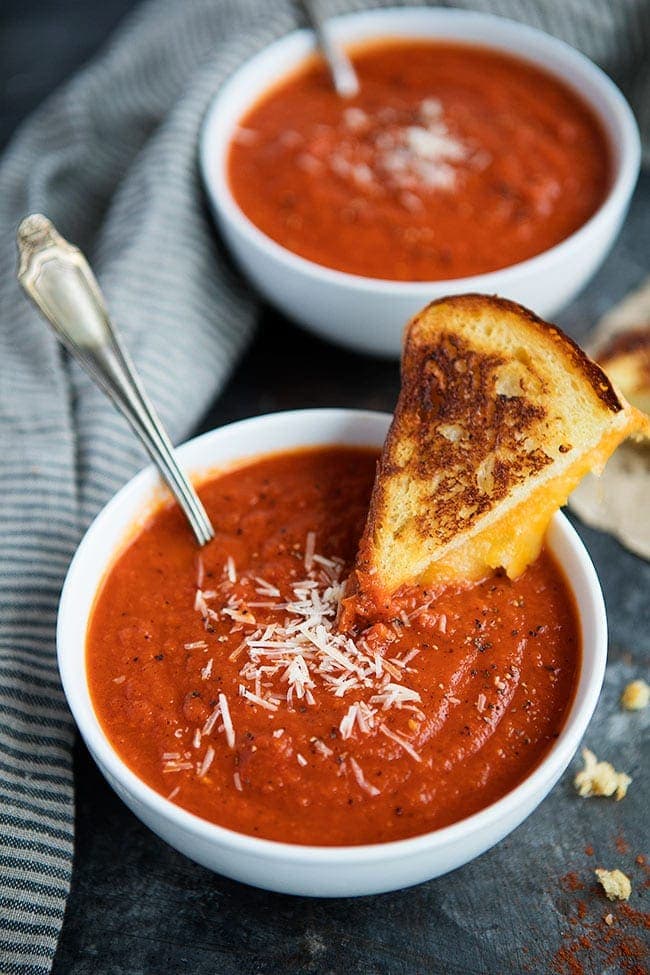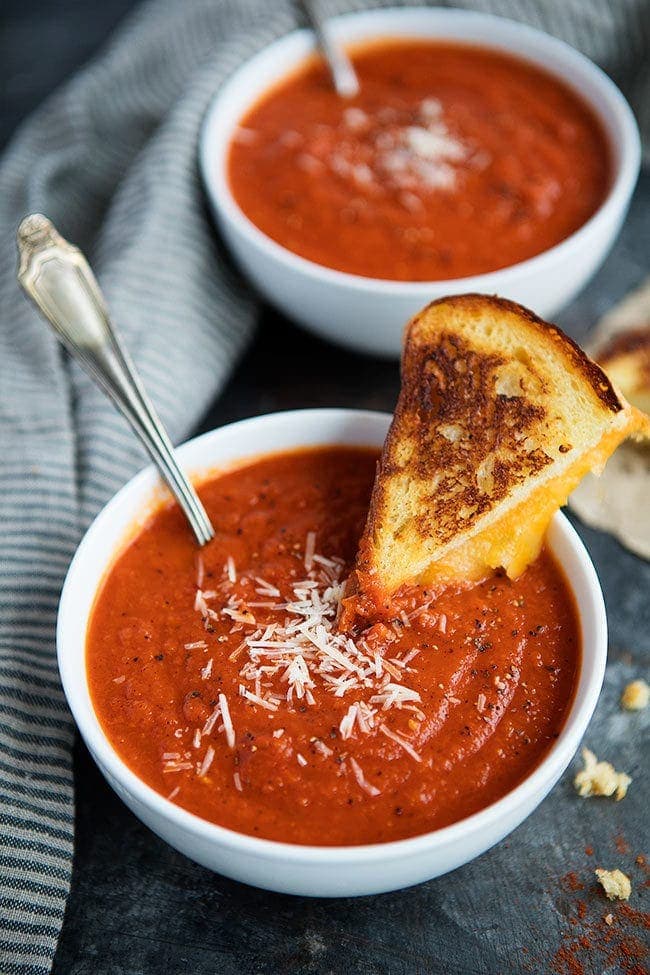 Smoky Tomato Soup-The smokiness takes this soup to the next level. Fire-roasted tomatoes, roasted red peppers, and smoked paprika make for a great twist on the classic. Add a grilled cheese for dunking and you have the ultimate comfort food meal!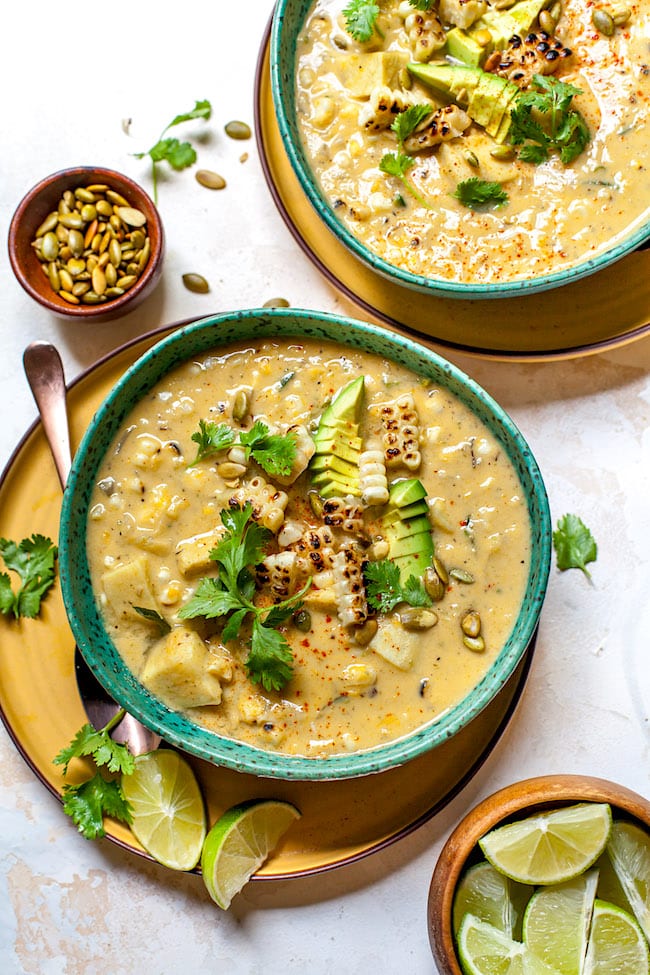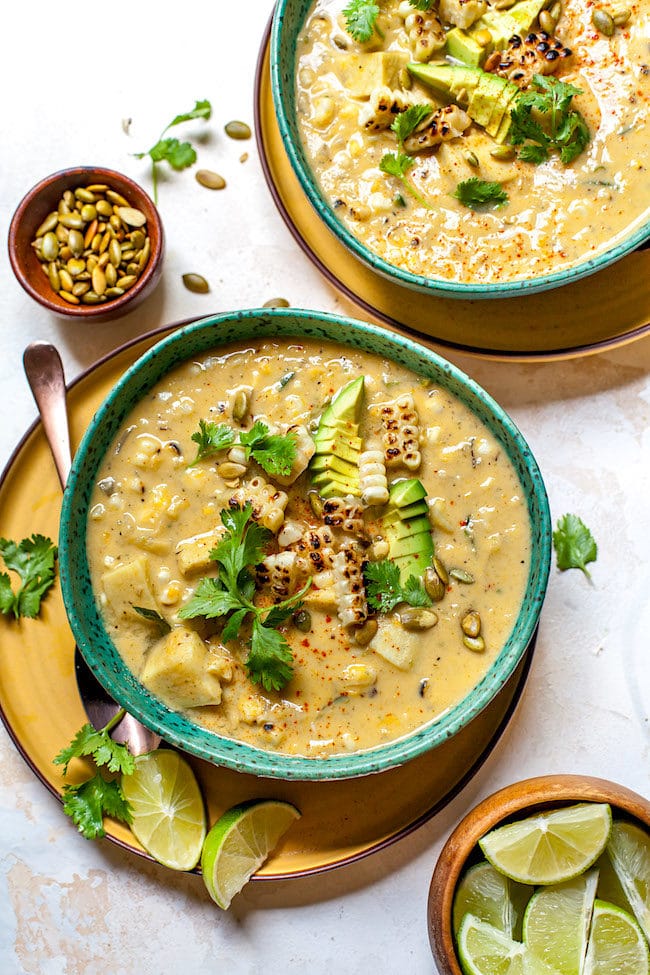 Sweet Potato Roasted Corn Chowder-Made with sweet potatoes, roasted poblano peppers, coconut milk, and topped with avocado and cilantro. It is the BEST corn chowder! You will never know it is vegan because it is so creamy and delicious!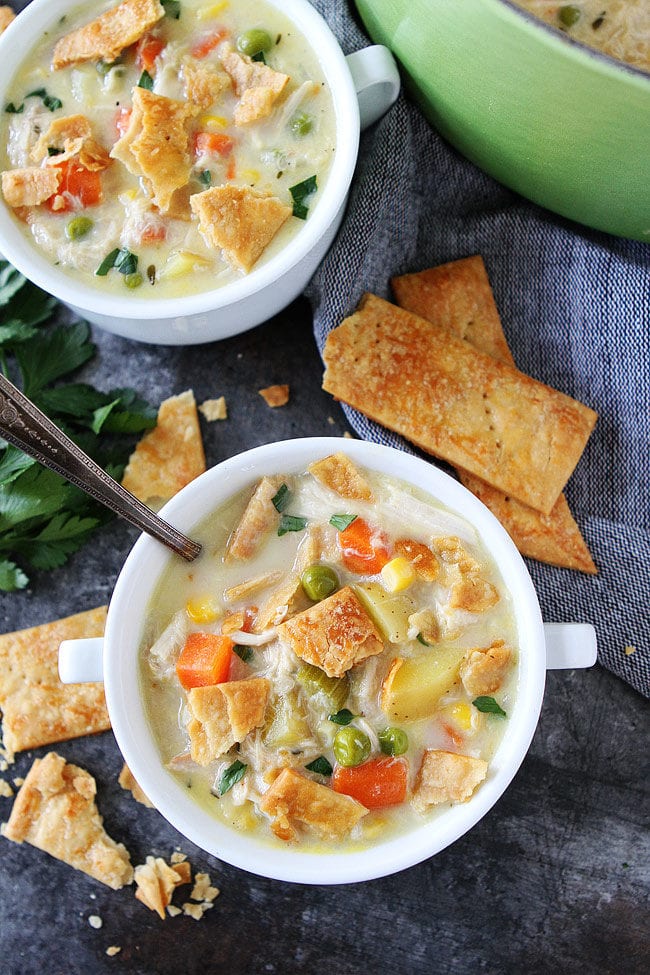 Chicken Pot Pie Soup-You will love this twist on the classic chicken pot pie. This soup is creamy, comforting, and the perfect meal for a cold day. Don't forget the pie crust crackers to garnish the soup!
Vegetable Soup-this homemade vegetable soup is SO MUCH better than canned soup. It is hearty, healthy, and great for lunch or dinner.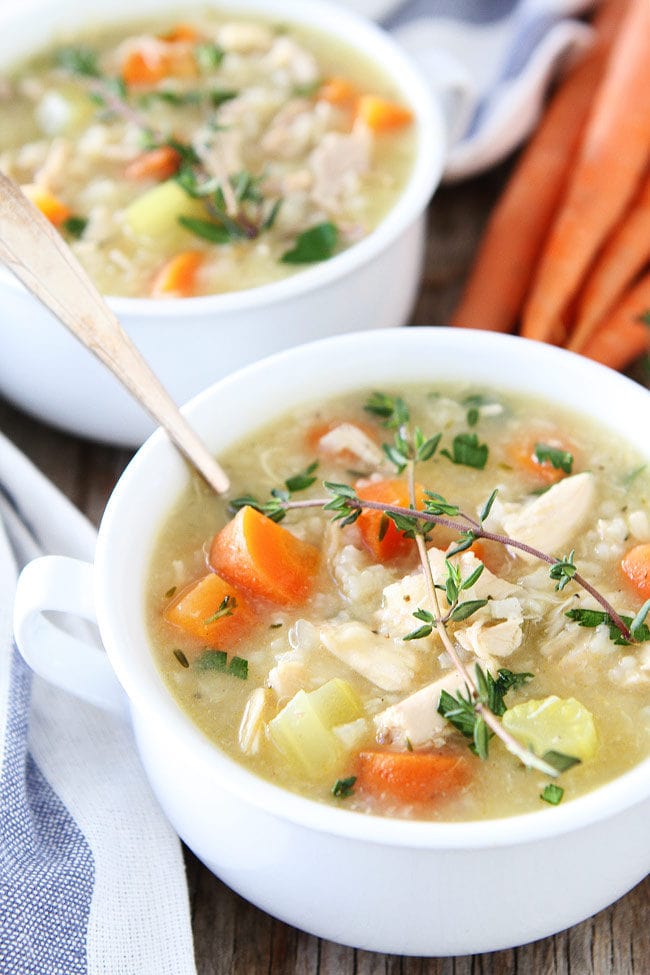 Easy Chicken and Rice Soup-It's a classic for a reason! Chicken and rice is a healthy and delicious soup that's great to feed your family or to take to someone who needs a comforting meal.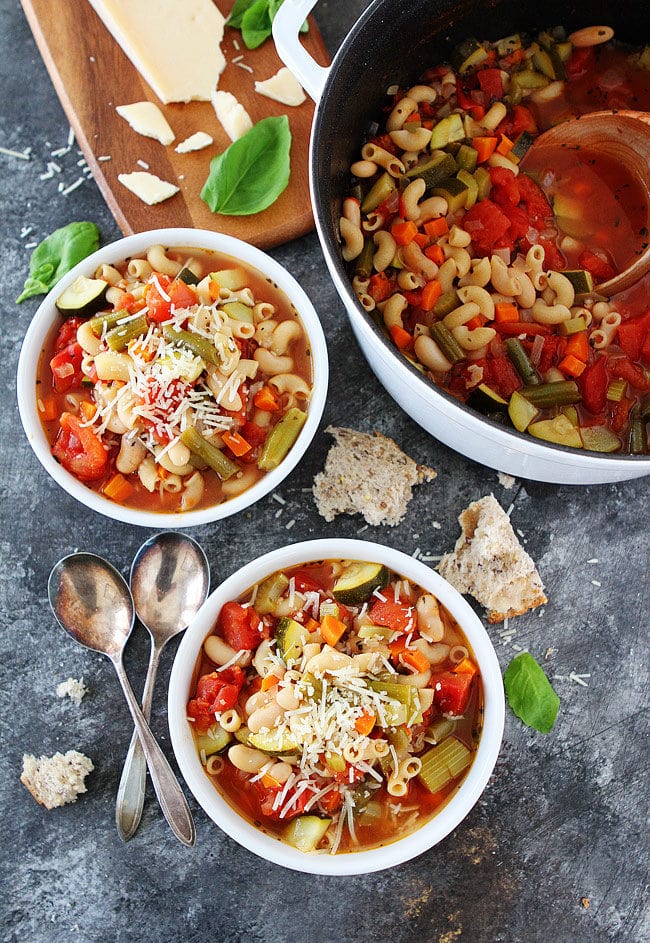 Minestrone Soup-This easy minestrone soup is a family favorite, especially when topped with freshly grated Parmesan cheese. Serve with crusty bread and your meal is complete!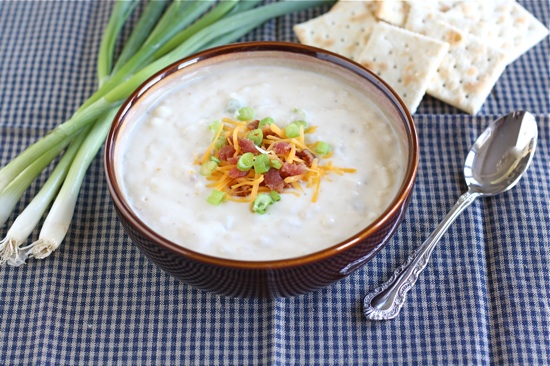 Baked Potato Soup-What do you do when life hands you leftover baked potatoes? You make baked potato soup, of course. This simple potato soup is loaded with goodness!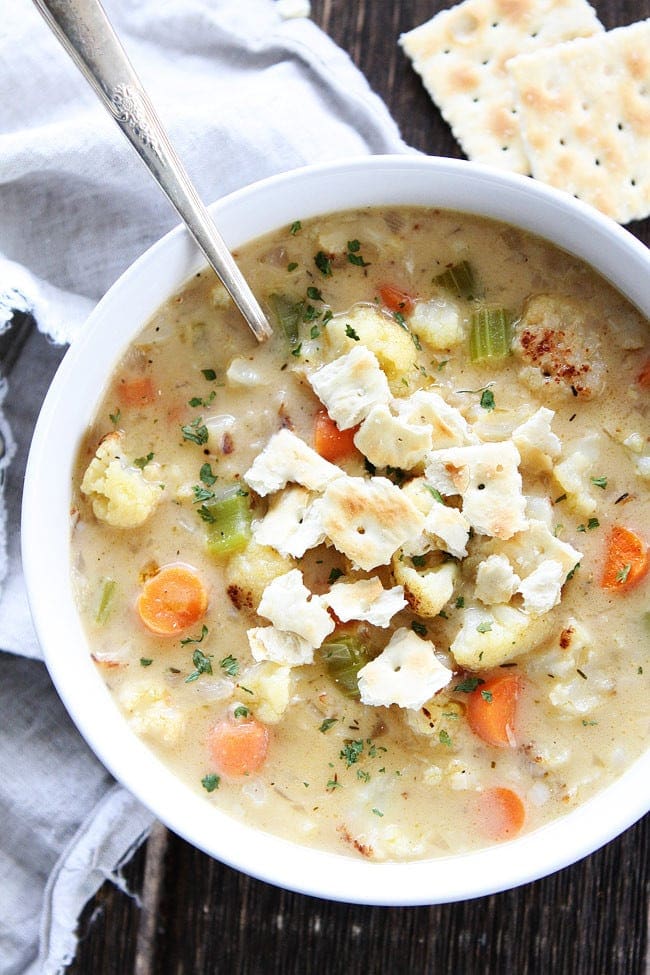 Creamy Roasted Cauliflower Chowder-One of my all-time favorite recipes! If you haven't tried this chowder recipe, you need to make it TODAY! It always gets rave reviews. Read the comments:)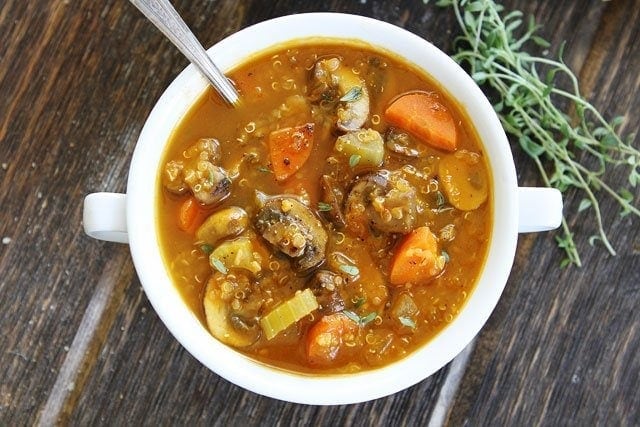 Mushroom Quinoa Soup-This healthy and hearty soup is made with mushrooms and quinoa. It's also vegan and gluten-free!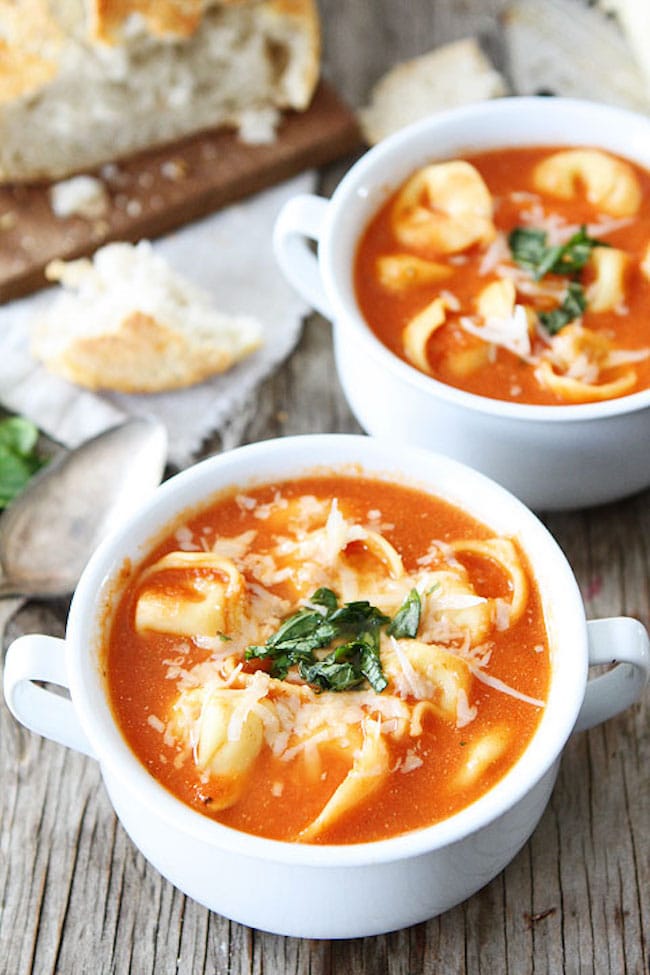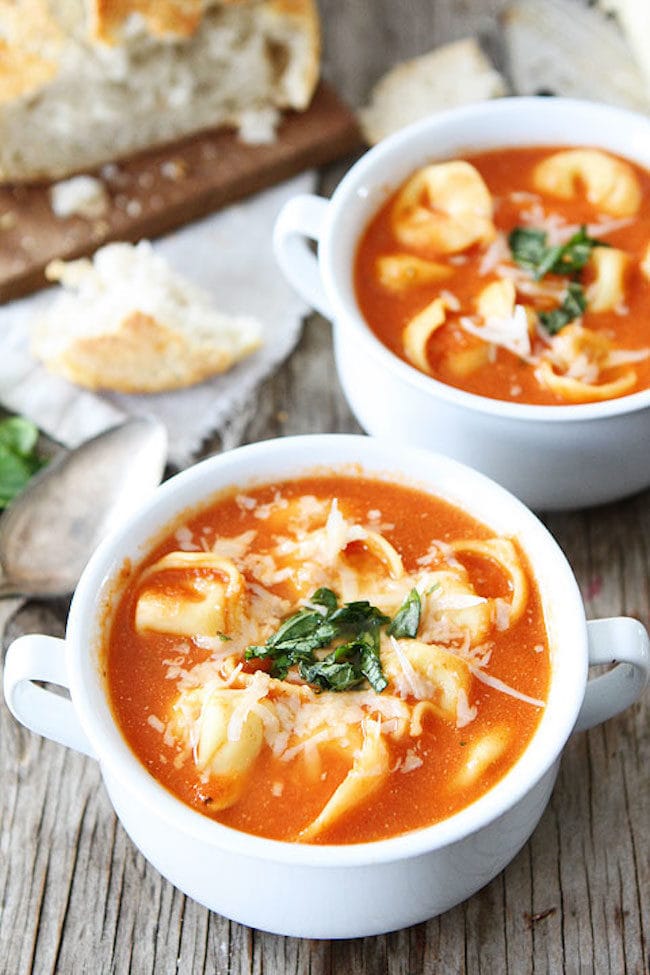 Creamy Tomato Tortellini Soup-A classic and comforting tomato soup with cheese tortellini added as a little bonus. Kids love this one!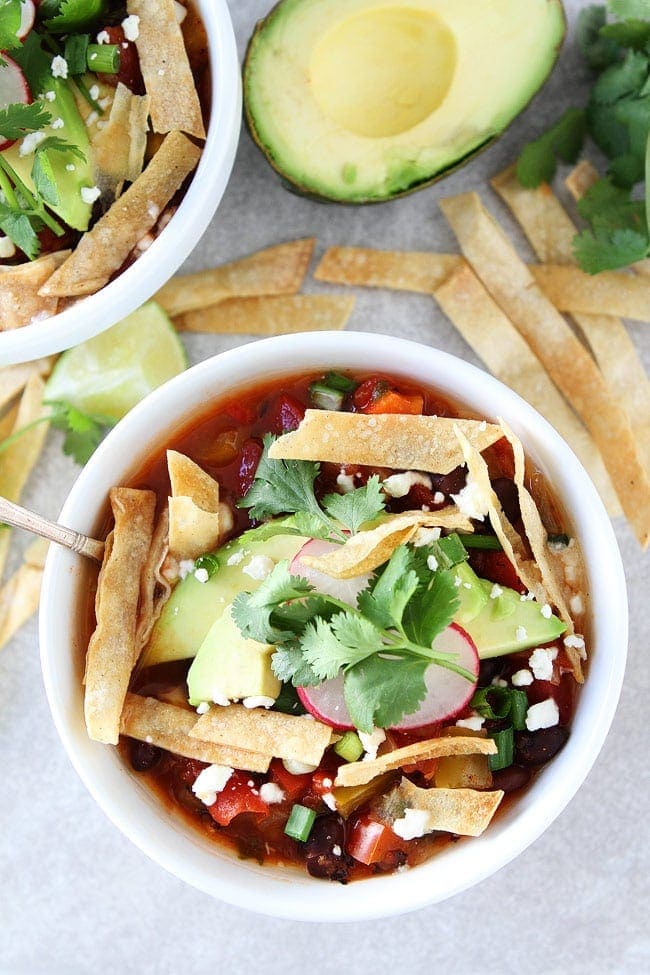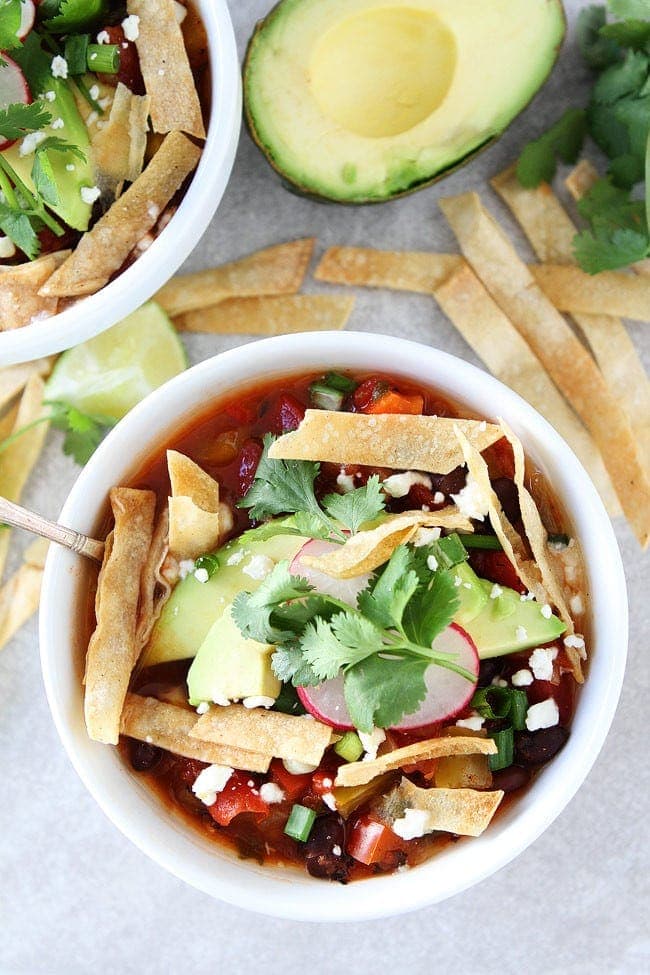 Slow Cooker Black Bean Tortilla Soup-Have fun with toppings on this Black Bean & Tortilla Soup. Let it cook all day and enjoy a vegetarian family favorite!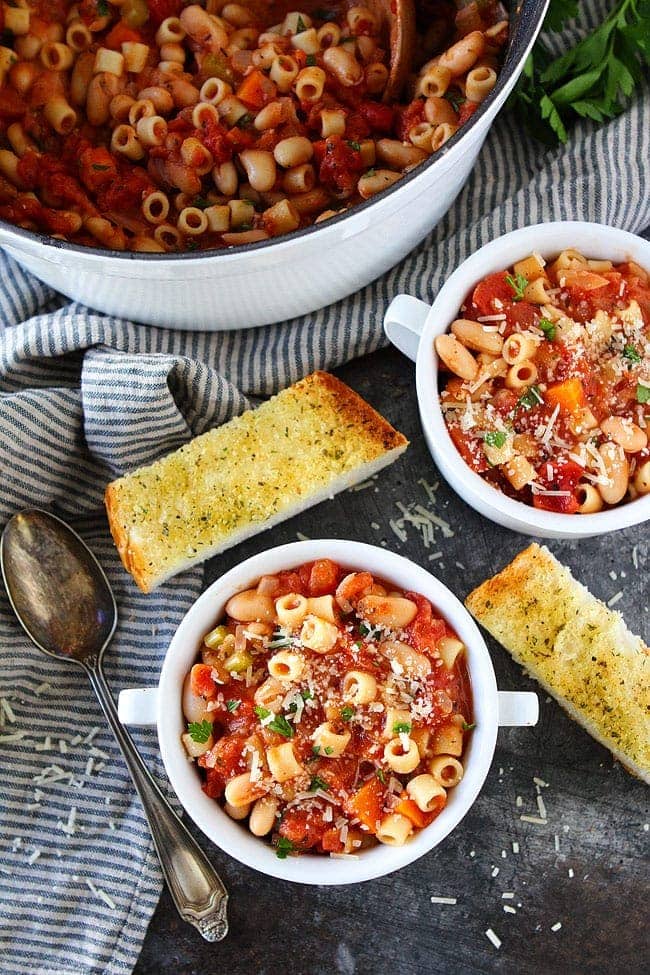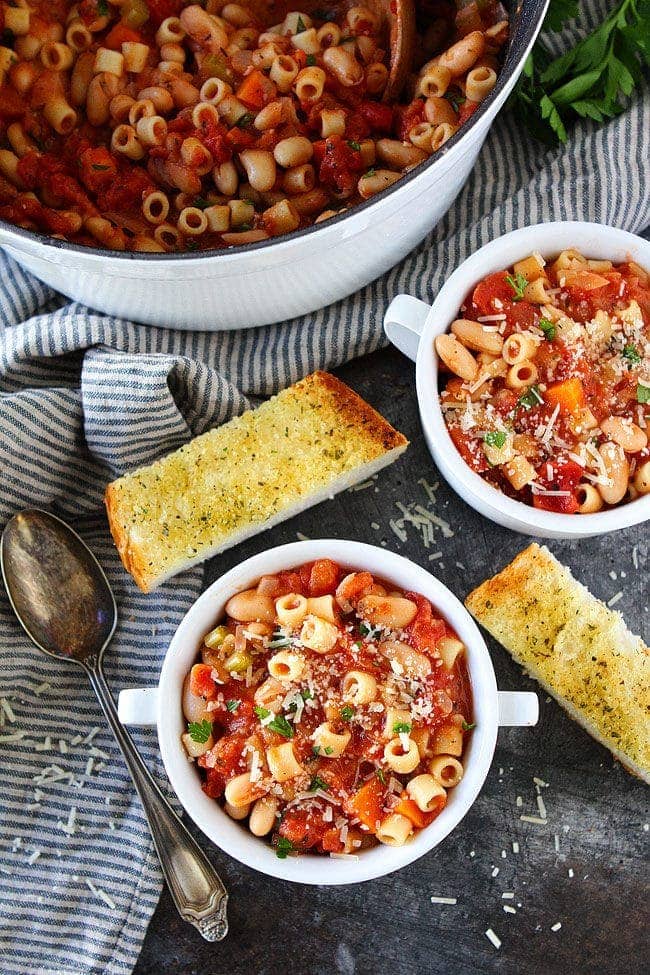 Pasta Fagioli-This hearty and delicious Italian soup is made with pasta and beans. You will love this easy one pot vegetarian dinner!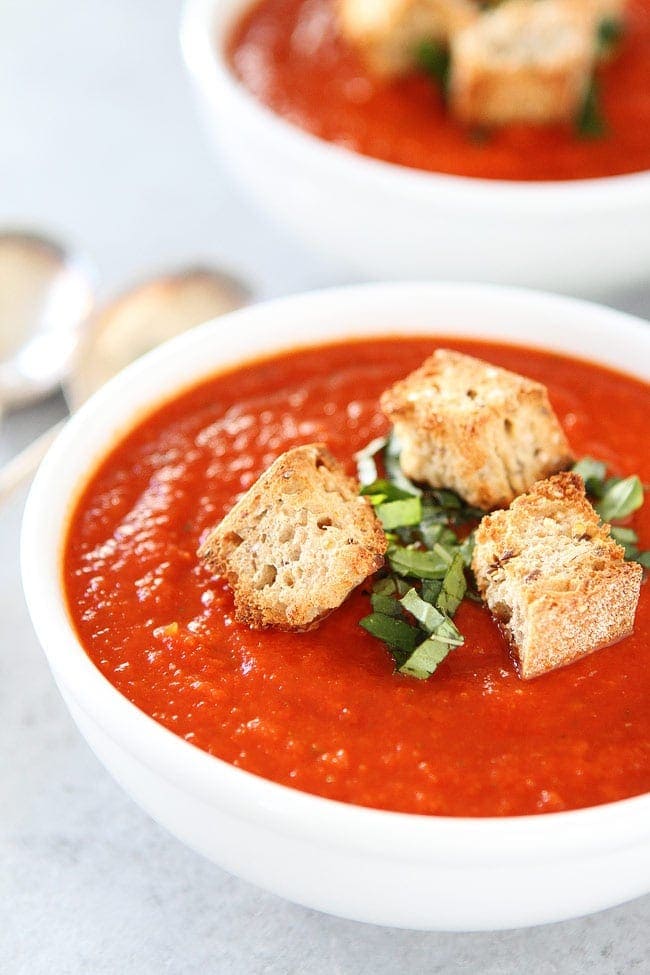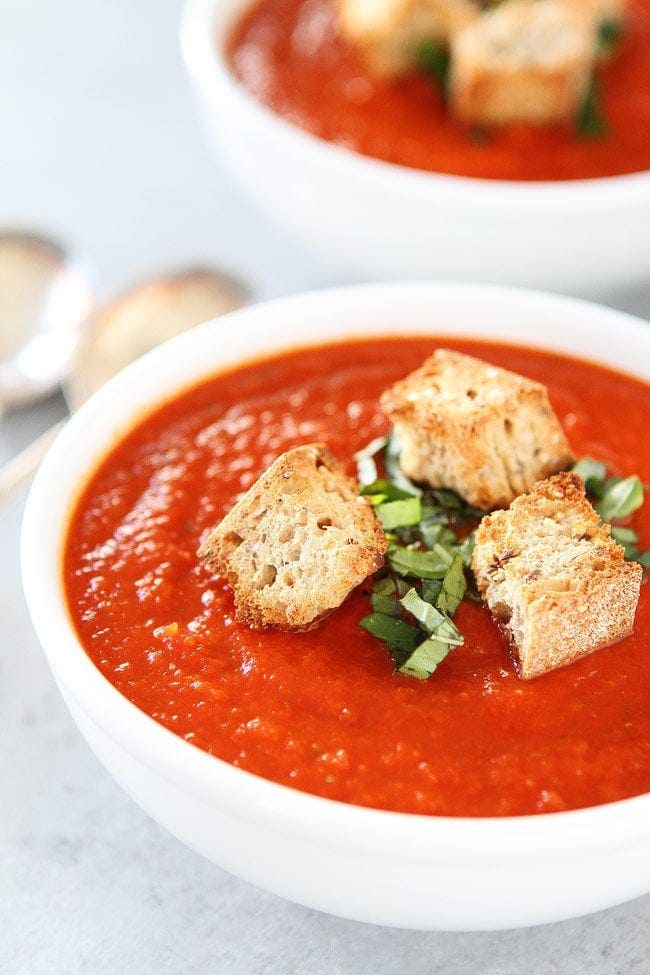 Roasted Red Pepper & Tomato Soup-You can make this soup with pantry staples in less than 30 minutes, so it's a great one to keep handy for those rushed weeknights. Serve it with grilled cheese for the most nostalgic dinner ever!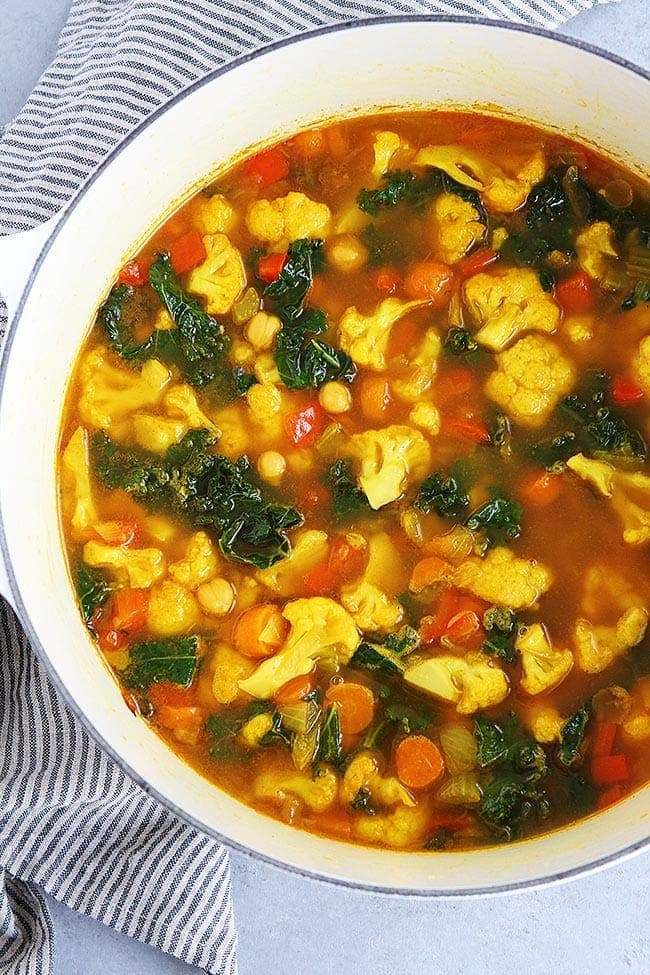 Turmeric Chickpea Vegetable Soup-This healthy vegetable soup is filled with colorful vegetables, turmeric, ginger, garlic, and chickpeas. The broth is SO good! For sure one of my very favorite soups!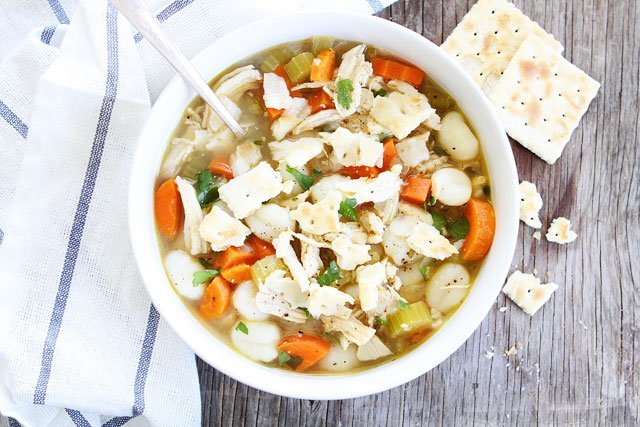 Chicken Gnocchi Soup-If you like chicken noodle soup, you will love this twist on the classic. It is easy to make and the gnocchi is delicious and comforting!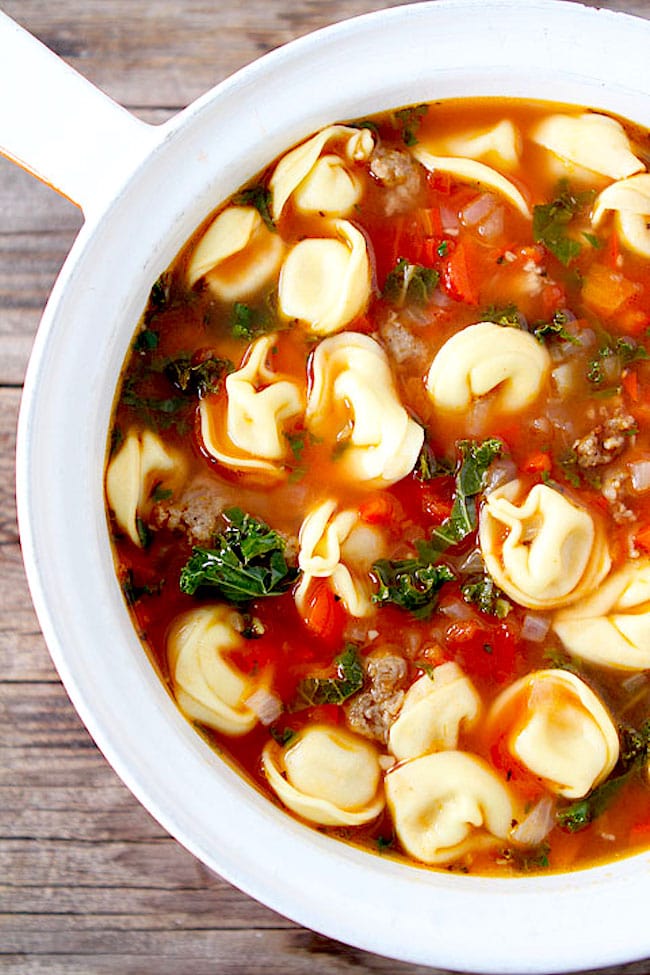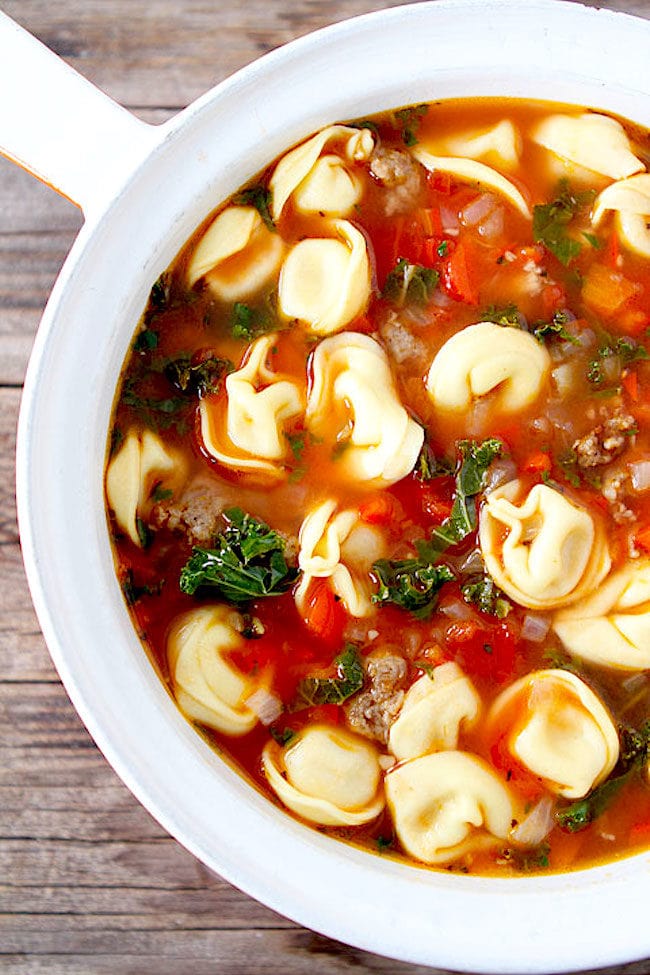 Italian Sausage Tortellini Soup-My boys LOVE this soup! It is always a dinner winner!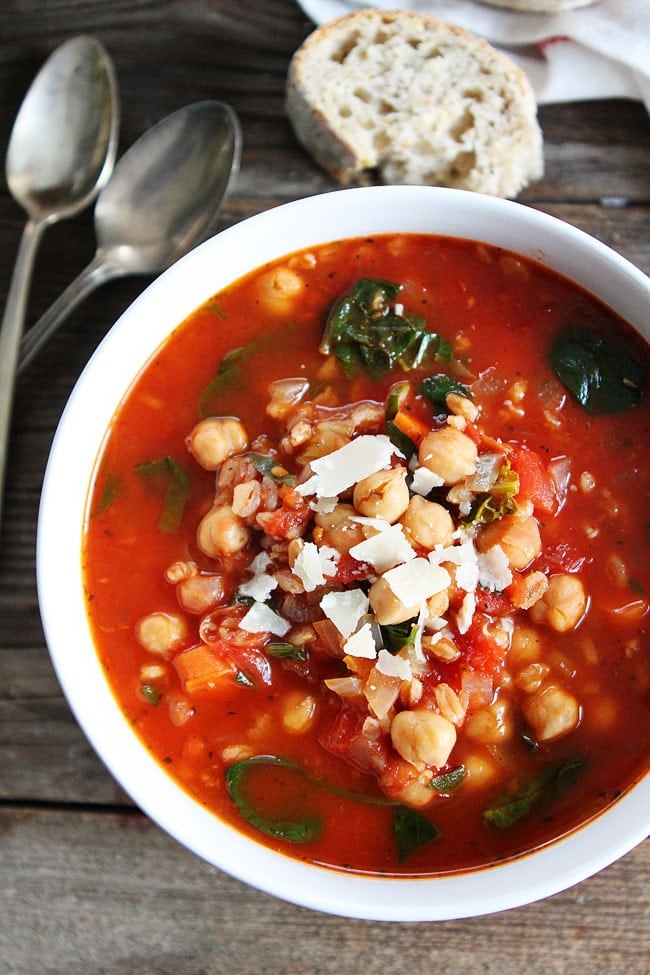 Chickpea Farro Soup-Farro is totally underrated in soups. This soup also has chickpeas, tomatoes, and spinach and is SOUPER hearty and delicious!
Looking for more soup recipes? Check out the SOUP SECTION in our recipe index. You can also check out the Two Peas & Their Pod Cookbook! There is an entire chapter dedicated to soups and there are some GOOD ones!
Now, let us know, What is your favorite soup recipe?? Leave a comment! We love hearing from you!