Homemade Soft Pretzel Bites-these little pretzel bites are fun to make at home and are great for parties and game day!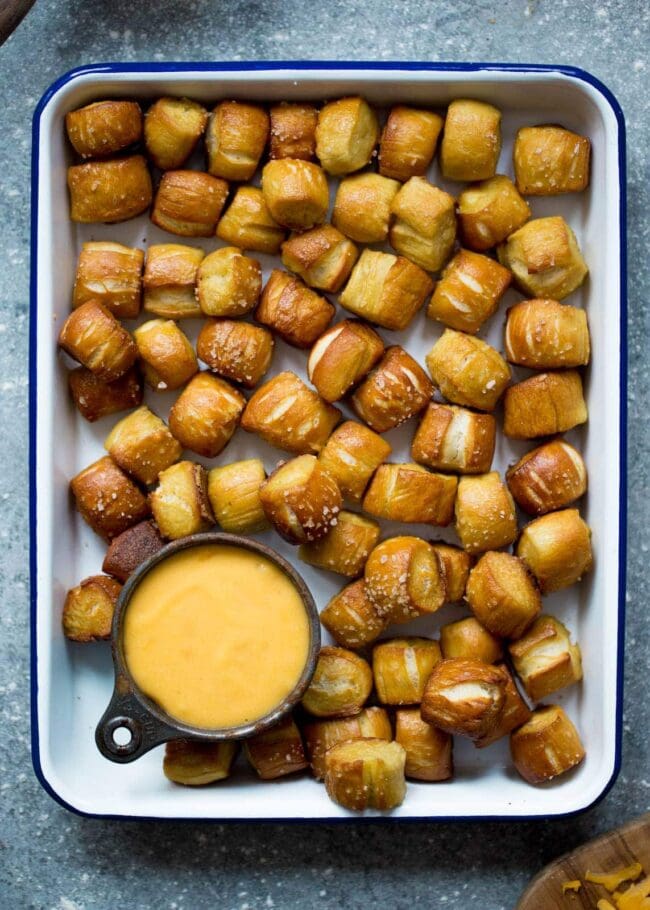 Today, I am throwing it back. I am sharing the most popular recipe on our site, Homemade Soft Pretzel Bites. We shared this recipe on our blog in 2010 and it has been a HUGE hit. HUGE! Seven years later and it is still number one. Have you tried these soft pretzel bites? They are perfect for parties, snacking, and game day. We are making them for the big game on Sunday and I can't wait.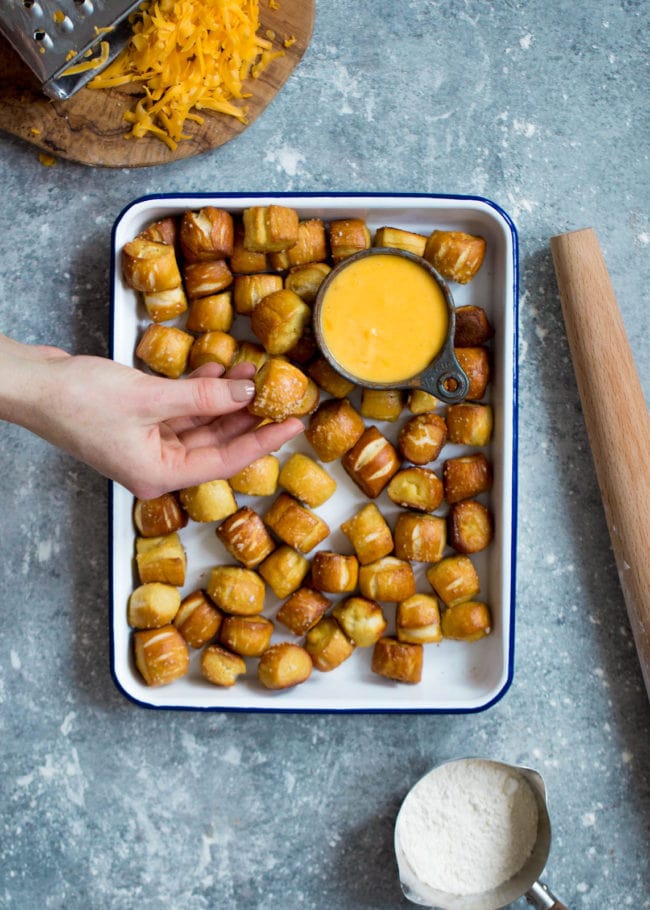 We love making homemade pretzels, the big ones, but there is something extra fun and special about the bites. They are the perfect party food! The pretzels are soft, chewy, salty, and so good dipped in cheese sauce!
We get a lot of questions about the baking soda in the recipe. There is a ⅓ cup, yes a ⅓ cup, but the baking soda doesn't go IN the pretzels. It is for boiling the pretzels in water. Make sure you add the baking soda VERY slowly because it will bubble up. We don't want anyone to get burnt.
Homemade Soft Pretzel Bites are fun to make and fun to eat! Make them for your next party or game day! Your guests will have so much fun dipping and snacking! Enjoy!
Looking for more game day favorites? Check out our favorite recipes: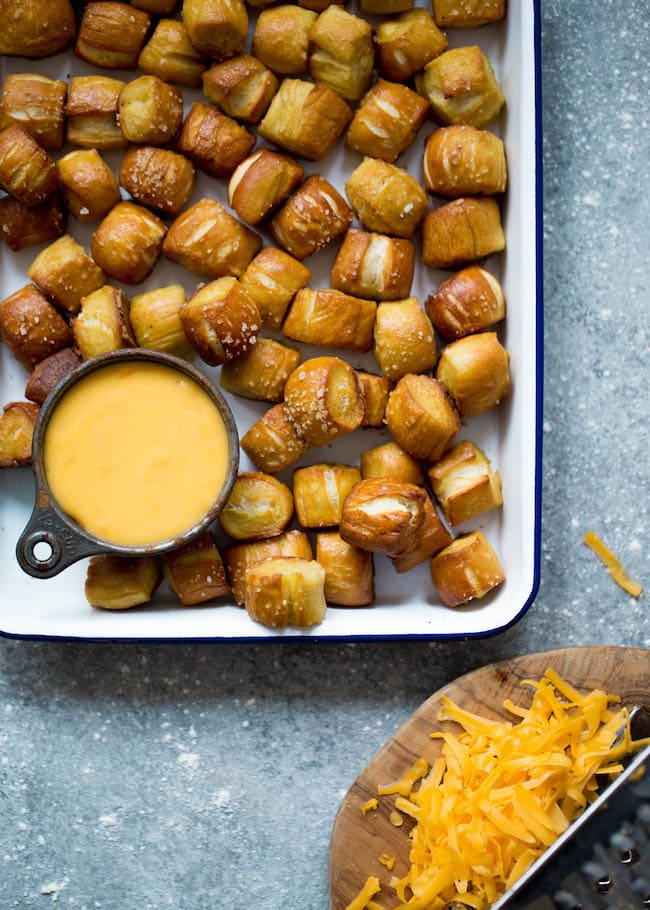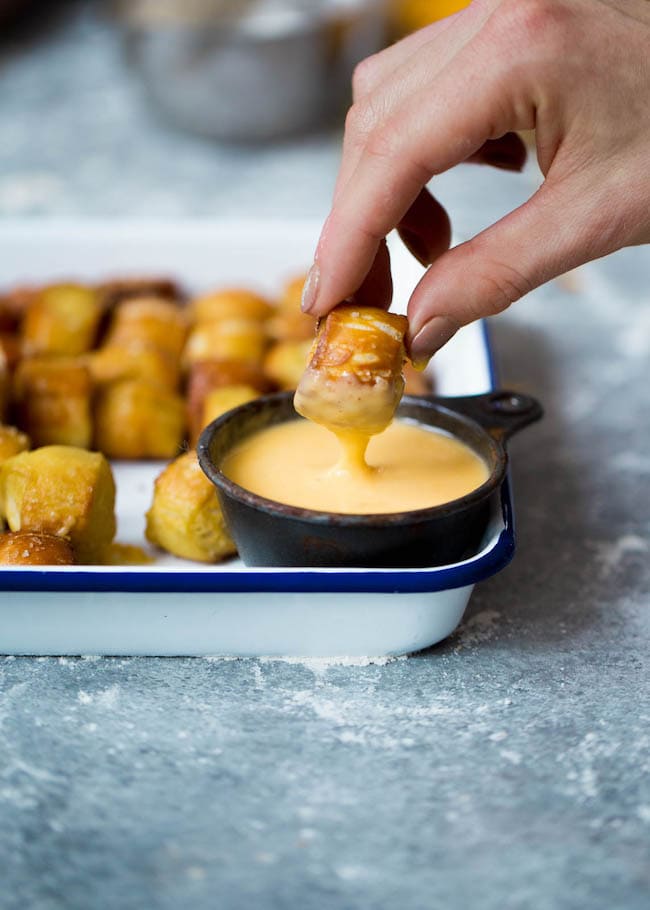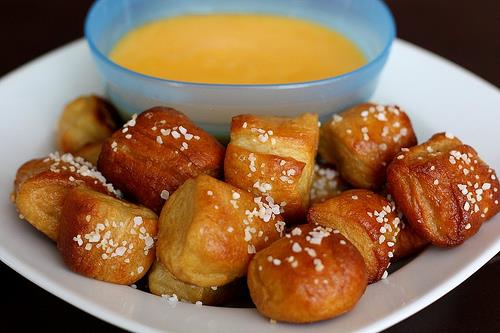 This is the original photo from 2010. New photos are by Sarah Fennel from Broma Bakery.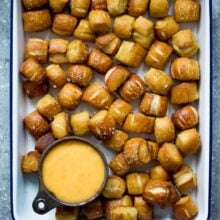 Homemade Soft Pretzel Bites
Pretzel bites are fun to make and fun to eat!
Instructions
For the Pretzels: Combine the 1 ½ cups water, sugar, yeast, and butter in the bowl of a stand mixer and mix with the dough hook until combined. Let sit for 5 minutes.

Add the salt and flour and mix on low speed until combined. Increase the speed to medium and continue kneading until the dough is smooth and begins to pull away from the side of the bowl, about 3 to 4 minutes. If the dough appears too wet, add additional flour, 1 tablespoon at a time. Remove the dough from the bowl, place on a flat surface and knead into a ball with your hands.

Oil a bowl with vegetable oil, add the dough and turn to coat with the oil. Cover with a clean towel or plastic wrap and place in a warm spot until the dough doubles in size, about 1 hour.

Preheat the oven to 425 degrees F.

Bring the 3 quarts of water to a boil in a small roasting pan over high heat and carefully add the baking soda. It will boil over, so add slowly and be careful!

Remove the dough from the bowl and place on a flat surface. Divide the dough into 8 equal pieces, about 4 ¼ to 4 ½ ounces each. Roll each piece into a long rope measuring 22 inches and shape. Cut the dough into one inch pieces to make the pretzel bites. Boil the pretzel bites in the water solution in batches. We did about 15 bites at a time. Boil for about 30 seconds. Remove with a large slotted spoon. Place pretzel bites on a baking sheet that has been sprayed with cooking spray. Make sure they are not touching. Brush the tops with the egg wash and season liberally with the salt. Place into the oven and bake for 15 to 18 minutes until golden brown.

Remove to a baking rack and let rest 5 minutes before eating. Serve with cheese sauce.
To make the cheese sauce:
Melt the butter in a medium saucepan over medium heat. Add the flour and cook 1 minute. Whisk in the milk and cook until slightly thickened. Remove from heat and stir in the Cheddar cheese until smooth and all of the cheese is melted. Season with salt and pepper, to taste.
Notes
*If you want to make cinnamon and sugar pretzel bites-instead of adding salt, sprinkle the bites with cinnamon and sugar. For the frosting mix-soft cream cheese-about 3 T, powdered sugar, a teaspoon of vanilla extract, and a little bit of milk. Whisk together. Add more milk if it is too thick, if it is too thin, add more powdered sugar. I don't measure. I just guess until the consistency is right.*
Nutrition
Have you tried this recipe?
Leave a comment below and share a photo on Instagram. Tag @twopeasandpod and hashtag it with #twopeasandtheirpod