The Top 10 Recipes of 2017-you will want to make all of these easy and delicious recipes!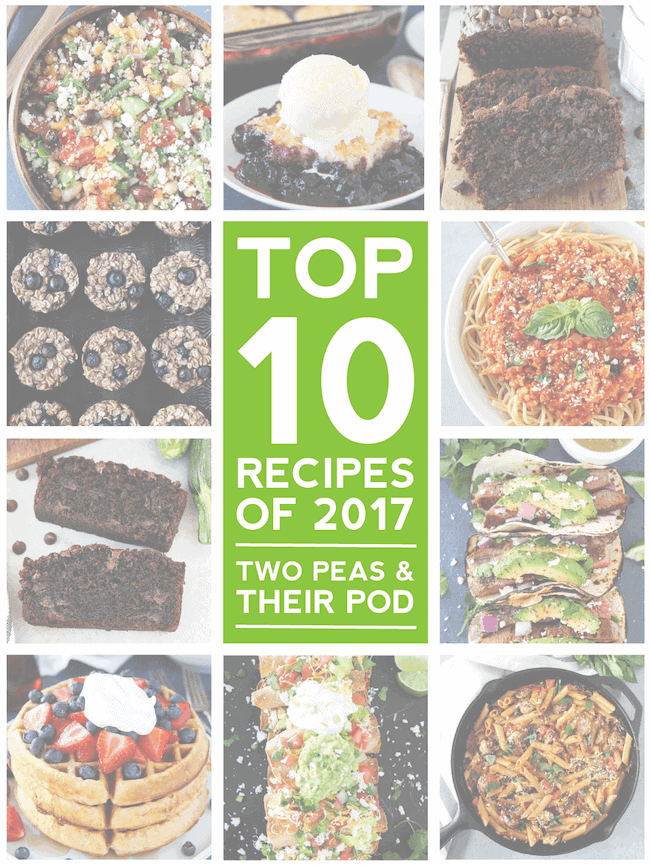 We are ending the year by sharing the Top 10 Recipes of 2017. I look forward to this post every year because I am always surprised by what you guys love the most. There are some real winners on the list this year. Are you ready to check them out? Let's do this!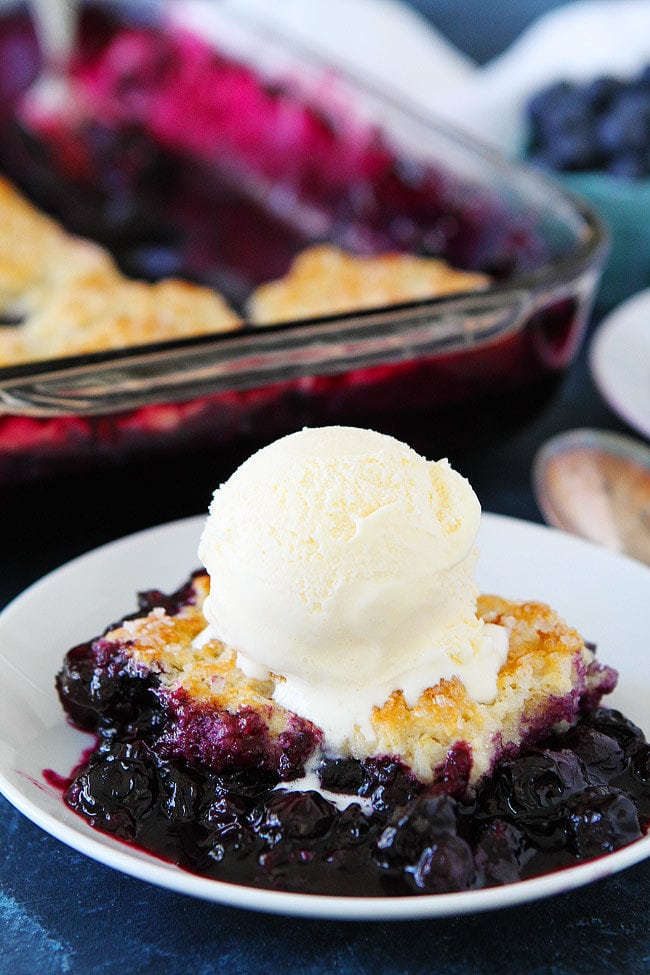 10. Blueberry Cobbler– this was probably our favorite dessert of the summer. It is made with fresh blueberries and a simple buttermilk biscuit topping. It is soooo good served warm with a scoop of vanilla ice cream.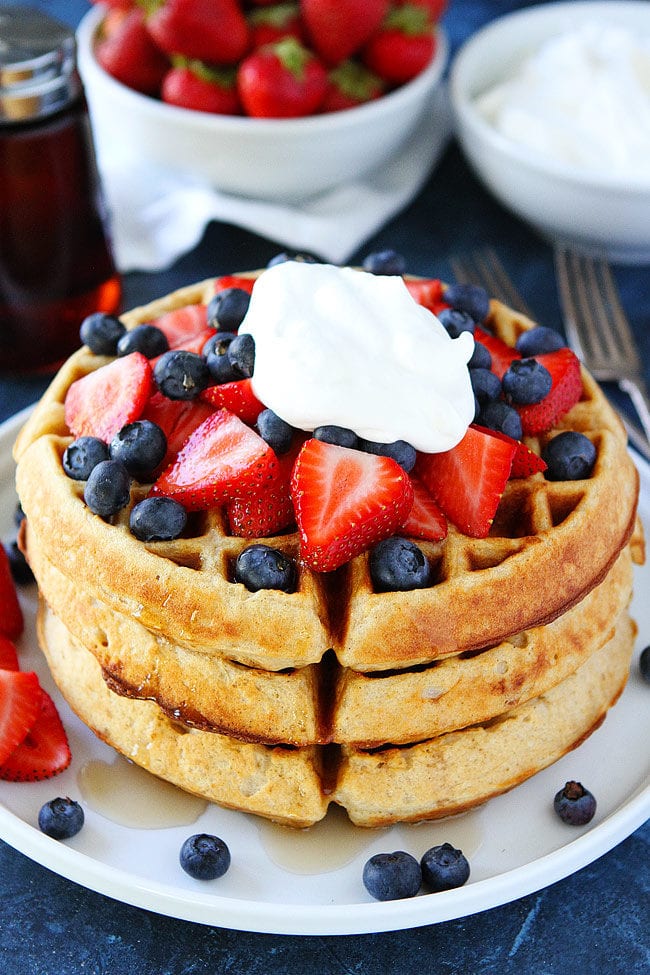 9. Belgian Waffles-we made these waffles for our neighborhood 4th of July party (for 200 people) and they were a huge hit. We make them almost every weekend because Caleb and Maxwell love them. Pro tip-keep some in the freezer so you can heat them up during the week.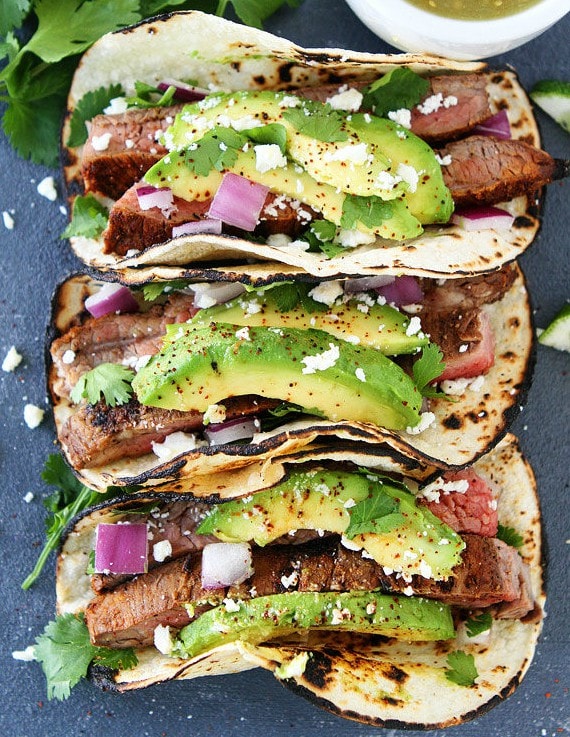 8. Grilled Steak Tacos-Josh's favorite tacos and they are easy to make!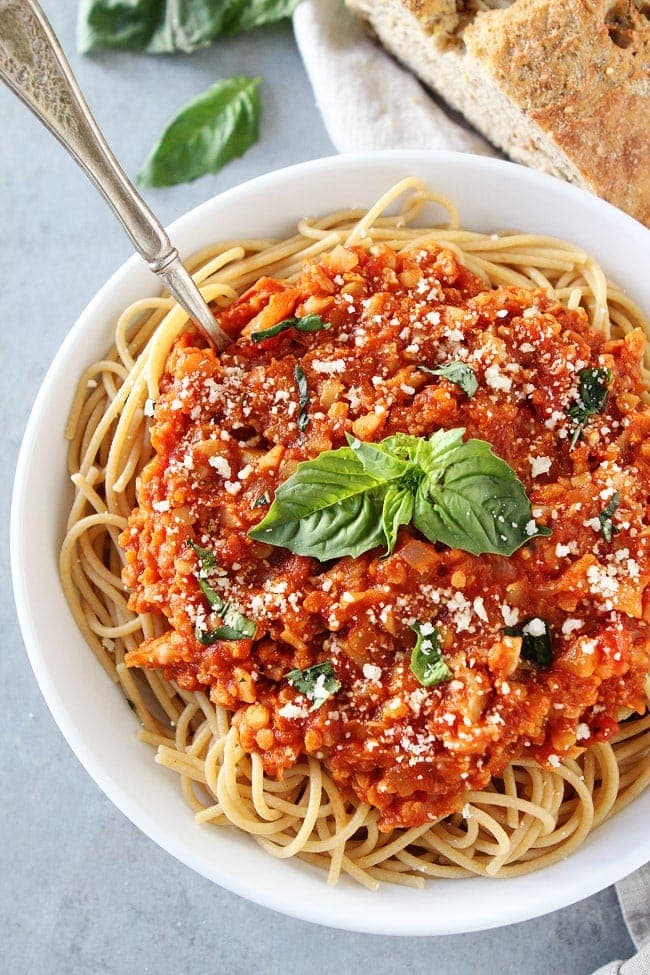 7. Cauliflower Bolognese-I was SO happy that my cauliflower bolognese made the list because I LOVE this recipe. When I posted it, I was worried you wouldn't be up for trying it, but you guys fell in love too! It is one of my favorite meals! If you haven't tried it, what are you waiting for?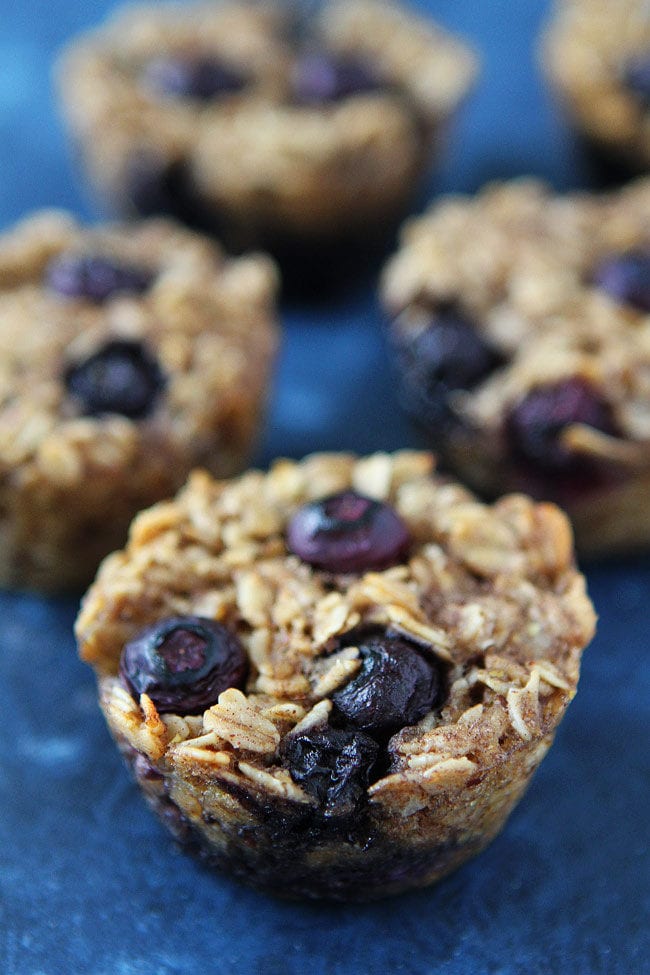 6. Banana Blueberry Baked Oatmeal Cups-a breakfast staple at our house! These healthy oatmeal muffins are the perfect on the go breakfast!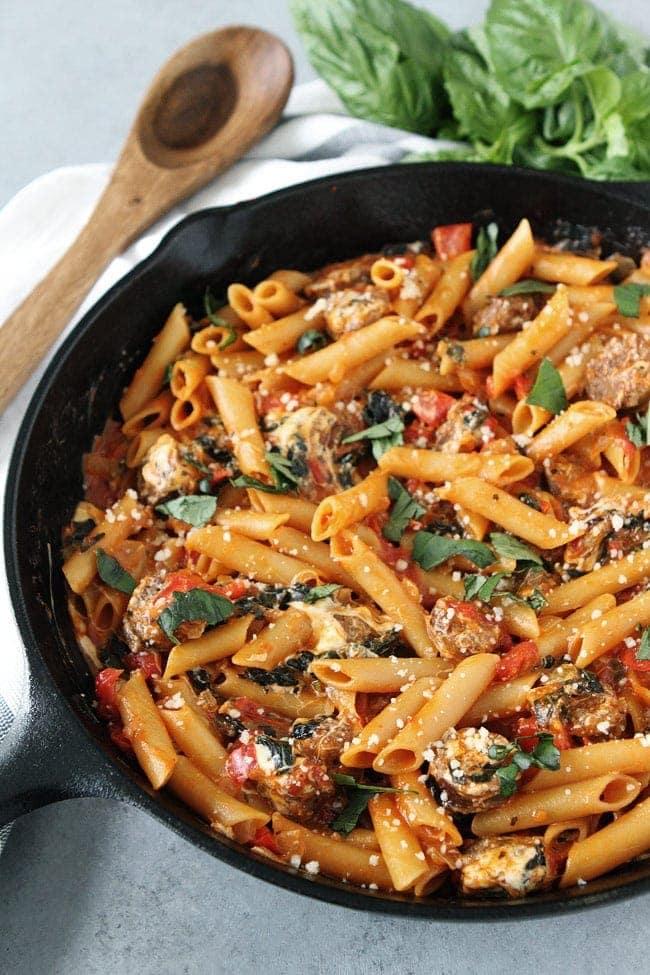 5. One Pot Sausage Pasta-our boys love this easy one pot pasta recipe! It is a regular weeknight meal at our house!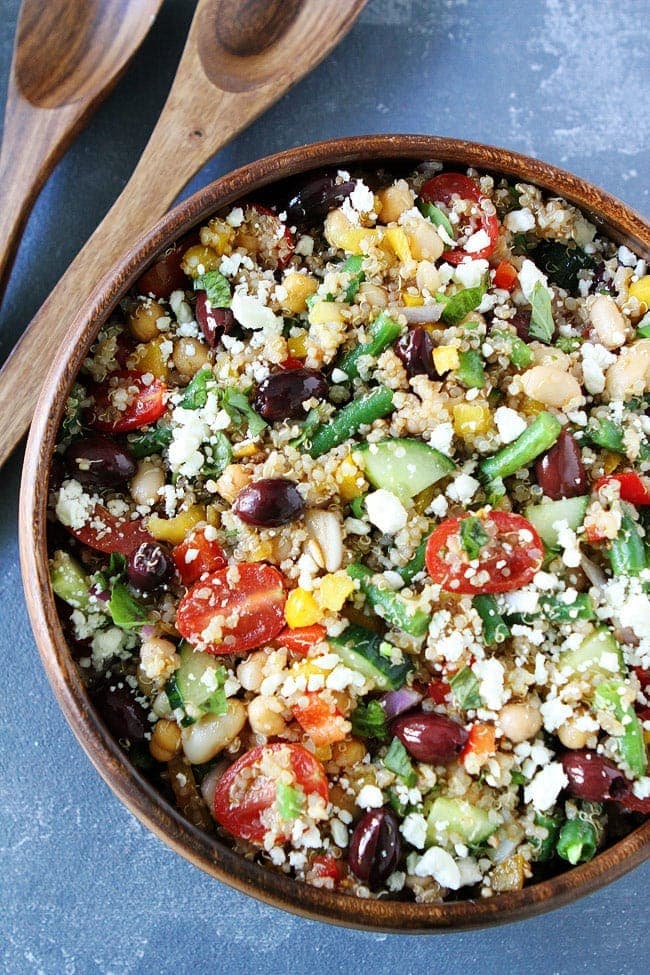 4. Mediterranean Three Bean Quinoa Salad-this quinoa salad is loaded with all of my favorite things. It is great for lunch, dinner, and a great dish to take to parties and potlucks.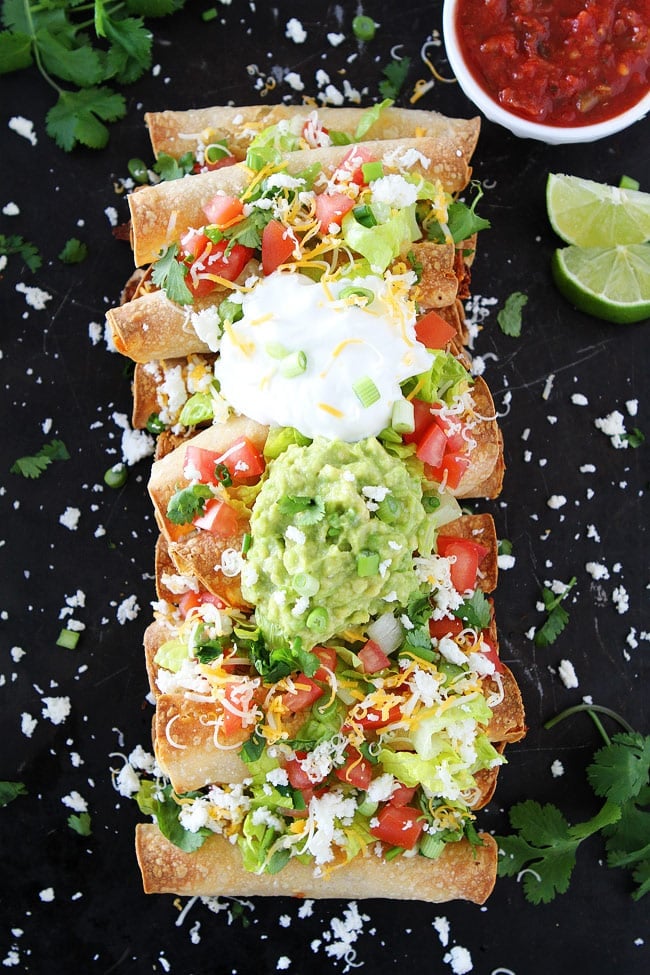 3. Baked Chicken Taquitos-these easy baked taquitos are fun to make and fun to eat! Serve as an appetizer or meal! Our boys LOVE them!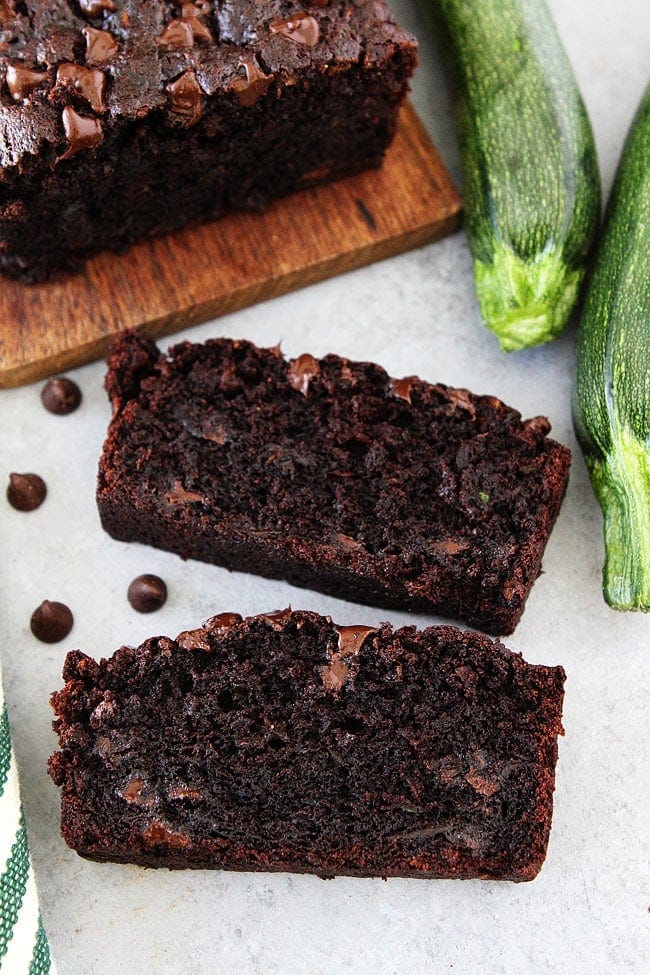 2. Chocolate Zucchini Bread-I can't even count how many loaves I made this the summer. It was the perfect recipe for using up garden zucchini! It is our go to zucchini bread!
1. Chocolate Banana Bread-I knew this would be the number one recipe of 2017 because you guys went BANANAS over this chocolate banana bread. It is the BEST banana bread in the world. I can't even describe the deliciousness, it is absolutely perfect. It was so popular I created a Gluten-Free Vegan Chocolate Banana Bread and a Chocolate Peanut Butter Banana Bread this year. This definitely was the year of chocolate banana bread for our blog.
Thank you SO much for reading our blog, making our recipes, and for all of your comments and emails. We love hearing from you and love seeing what you make on Instagram…make sure you use the hashtag #twopeasandtheirpod so we can see what you are making:) Thanks for always being so supportive, encouraging, and for being part of our pod. We love you all.
We are really excited for 2018 and we hope you will all continue to follow us on our journey. We have some fun things in the works and can't wait to share them with you! HAPPY NEW YEAR!
Check out the Top 10 Recipes from: