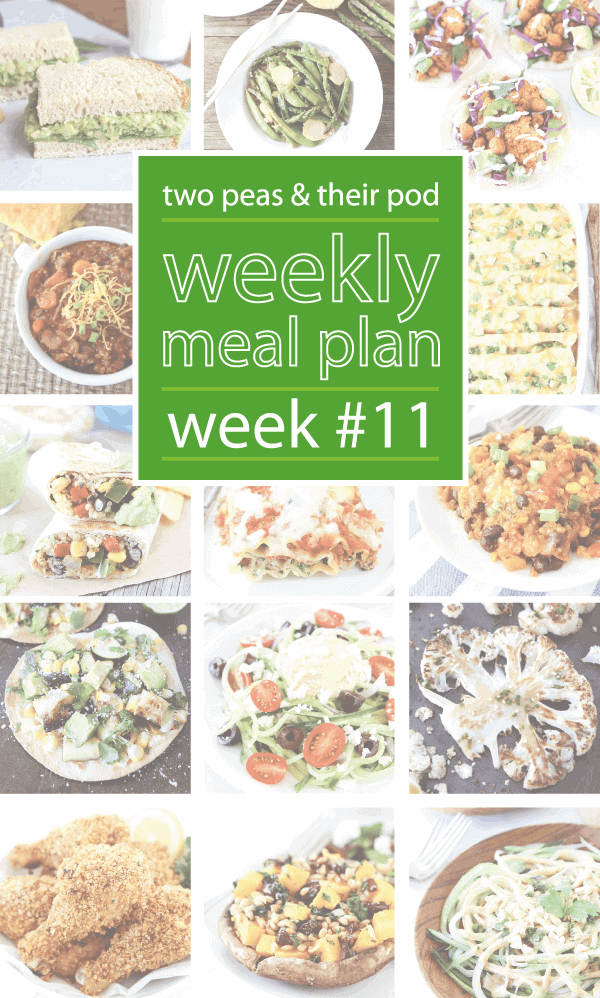 Happy Saturday! Wondering what to fix for dinner this week? Let us help you! We have some ideas for Easter too! Enjoy!
Week 11:
Monday (3/30): 5-Ingredient Spinach Parmesan Pasta– you only need 5 ingredients to make this amazing pasta dish! Grab a loaf of crusty bread to go with it!
Tuesday (3/31): Avocado, Hummus, and Egg Toasts-one of our favorite quick and healthy meals! Serve Quinoa Fruit Salad with Honey Lime Dressing on the side!
Wednesday (4/1): Roasted Red Pepper, Arugula, and Mozzarella Sandwich-a simple sandwich that is great for lunch or dinner! Make this healthy Chickpea, Avocado, & Feta Salad too! It only takes 5 minutes to make!
Thursday (4/2): Roasted Mushroom, Kale, and Goat Cheese Tacos-these simple vegetarian tacos are full of flavor and make a great weeknight meal!
Friday (4/3): Avocado Pita Pizza with Cilantro Sauce-yay for pizza night! The pita crust makes this recipe super easy, which is perfect for Friday night! For a treat, make Glazed Lemon Cookies! They are the perfect spring cookie!
Saturday (4/4): Get ready for Easter by making a few festive treats today! Put Salted Caramel Easter Popcorn in baggies for Easter baskets or just a big bowl and munch away! Coconut Macaroon Nutella Nests or Coconut Lemon Macaroon Nests are easy to make and super cute for Easter. Put one at every place setting for Easter dinner! Go out for dinner or eat leftovers!
Sunday (4/5): Happy Easter! Start your Easter with Coconut Crusted French Toast! For dinner, make a traditional ham with lots of yummy sides! A few of our favorites include: Parmesan Crusted Scalloped Potatoes, Spring Panzanella Salad, Roasted Asparagus, Strawberry Spinach Salad, and Potato Rolls. For dessert, make Carrot Cake or Carrot Cake Oatmeal Cookies with Cream Cheese Glaze…or both! It is a holiday:)
If you make one of our recipes, take a picture and share on Instagram! Use the hashtag#twopeasandtheirpod! We want to see what you are making in your kitchen! And don't forget to follow us on Instagram!
And remember, we created a Weekly Meal Plan section on our blog so you can get inspiration from all of the weeks!