25 Easy Weeknight Dinners that are guaranteed to be family favorites! You are going to want to make all of these quick and easy dinner recipes!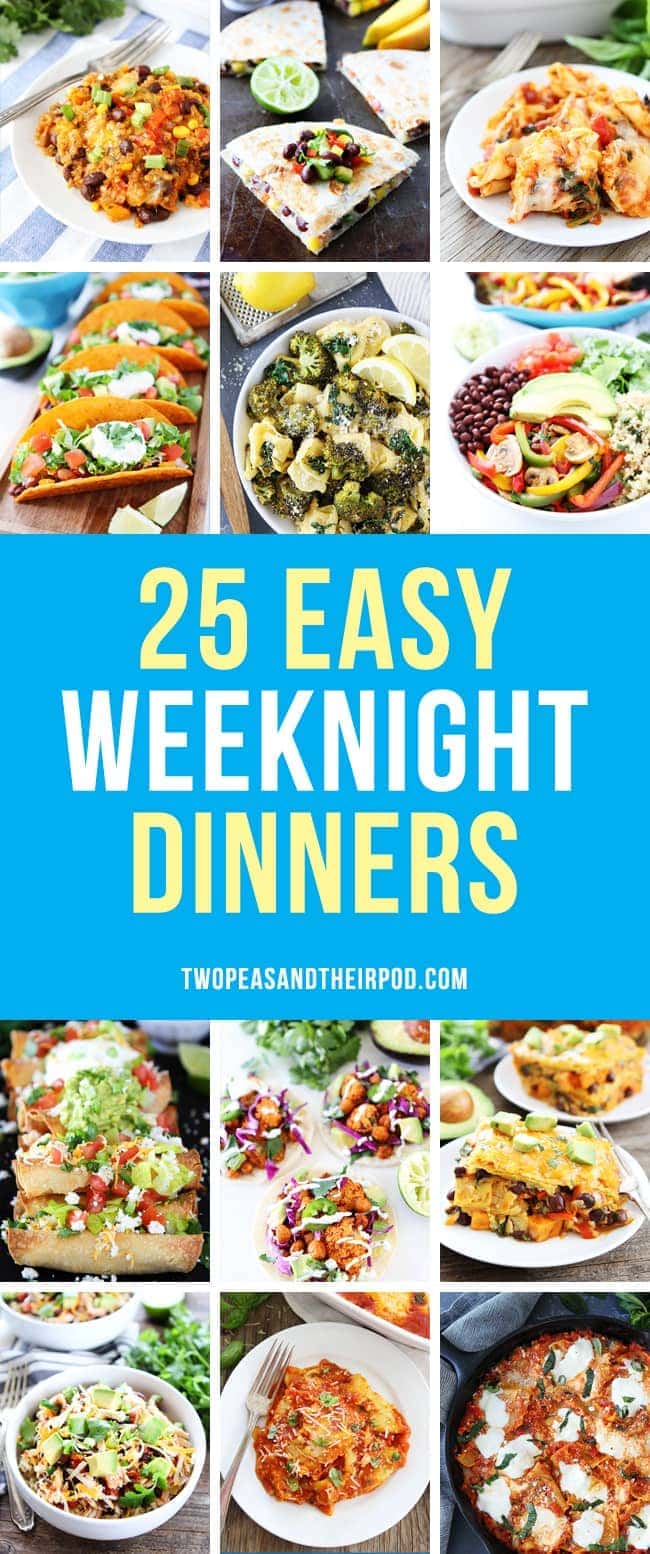 It's never easy to get dinner on the table because life is busy with school, work, sports, piano lessons, dance, homework, volunteering, errands, and ALL the things.
Back to school time is the perfect time to get a solid dinner routine down because even though we are all busy, dinner time can still happen at home. Today, we are sharing 25 Easy Weeknight Dinners that don't take long to make and are guaranteed to be a hit with the entire family. All of these quick and easy dinner recipes are on regular rotation at our house. We hope you like them as much as we do!
And if you want even more help with getting dinner on the table every night, sign up for Sweet Peas Meals, our family friendly meal planning service. We do all of the work for you! We plan out delicious and fun menus every week and provide you with a detailed shopping list so you can get in and out of the store. We also give you plenty of meal prep tips, breakfast and lunch ideas, sweet treats, entertaining guides, lots of support, and MORE!
One member recently said. "Sweet Peas Meals have seriously changed my life! Busy mom of four boys running in 1000 directions this is just what I needed! Thank you so much for the time and effort you put into making all of our lives so much easier!" -Molly
Visit Sweet Peas Meals for all of the details. We hope you will join us!
Ok, now for our favorite easy dinner recipes! Make sure you pin or bookmark this post because I know you are going to want to make ALL of the recipes:) Enjoy!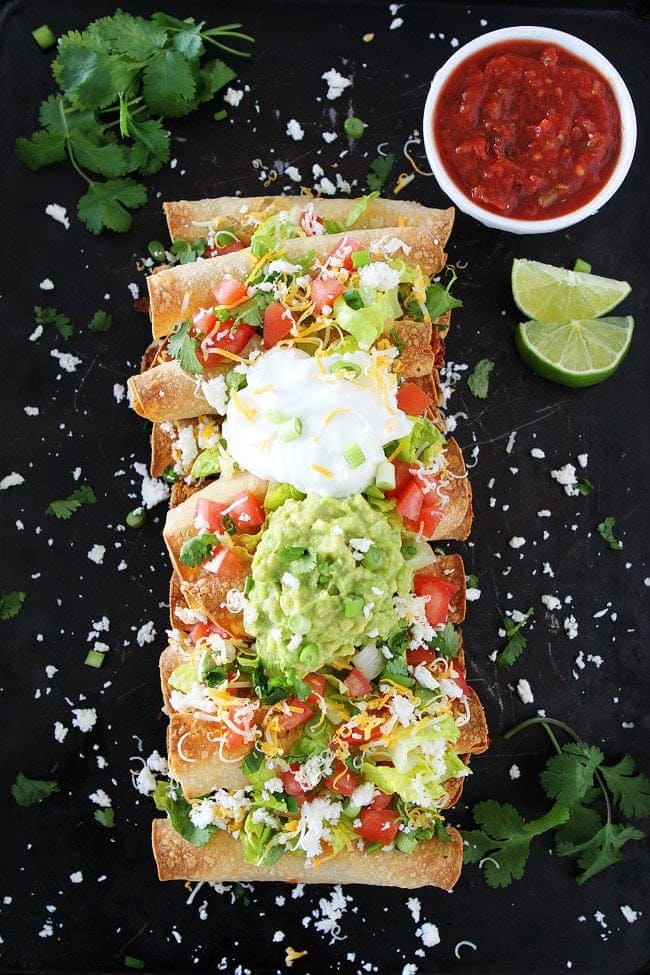 1. Baked Chicken Taquitos– These easy Baked Chicken Taquitos are popular with kids and adults. The taquitos are stuffed with chicken and cheese and make a great appetizer or meal. Serve with your favorite toppings!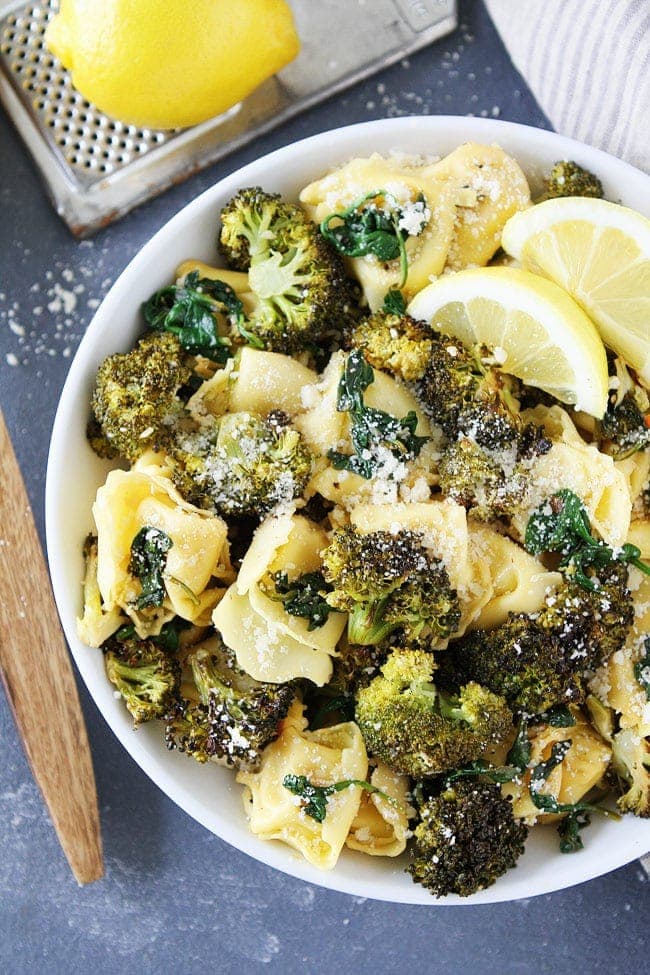 2. Lemon Broccoli Tortellini– Cheese tortellini with roasted broccoli, spinach, lemon, and parmesan cheese. This easy pasta dish is a favorite weeknight dinner and a great way to get the kiddos to eat broccoli. Our boys love the "trees" in this easy recipe.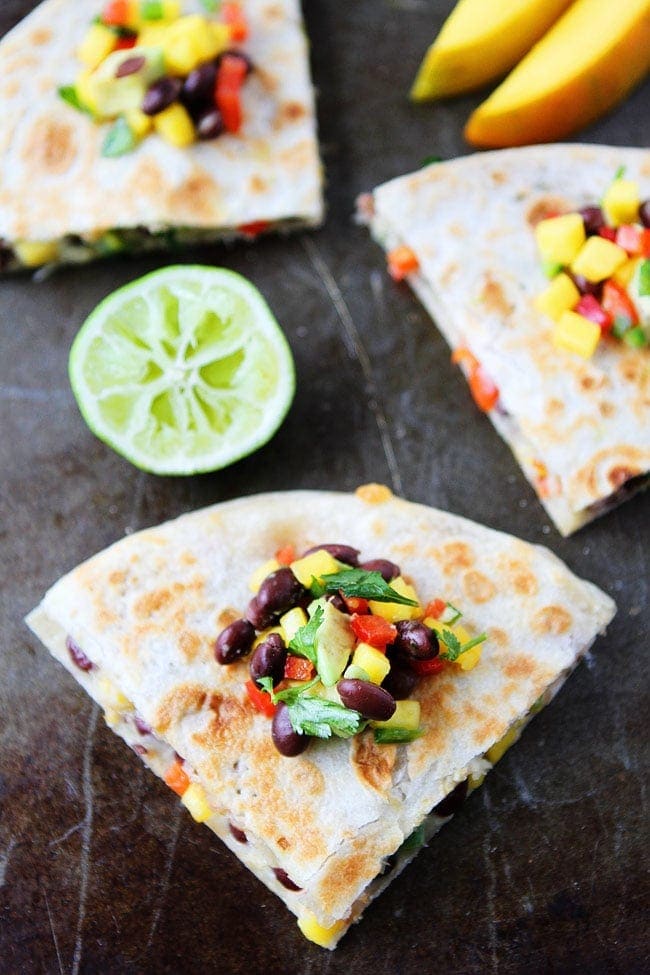 3. Mango Black Bean Quesadillas– These easy quesadillas are our favorite. They only take 15 minutes to make and the mango is SO good!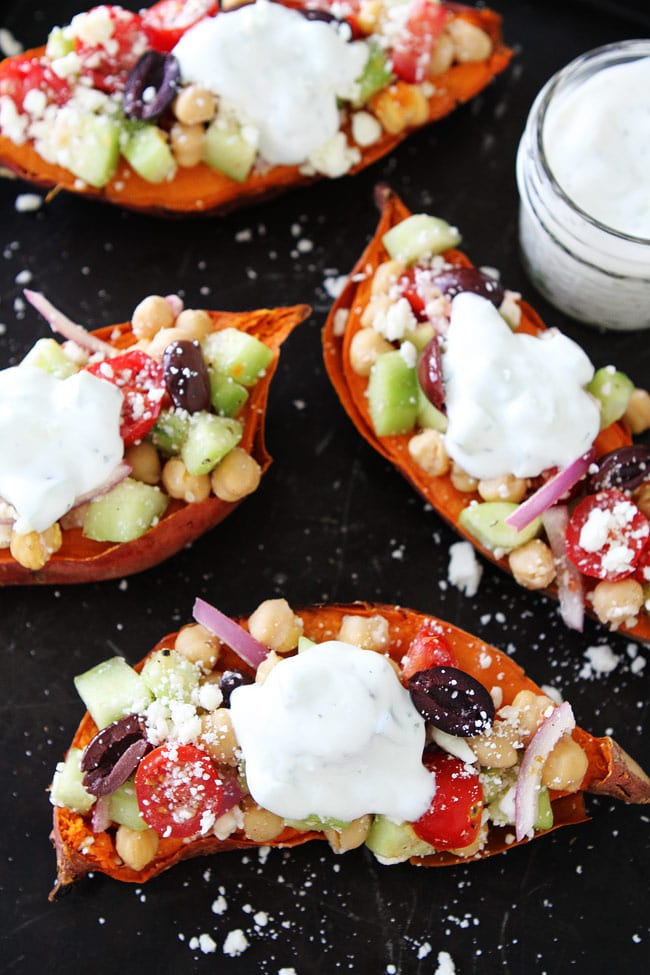 4. Greek Stuffed Sweet Potatoes– Baked sweet potatoes topped with chickpeas, tomatoes, cucumber, kalamata olives, red onion, feta cheese, and tzatziki sauce. These loaded sweet potatoes make an easy, healthy, and delicious meal!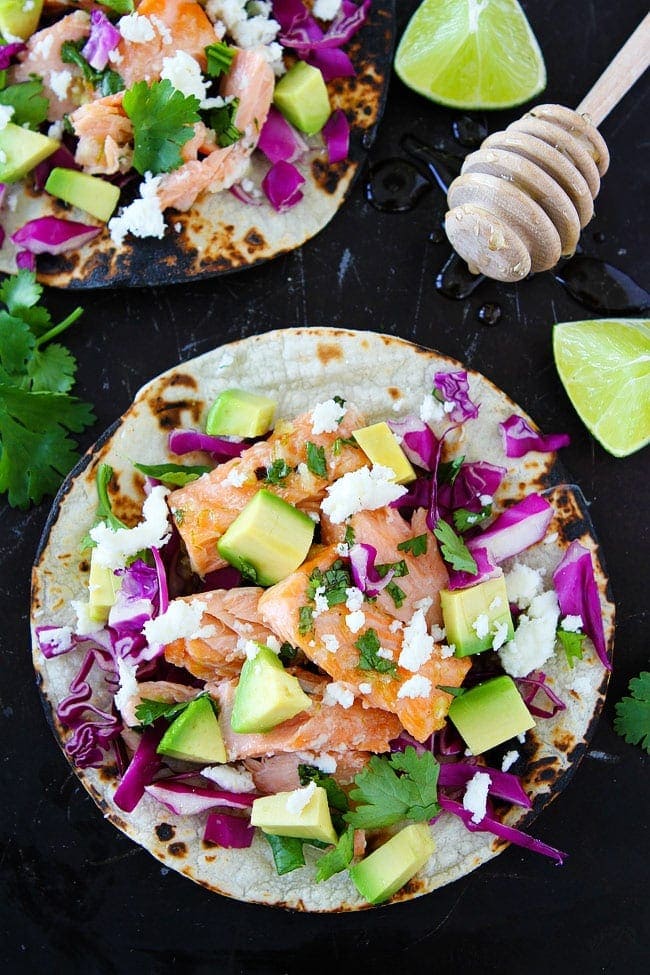 5. Honey Lime Salmon Tacos– These easy fish tacos take less then 30 minutes to make! They are great for Taco Tuesday or any day!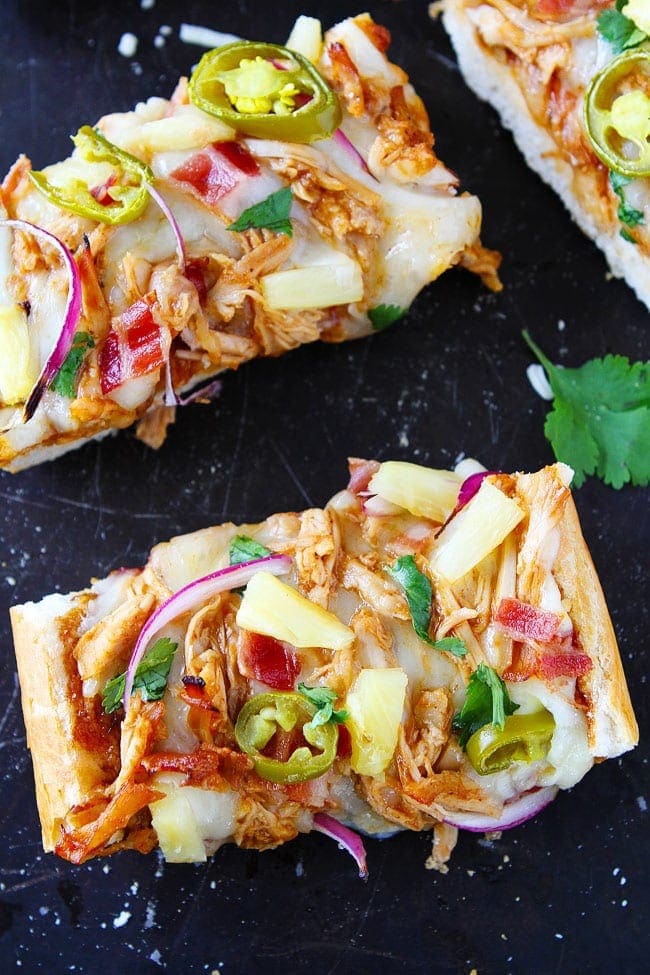 6. BBQ Chicken French Bread Pizza– You don't have to make pizza dough to make these pizzas. The crust is store bought French bread, it doesn't get any easier than that! The boys love these easy French bread pizzas!
7. Grilled Sausage and Vegetable Foil Packets– Foil packets are always a great weeknight meal. They are easy to make and the clean up is a breeze! You can use whatever veggies you have in the fridge!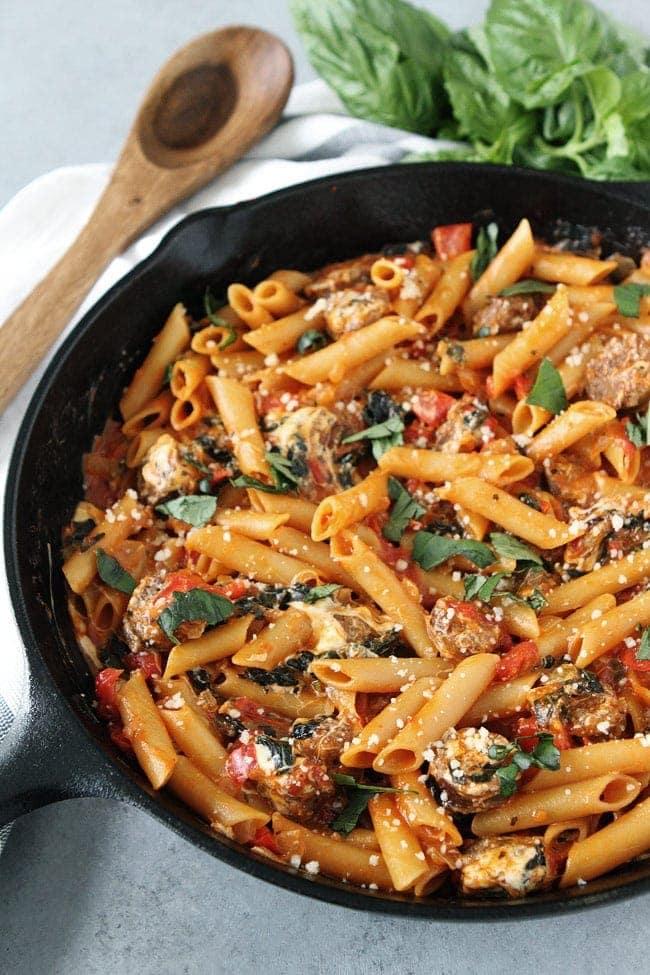 8. One Pot Sausage Pasta -You only need one pot to make this delicious pasta dish. The boys love this pasta with garlic bread!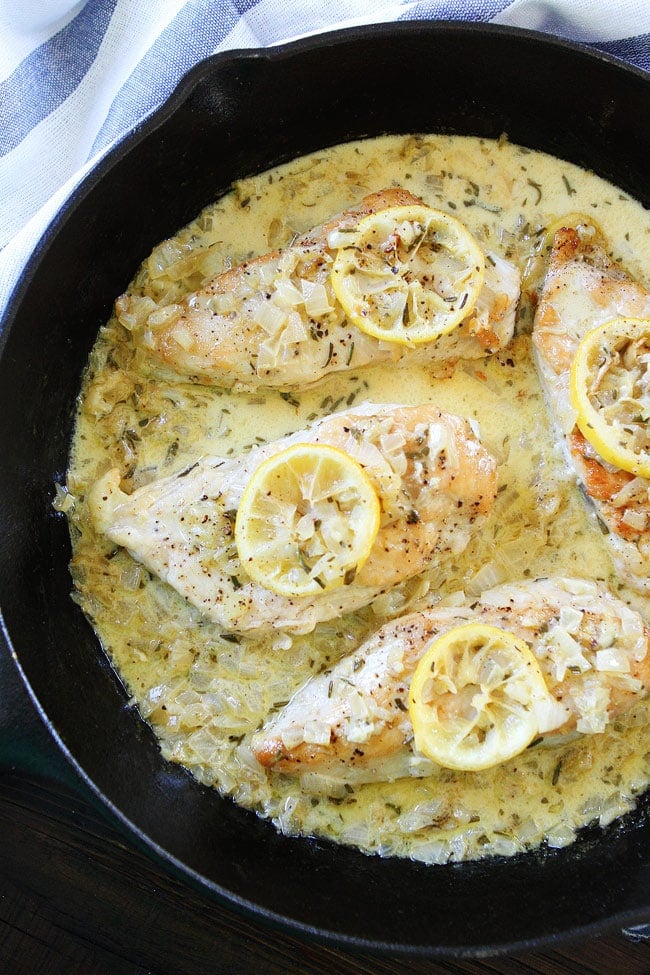 9. Skillet Creamy Lemon Rosemary Chicken– This quick and easy one-skillet chicken dish is great for busy weeknights or easy entertaining. The lemon rosemary gives the chicken so much wonderful flavor!
10. Pizza Stuffed Chicken Roll Ups– If you like pizza, you will love these easy Pizza Stuffed Chicken Roll-Ups. They are a dinnertime favorite, especially with the kiddos!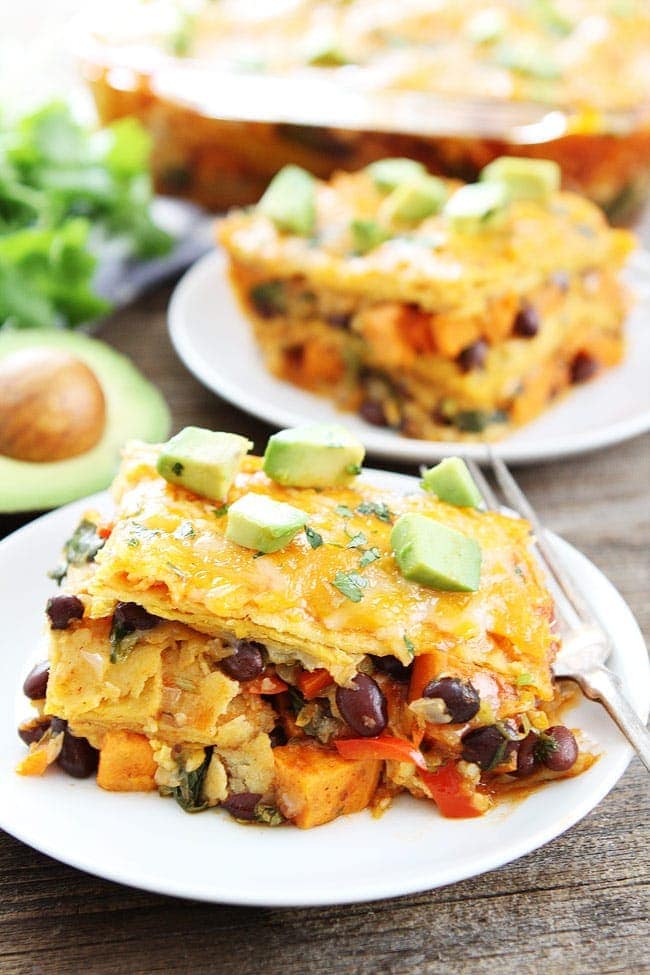 11. Stacked Sweet Potato and Black Bean Enchiladas– This easy enchilada casserole is layered with sweet potatoes, black beans, enchilada sauce, and cheese. I could eat this every night for dinner! It's that good!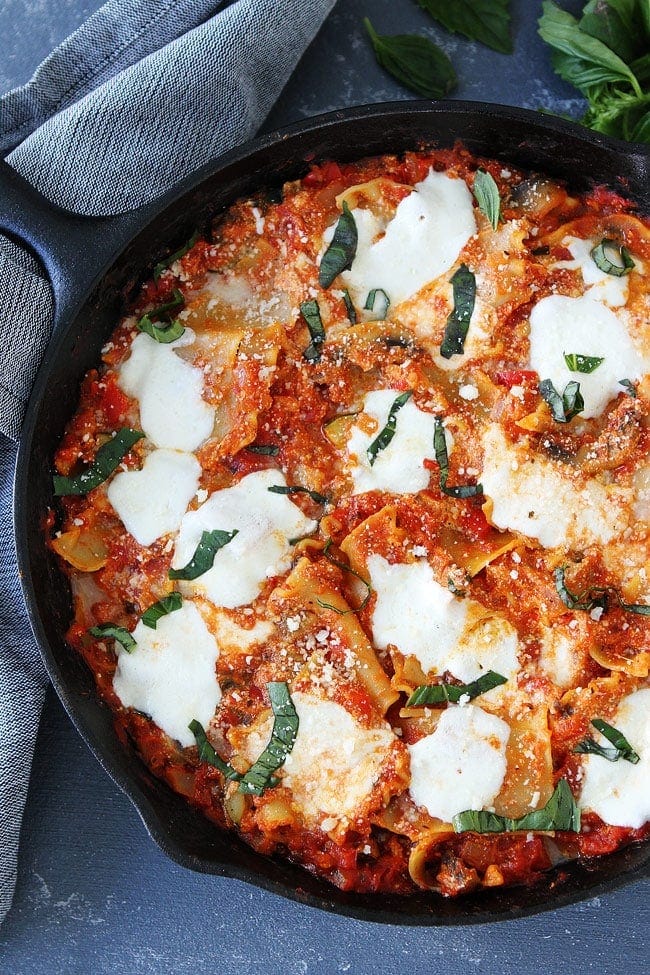 12. Easy Skillet Vegetable Lasagna– This shortcut version of classic lasagna is guaranteed to be a family favorite! It is made in ONE skillet and makes a great weeknight meal. Another bonus, the kids won't even notice the vegetables because it's so cheesy and delicious!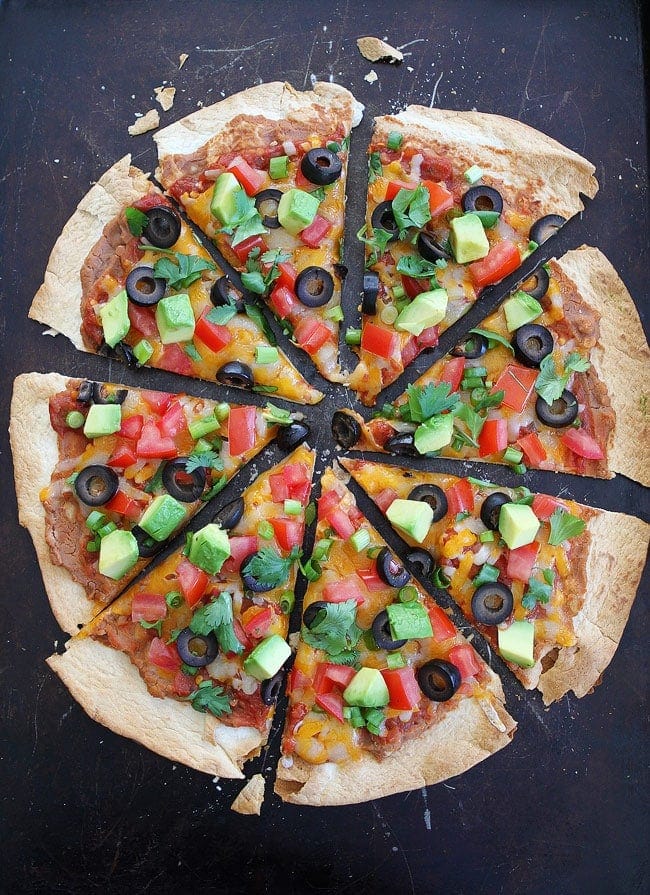 13. Crispy Mexican Tortilla Pizza– This easy tortilla pizza only takes 15 minutes to make. There is always time for this meal!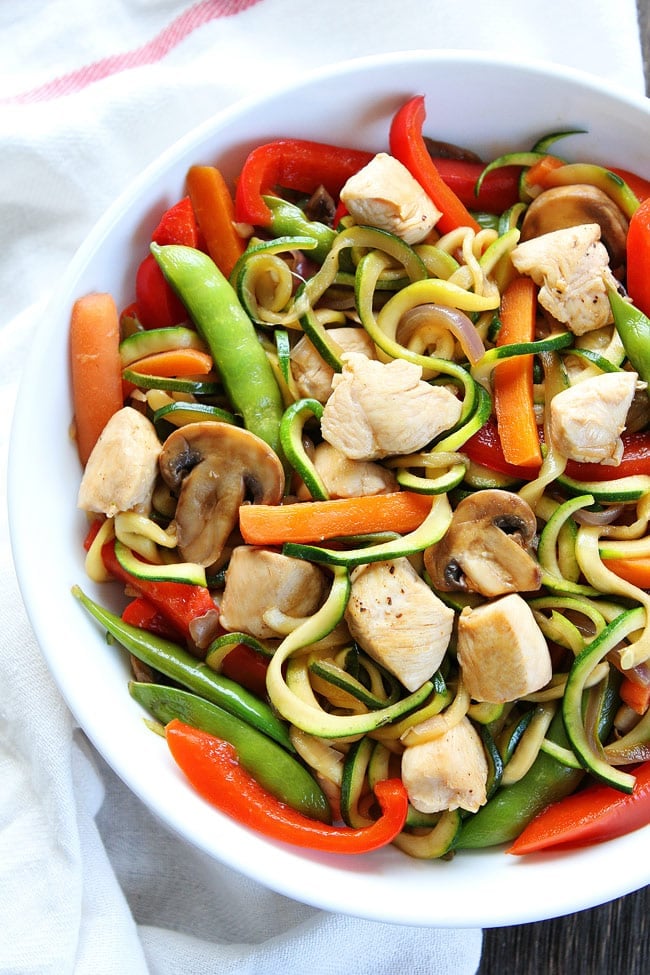 14. Easy Chicken Zucchini Noodle Stir Fry– This easy and healthy stir fry can be on your dinner table in 30 minutes! It is much better than takeout!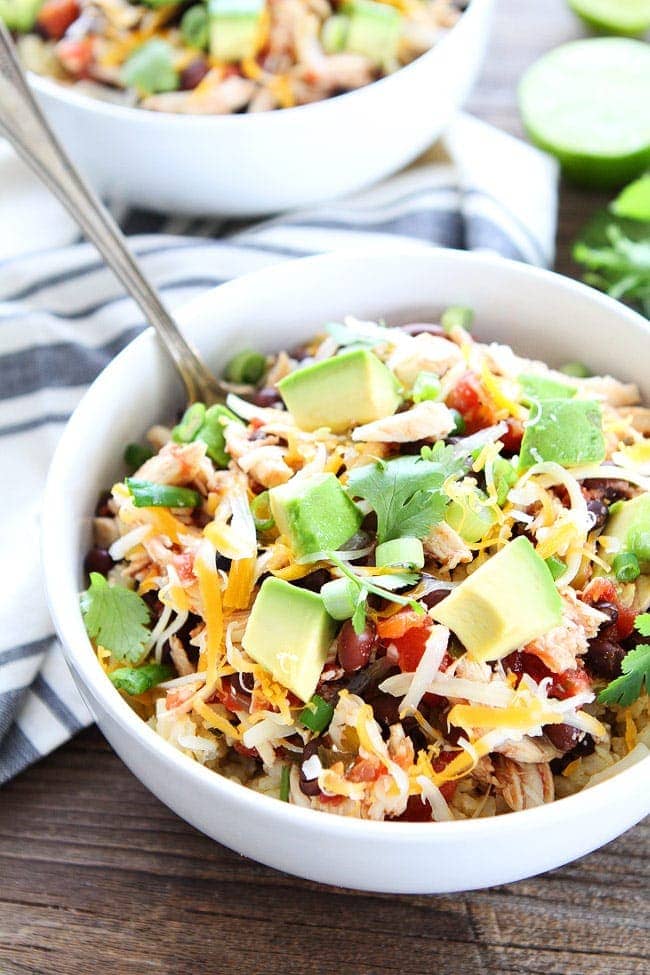 15. Slow Cooker Mexican Chicken– This easy crockpot Mexican chicken is perfect for making tacos, burritos, or salads. You can also serve it over rice or quinoa for a simple dinner.
16. Black Bean Quinoa Enchilada Bake– This is hands down our favorite weeknight meal and one of the most popular recipes on our site. You have to try this one! Our boys love to eat it with tortilla chips.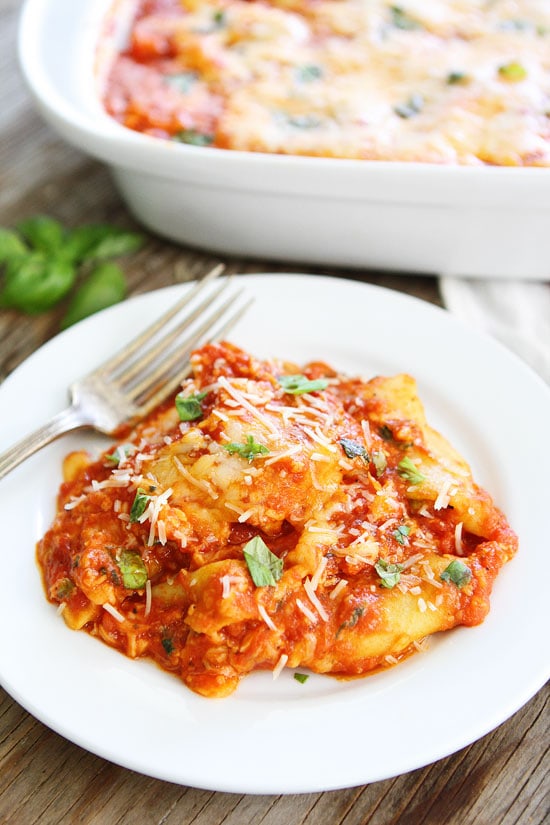 17. 4-Ingredient Ravioli Lasagna– You only need 4 ingredients to make this lasagna. No joke! It's so easy and soooooo cheesy! Serve a simple green salad on the side for balance:)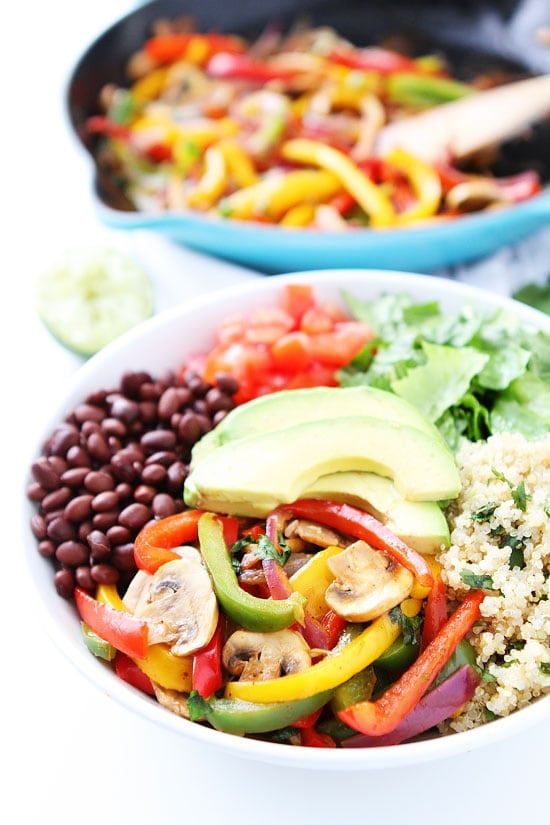 18. Fajita Quinoa Bowls– These colorful and healthy quinoa bowls are always a dinner winner!
19. 5-Ingredient Spinach Parmesan Pasta– This easy, 5 ingredient pasta dish is a staple in our house. You can have this one on the dinner table in 20 minutes! BIG win!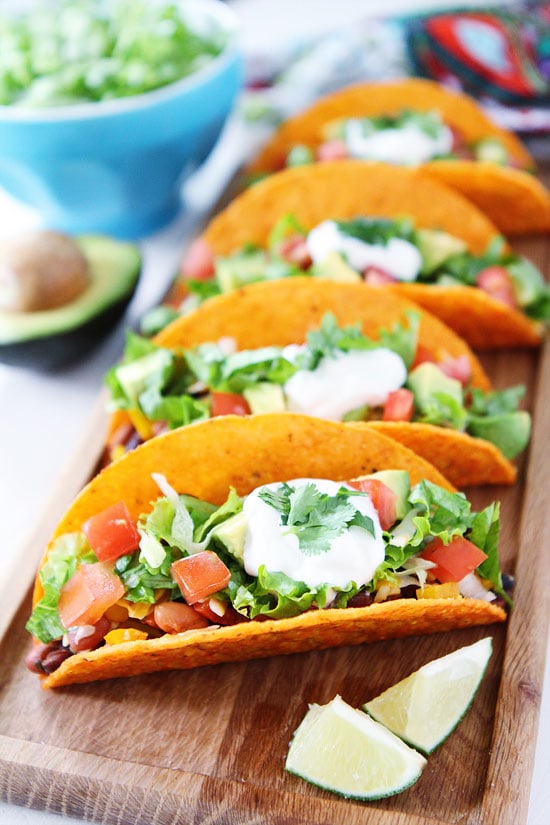 20. Three Bean Tacos– These easy vegetarian tacos are packed with protein and only take 20 minutes to make! Top with your favorite taco toppings!
21. Easy Cheesy Baked Tortellini– This easy baked pasta dish is always a hit at our dinner table! Bonus-it freezes beautifully too!
22. Creamy Spinach and Green Chile Enchiladas– We love these creamy and cheesy vegetarian enchiladas! If you want to bulk them up a little, you can add beans or shredded chicken.
23. Roasted Cauliflower and Chickpea Tacos– You will want every night to be taco night after you taste these delicious tacos. They are my all-time favorite! Don't skip the lime crema, it is incredible!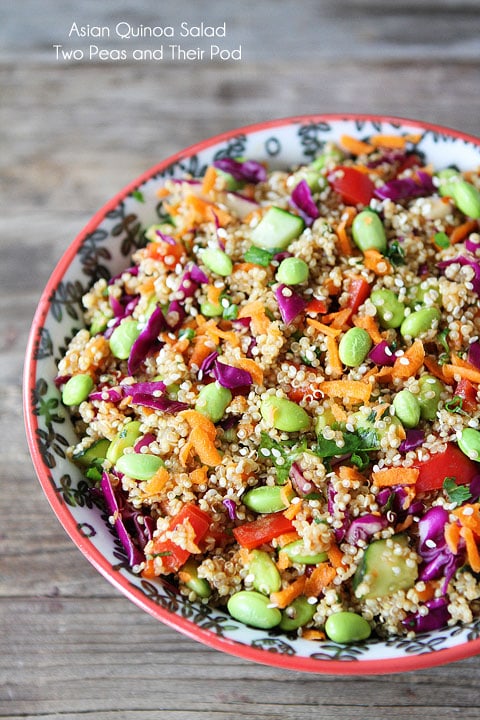 24. Asian Quinoa Salad– Sometimes you just need a salad for dinner and this one is amazing! You will love the vibrant colors and flavors!
25. Stacked Roasted Vegetable Enchiladas– If you haven't noticed, we love enchiladas for dinner:) These roasted veggie enchiladas are a MUST make. They are stacked, so you don't have to roll any enchiladas up! They are easy to make and freeze well too! We love keeping a pan in the freezer for dinner emergencies.
We hope you enjoy these 25 Easy Weeknight Dinner Recipes! Now, it's your turn! What are your favorite weeknight meals? Please share in the comments! We love getting new dinner ideas!
Want more dinner recipes? Check out our recipe index!