20 Homemade Holiday Gift Ideas that your friends and family are sure to love!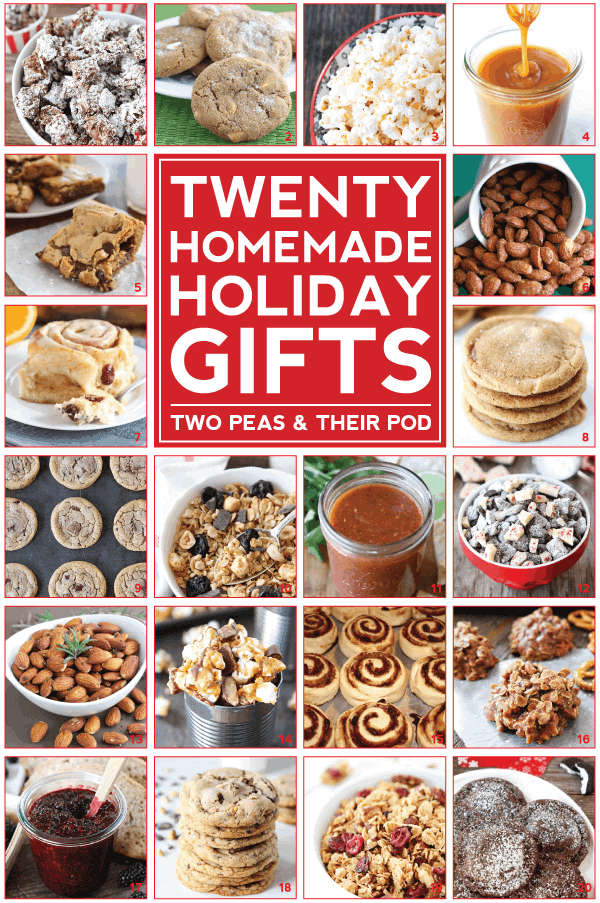 Earlier, we shared our Holiday Gift Guide for 2014. Well, we have a few more ideas up our sleeves. This time, we are sharing 20 Homemade Holiday Gifts! I love giving homemade gifts to family, friends, and neighbors. Sometimes the best gifts can't be bought in a store, but created in your own kitchen:)
We have a variety of recipes for you to choose from: cookies, festive nuts, popcorn, granola, jam, salsa, cinnamon rolls, and MORE!
We hope these 20 Homemade Holiday Gift ideas make your family and friends holiday extra special! And don't forget it is ok to make a few of these gifts for yourself:)
1) Chocolate Coconut Chex Mix
2) Soft Gingersnap Cookies with White Chocolate Chunks
3) Easy Kettle Corn
4) Salted Caramel Sauce
5) Chocolate Chip Salted Caramel Cookie Bars
6) Cinnamon Roasted Almonds
7) Cranberry Orange Cinnamon Rolls
8) Brown Butter Salted Caramel Snickerdoodles
9) Brown Butter Toffee Chocolate Chunk Cookies
10) Hazelnut Granola with Dried Cherries and Dark Chocolate
11) Restaurant Style Salsa
12) Peppermint Bark Chocolate Chex Mix
13) Rosemary Roasted Almonds
14) Butter Toffee Heath Popcorn
15) Cinnamon Rolls
16) No-Bake Chocolate Peanut Butter Pretzel Cookies
17) Blackberry Chia Seed Jam
18) Dark Chocolate Chunk, Pistachio and Sea Salt Cookies
19) Brown Butter Maple Granola
20) Chocolate Peppermint Patty Cookies
And if you need some festive holiday gift tags, check out our FREE printable Holiday Gift Tags! And don't forget to check out our favorite Christmas cookies! Cookies are the best gift! Santa thinks so and so do I:)
Happy Holidays!