24 of the BEST Lemon Recipes! You will want to try them all!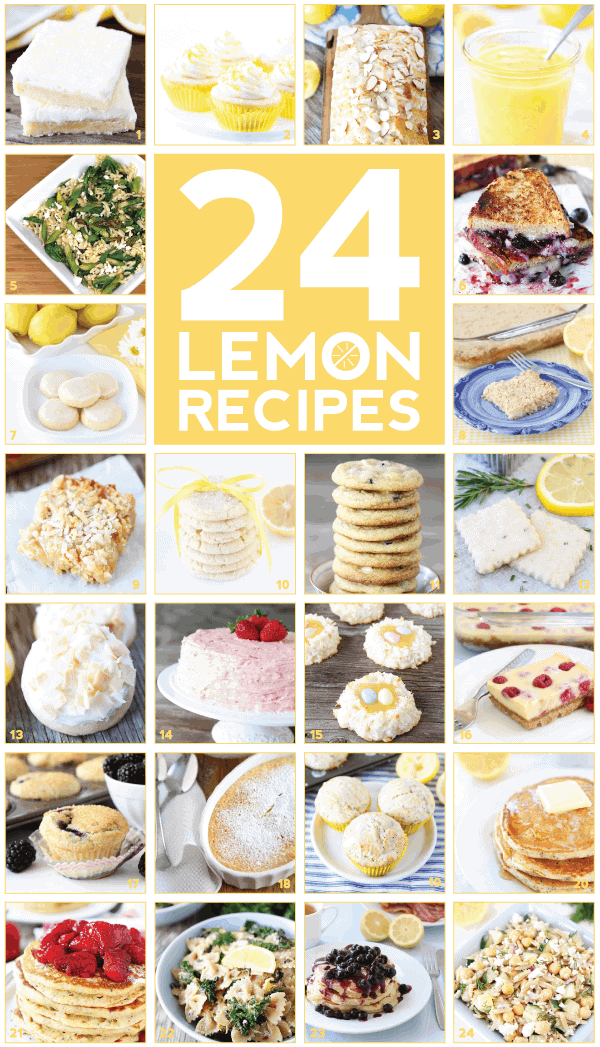 Happy Memorial Day! We hope you all have a wonderful holiday!
Do you love lemon? If so, you are in the right place! Today we are sharing 24 of our very favorite lemon recipes! We've included sweet and savory recipes so there is something for everyone! These 24 Lemon Recipes are the best and perfect for summertime! I am sure you are going to want to make them all.
Get juicing, get zesting, and enjoy! Yay for lemons! Don't forget to pin this post! You are going to want to have it handy!
1) Lemon Sugar Cookie Bars 2) Lemon Curd Cupcakes 3) Lemon Almond Bread 4) Lemon Curd 5) Lemon Orzo Salad with Asparagus, Spinach + Feta 6) Blueberry, Brie + Lemon Curd Grilled Cheese 7) Glazed Lemon Cookies 8) Lemon Cream Bars 9)Lemon Coconut Crumb Bars 10) Lemon Sugar Cookies 11) Lemon Blueberry Pudding Cookies 12) Lemon Rosemary Shortbread13) Lemon Cookies with Toasted Coconut Frosting 14) Strawberry Lemonade Cake 15) Coconut Lemon Macaroon Nests 16)Lemon Raspberry Bars 17) Lemon Ricotta Blackberry Muffins 18) Meyer Lemon Pudding Cake 19) Lemon Poppy Seed Muffins 20) Lemon Poppyseed Yogurt Pancakes 21) Lemon Chia Seed Pancakes with Roasted Strawberries 22) Goat Cheese Lemon Pasta with Kale 23) Lemon Ricotta Pancakes with Blueberry Sauce 24) Orzo Salad with Chickpeas, Cucumbers, Lemon, Dill + Feta