30 of the BEST avocado recipes! You will want to make them all!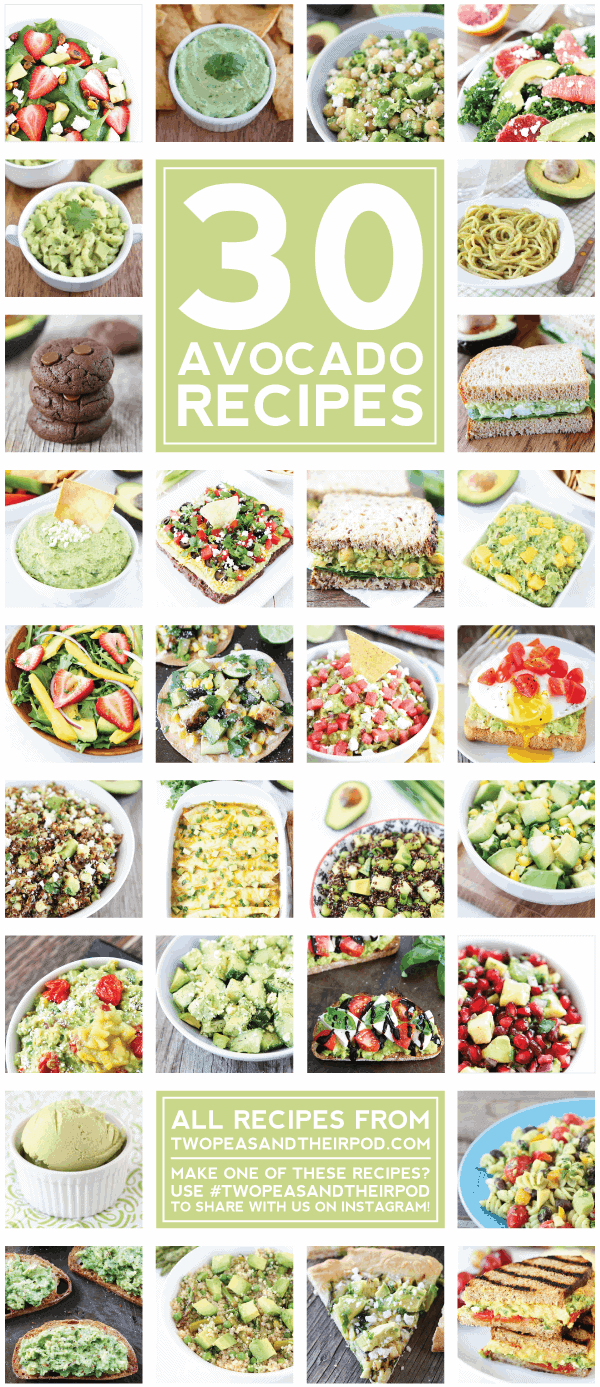 Avocados are my favorite! I loooooooove them! I kind of have an obsession. I like to put avocados in just about everything. I can't help it! They are just so good!
Today, I am sharing 30 of my favorite avocado recipes. They are all winners. You are going to have a hard time deciding which one to make first. No pressure though, you have plenty of time to make them all! And I bet you will make them over and over again, we do!
Pick up some ripe avocados and get busy! Enjoy!
from top left: Strawberry Spinach Salad with Avocado, Goat Cheese & Candied Pistachios // Creamy Avocado Yogurt Dip //Chickpea, Avocado & Feta Salad // Kale Salad with Citrus, Avocado & Feta // Stovetop Avocado Mac & Cheese // Creamy Avocado Pasta // Vegan Chocolate Avocado Cookies // Avocado Egg Salad // Avocado Feta Dip // Smashed Chickpea, Avocado & Pesto Salad Sandwich // Mexican 7-Layer Dip // Mango Cilantro Guacamole // Mango, Strawberry & Avocado Arugula Salad //Grilled Zucchini & Corn Tostadas // Watermelon Feta Guacamole // Avocado, Hummus & Egg Toasts // Charred Corn & Avocado Quinoa Salad // Creamy Spinach & Cheese Green Chile Enchiladas // Quinoa Salad with Edamame, Cucumber & Avocado //Zucchini, Corn & Avocado Salsa // Green Chile & Roasted Tomato Guacamole // Cucumber, Avocado & Feta Salad // Caprese Avocado Toast // Black Bean, Pomegranate & Avocado Salsa // Avocado Ice Cream // Southwestern Pasta Salad with Creamy Avocado Dressing // Garlic Bread Avocado Toasts // Quinoa Salad with Asparagus, Peas, Avocado & Lemon Basil Dressing //Charred Corn & Avocado Pizza // Roasted Red Pepper Hummus, Avocado & Feta Sandwich