31 Healthy Recipes to help you start 2014 off right!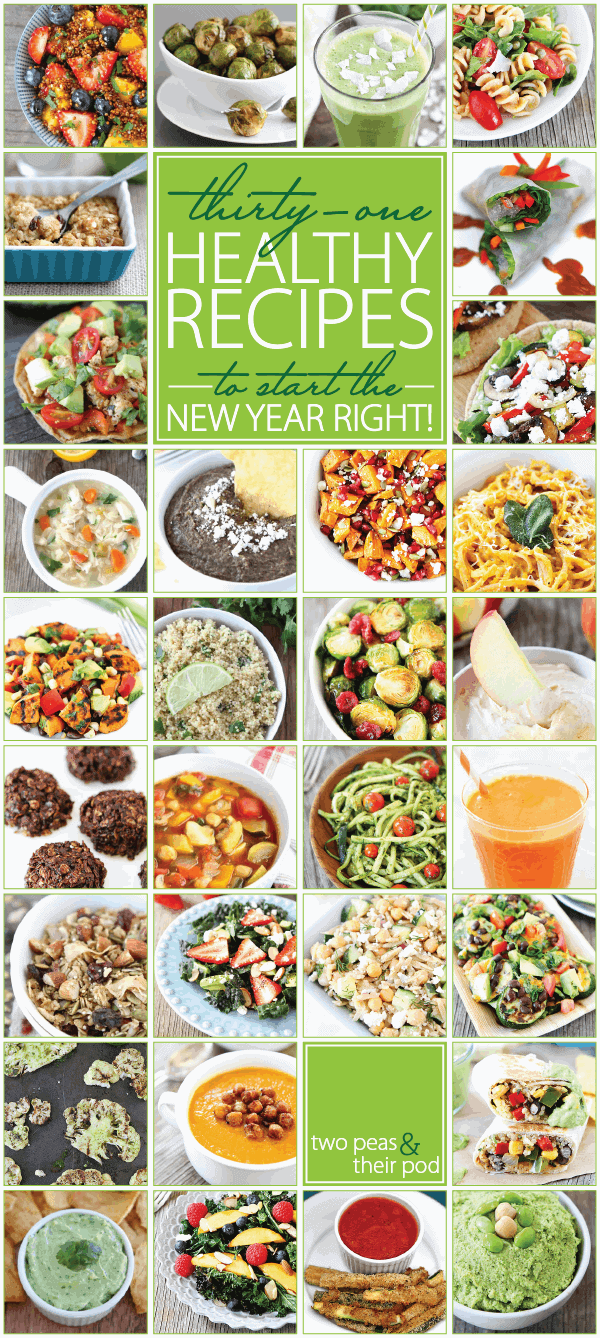 Happy New Year! We are looking forward to a GREAT 2014. I have a feeling it is going to be a fabulous year!
If one of your New Year's resolutions is to eat healthier in 2014, we are here to help! Today we are sharing 31 healthy recipes to help you start 2014 off right! And I promise these recipes are delicious…you won't even miss those cookies:)
We hope you enjoy 31 of our favorite healthy recipes!
Left Column (from top): Quinoa Fruit Salad with Honey Lime Dressing – Apple Cinnamon Baked Oatmeal – Tofu Tostadas – Lemon Chicken Orzo Soup –Southwestern Grilled Sweet Potato Salad – Healthy No-Bake Cookies – Crunchy Quinoa Granola – Cauliflower Steaks with Ginger-Soy Sauce – Creamy Avocado Yogurt Dip
Middle Left Column (from top): Roasted Brussels Sprouts with Balsamic Vinegar – Easy Black Bean Dip – Cilantro Lime Quinoa – Vegetable Lime Chickpea Chili – Kale, Strawberry and Avocado Salad with Lemon Poppyseed Dressing – Slow Cooker Butternut Squash Soup with Maple Roasted Chickpeas –Grilled Kale Salad with Berries and Nectarines
Middle Right Column (from top): Coconut Green Smoothie – Sweet Potato Pomegranate Salad – Cranberry Orange Roasted Brussels Sprouts – Zucchini Noodles with Pesto – Orzo Salad with Chickpeas, Cucumbers, Lemon, Dill and Feta – Baked Zucchini Fries
Right Column (from top): Arugula Pasta Salad – Vegetable Spring Rolls with Peanut Dipping Sauce – Roasted Vegetable Pita Sandwich – Creamy Butternut Squash Pasta – Peanut Butter Honey Yogurt Dip – Carrot Pineapple Orange Juice – Grilled Zucchini Nachos – Crispy Black Bean Quinoa Burritos – Edamame Basil Hummus
If you are looking for more healthy recipes, make sure you check out our vegetarian recipes, vegan recipes, and gluten-free recipes! And you can check out our healthy recipes posts from previous years:
75 Healthy Recipes to Kick Off 2013
50 Healthy Recipes to Kick Off 2012
Here's to a healthy and happy 2014!