36 of the BEST summer salad and side dish recipes! These recipes are perfect for summer BBQ's, picnics, and potlucks!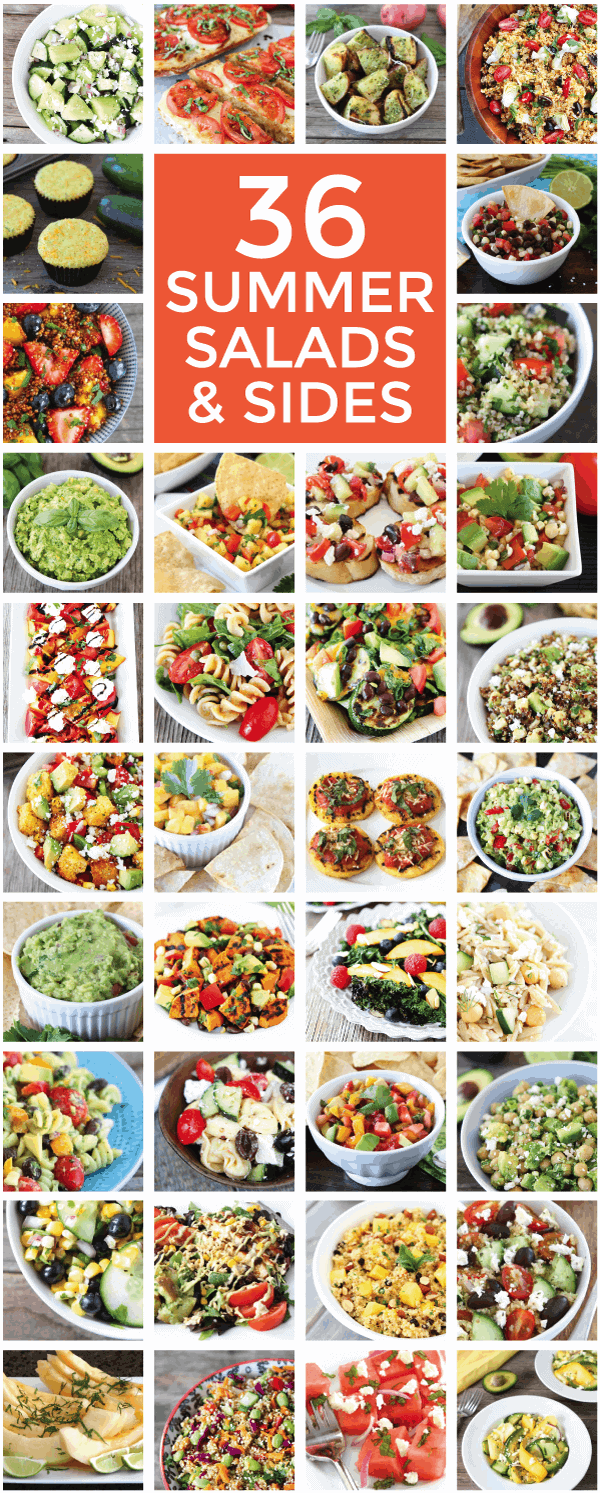 Happy Memorial Day! We hope you have a wonderful holiday!
Today we are sharing 36 of our favorite Summer Salad and Sides! These recipes are perfect for summer BBQ's, picnics, potlucks…or any hot summer day! We love them all and I think you will too! Here's to a summer of fresh and simple good eats!
These summer salads and sides recipes are organized by rows, starting at the top:
1: Cucumber Honeydew Salad with Feta | Caprese Garlic Bread | Grilled Pesto Potatoes | Mediterranean Couscous Salad
2: Zucchini Cheddar Corn Muffins | Black Bean Corn Salsa
3: Quinoa Fruit Salad with Honey Lime Dressing | Tabbouleh Salad
4: Pesto Guacamole | Grilled Corn Salad | Greek Bruschetta | Pineapple Salsa
5: Tomato, Peach & Burrata Salad | Arugula Pasta Salad | Grilled Zucchini Nachos | Charred Corn & Avocado Quinoa Salad
6: Jalapeño Cornbread Panzanella Salad | Peach Salsa | Grilled Polenta Cakes | Roasted Corn & Red Pepper Guacamole
7: Grilled Guacamole | Southwestern Grilled Sweet Potato Salad | Grilled Kale Salad with Berries & Nectarines | Orzo Salad with Chickpeas, Cucumbers, Feta & Dill
8: Southwest Pasta Salad with Creamy Avocado Dressing | Greek Tortellini Salad | Strawberry Mango Salsa | Chickpea, Avocado & Feta Salad
9: Blueberry Corn Salad | BBQ Chicken Salad | Quinoa Salad with Mango, Currants, Almond & Mint | Greek Quinoa Salad
10: Melon Salad with Mint, Lime & Sea Salt | Asian Quinoa Salad | Watermelon Feta Salad | Zucchini Ribbon Salad with Sweet Corn & Avocado
Happy Summer! We hope you find time to try all 36 Summer Salads and Sides! They are all favorites at our house! Enjoy!